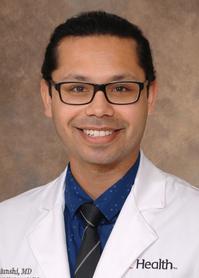 Aamir Munshi
Personal Statement
Unlike some, I did not want to be a physician when I was five years old – a police officer seemed more adventurous. It was during my first year in college that I began to understand what I sought to have in my future profession. At the University of Toronto, banners hang from the light posts honoring distinguished alumni who have made significant impacts in society by making great contributions in their fields. There are banners for a wide range of individuals from politicians to academics who have made ground‐breaking discoveries, such as Fredrick Banting. When I looked at these banners, I asked myself how I could make a difference as these people have. Of course it did not have to be as widely impactful or global as discovering insulin, but instead I focused on making a difference on a more individual level. Since then I have strived to make an impact by interacting with individual people with the hope of improving their lives.

Why I Chose Cincinnati
Through the interview process it becomes clear that there are many strong programs, but in the end it comes down to finding the one that fits best with you. When I visited this program and the city, I immediately knew Cincinnati was right for me. Of the reasons I chose Cincinnati, at the forefront was the program's focus on providing exceptional patient‐centered care to a greatly diverse population of people. Although, what really made the program stand out from the rest was its innovative curriculum and strong emphasis on resident education and personal growth. My interview here really gave me the confidence that I would be able to strive in the environment created by the residents and teachers at this institution.