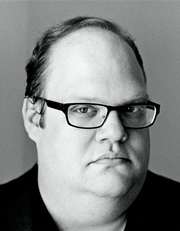 Brad Thomas Myers
Instructor - Adjunct Ann
Adjunct Instructor
Dieterle Vocal Arts Cntr
CCM Ensembles & Conducting - 0003
Upon moving to Cincinnati from Northern Virginia in 1994 to study jazz at CCM, Brad Myers became greatly enamored with the city and the diverse and rich history of its music scene. After finishing his undergraduate studies, Myers dove right in and began building a deeply varied musical life in the Queen City. In 1998, he joined Ray's Music Exchange, a jazz funk fusion group known for a highly adventurous improvisational style that fit in well with the burgeoning "jam band" scene throughout the county. As a guitarist, composer and producer with Ray's Music Exchange, Myers produced five full length CDs, a full length live concert DVD and toured around the U.S. developing a highly melodic and rhythmically interactive style on his instrument while also building his music business experience by handling many managerial duties associated with a touring band. In 2006, Myers shifted focus to his love of private teaching, which he started while at CCM, and began building a private teaching studio business that continues to this day. Over the years, he has taught in CCM Preparatory and Community Engagement, Cincinnati's School for Creative and Performing Arts, Moeller/Willis Music and has been known to even make house calls teaching guitar, bass, mandolin, ukulele, theory and improvisation. During this time Myers also became more active playing jazz gigs and sessions around the city and has since become one of the top calls for guitar work in Cincinnati. He has played countless musicals, recording sessions and gigs with singers and musicians of all kinds and continues to build a diverse pallet of experience from which to draw.

Myers is a current member of Aja, a 10-piece Steely Dan tribute band; The Midwestern Swing, a group that is blazing a trail across the fertile prairie of classic western swing and country music; has recorded and toured with Jeremy Pinnell, a Roots Country singer-songwriter with a star on the rise; and books his own various jazz groups throughout the Midwest region. In 2013, he returned to CCM to pursue his MM in Jazz Studies, which he completed in 2015. While at CCM, he was a teaching assistant to Phil DeGreg and Tom Haines, taught several combos and was a featured soloist with the CCM Jazz Ensemble appearing on the In Search of Garaj Mahal CD with Fareed Haque. In addition to studying with James Smith, Myers has studied guitar with Paul Bollenback and Marc Elf and composition with Kim Pensyl. In 2015, Brad released Prime Numbers, his debut recording on his own label, Colloquy Records, which earned four stars from DownBeat magazine, among other critical acclaim and airplay. His 2017 Colloquy release, Sanguinaria (Hopefulsongs), a collaboration with veteran bassist Michael Sharfe, has also been receiving wide ranging praise from magazines like DownBeat, Jazziz, JazzEd, The Absolute Sound, Vintage Guitar Magazine, and received four and a half stars from Audiophile Audition, which stated "...Sanguinaria is a superb achievement, a verified double-flowering and worthy of a large audience." Cincinnati CityBeat raved "...Sanguinaria (Hopefulsongs) is a master class in how important feel and emotion are to Jazz... the album's directness and raw presentation is highly refreshing and the artistry in the performances is consistently riveting." He is pleased to join CCM's Jazz and Commercial Music Production faculty and to bring his knowledge and dedication back to the institution that taught him so much."

Learn more about Myers by visiting www.MusicByBrad.com.