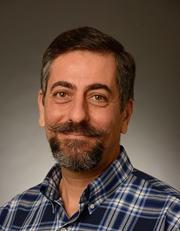 Nicolas Nassar
Research Associate Professor-Affiliate
Childrens Hospital Bldg R
COM Pediatrics Experimental Hematology - 0054
Research and Practice Interests
My areas of research interest include drug development and signaling with focus on small GTPases. My research is both basic and translational.

My research efforts encompass several methodologies, including protein crystallography, biophysical and biochemical studies, cellular functional assays, and ultimately, identifying small molecule compounds that bind to and modulate GTPase signaling in in vivo models of cancer.

Rac GTPases are key regulators of cell growth. By reorganizing the actin cytoskeleton in response to extracellular cues, Rac GTPases play a key role in cancer cell metastasis. My lab's goal is to understand the regulation of Rac and its role in cancer. More specifically, my work aims to find ways to inhibit its hyperactivation in leukemia.

One of my lab's groundbreaking discoveries is the identification of a small molecule inhibitor of Vav3, a Rac activator. Our research aims to unravel the mechanism of action of the Vav3-inhibitor. In addition, our small molecule technology has been submitted to the US Patent Office.
Peer Reviewed Publications
Seu, Katie G; Trump, Lisa R; Emberesh, Sana; Lorsbach, Robert B; Johnson, Clarissa; Meznarich, Jessica; Underhill, Hunter R; Chou, Stella T; Sakthivel, Haripriya; Nassar, Nicolas N; Seu, Kalani J; Blanc, Lionel; Zhang, Wenying; Lutzko, Carolyn M; Kalfa, Theodosia A (2020. ) VPS4A Mutations in Humans Cause Syndromic Congenital Dyserythropoietic Anemia due to Cytokinesis and Trafficking Defects.American journal of human genetics, , 107 (6 ) ,1149-1156 More Information
Gasilina, Anjelika; Premnauth, Gurdat; Gurjar, Purujit; Biesiada, Jacek; Hegde, Shailaja; Milewski, David; Ma, Gang; Kalin, Tanya V; Merino, Edward; Meller, Jarek; Seibel, William; Cancelas, José A; Vinnedge, Lisa Privette; Nassar, Nicolas N (2020. ) IODVA1, a guanidinobenzimidazole derivative, targets Rac activity and Ras-driven cancer models.PloS one, , 15 (3 ) ,e0229801 More Information
Liu, Wei; Du, Wei; Shang, Xun; Wang, Lei; Evelyn, Chris; Florian, Maria Carolina; A Ryan, Marnie; Rayes, Ahmad; Zhao, Xueheng; Setchell, Kenneth; Meller, Jarek; Guo, Fukun; Nassar, Nicolas; Geiger, Hartmut; Pang, Qishen; Zheng, Yi (2019. ) Rational identification of a Cdc42 inhibitor presents a new regimen for long-term hematopoietic stem cell mobilization.Leukemia, , 33 (3 ) ,749-761 More Information
Lee, Lynn H; Gasilina, Anjelika; Roychoudhury, Jayeeta; Clark, Jason; McCormack, Francis X; Pressey, Joseph; Grimley, Michael S; Lorsbach, Robert; Ali, Siraj; Bailey, Mark; Stephens, Philip; Ross, Jeffrey S; Miller, Vincent A; Nassar, Nicolas N; Kumar, Ashish R (2017. ) Real-time genomic profiling of histiocytoses identifies early-kinase domain BRAF alterations while improving treatment outcomes.JCI insight, , 2 (3 ) ,e89473 More Information
San Luis, Boris; Nassar, Nicolas; Carpino, Nick (2013. ) New insights into the catalytic mechanism of histidine phosphatases revealed by a functionally essential arginine residue within the active site of the Sts phosphatases.The Biochemical journal, , 453 (1 ) ,27-35 More Information
Privette Vinnedge, Lisa M; Kappes, Ferdinand; Nassar, Nicolas; Wells, Susanne I (2013. ) Stacking the DEK: from chromatin topology to cancer stem cells.Cell cycle (Georgetown, Tex.), , 12 (1 ) ,51-66 More Information
San Luis, Boris; Sondgeroth, Ben; Nassar, Nicolas; Carpino, Nick (2011. ) Sts-2 is a phosphatase that negatively regulates zeta-associated protein (ZAP)-70 and T cell receptor signaling pathways.The Journal of biological chemistry, , 286 (18 ) ,15943-54 More Information
Jakoncic, Jean; Sondgeroth, Benjamin; Carpino, Nick; Nassar, Nicolas (2010. ) The 1.35 A resolution structure of the phosphatase domain of the suppressor of T-cell receptor signaling protein in complex with sulfate.Acta crystallographica. Section F, Structural biology and crystallization communications, , 66 (Pt 6 ) ,643-7 More Information
Nassar, Nicolas; Singh, Kavita; Garcia-Diaz, Miguel (2010. ) Structure of the dominant negative S17N mutant of Ras.Biochemistry, , 49 (9 ) ,1970-4 More Information
Ford, Bradley; Boykevisch, Sean; Zhao, Chen; Kunzelmann, Simone; Bar-Sagi, Dafna; Herrmann, Christian; Nassar, Nicolas (2009. ) Characterization of a Ras mutant with identical GDP- and GTP-bound structures .Biochemistry, , 48 (48 ) ,11449-57 More Information
Carpino, Nick; Chen, Yunting; Nassar, Nicolas; Oh, Hye-Won (2009. ) The Sts proteins target tyrosine phosphorylated, ubiquitinated proteins within TCR signaling pathways.Molecular immunology, , 46 (16 ) ,3224-31 More Information
Chen, Yunting; Jakoncic, Jean; Parker, Kathlyn A; Carpino, Nick; Nassar, Nicolas (2009. ) Structures of the phosphorylated and VO(3)-bound 2H-phosphatase domain of Sts-2.Biochemistry, , 48 (34 ) ,8129-35 More Information
Chen, Yunting; Jakoncic, Jean; Carpino, Nick; Nassar, Nicolas (2009. ) Structural and functional characterization of the 2H-phosphatase domain of Sts-2 reveals an acid-dependent phosphatase activity.Biochemistry, , 48 (8 ) ,1681-90 More Information
Chen, Yunting; Jakoncic, Jean; Wang, Jin; Zheng, Xiliang; Carpino, Nick; Nassar, Nicolas (2008. ) Structural and functional characterization of the c-terminal domain of the ecdysteroid phosphate phosphatase from bombyx mori reveals a new enzymatic activity.Biochemistry, , 47 (46 ) ,12135-45 More Information
Mikhailik, Anatoly; Ford, Bradley; Keller, James; Chen, Yunting; Nassar, Nicolas; Carpino, Nick (2007. ) A phosphatase activity of Sts-1 contributes to the suppression of TCR signaling.Molecular cell, , 27 (3 ) ,486-97 More Information
Xiang, Song; Kim, Eun Young; Connelly, Jessica J; Nassar, Nicolas; Kirsch, Joachim; Winking, Jan; Schwarz, Günter; Schindelin, Hermann (2006. ) The crystal structure of Cdc42 in complex with collybistin II, a gephyrin-interacting guanine nucleotide exchange factor.Journal of molecular biology, , 359 (1 ) ,35-46 More Information
Kleinman, Holly; Ford, Bradley; Keller, James; Carpino, Nick; Nassar, Nicolas (2006. ) Crystallization and initial crystal characterization of the C-terminal phosphoglycerate mutase homology domain of Sts-1.Acta crystallographica. Section F, Structural biology and crystallization communications, , 62 (Pt 3 ) ,218-20 More Information
Ford, Bradley; Hornak, Viktor; Kleinman, Holly; Nassar, Nicolas (2006. ) Structure of a transient intermediate for GTP hydrolysis by ras.Structure (London, England : 1993), , 14 (3 ) ,427-36 More Information
Nassar, Nicolas; Cancelas, Jose; Zheng, Jie; Williams, David A; Zheng, Yi (2006. ) Structure-function based design of small molecule inhibitors targeting Rho family GTPases.Current topics in medicinal chemistry, , 6 (11 ) ,1109-16 More Information
Ford, Bradley; Skowronek, Karlheinz; Boykevisch, Sean; Bar-Sagi, Dafna; Nassar, Nicolas (2005. ) Structure of the G60A mutant of Ras: implications for the dominant negative effect.The Journal of biological chemistry, , 280 (27 ) ,25697-705 More Information
Skowronek, Karlheinz R; Guo, Fukun; Zheng, Yi; Nassar, Nicolas (2004. ) The C-terminal basic tail of RhoG assists the guanine nucleotide exchange factor trio in binding to phospholipids.The Journal of biological chemistry, , 279 (36 ) ,37895-907 More Information
Skowronek, Karlheinz; Ghumman, Mohammed; Zheng, Yi; Nassar, Nicolas (2003. ) Crystallization and initial crystal characterization of the N-terminal DH/PH domain of Trio.Acta crystallographica. Section D, Biological crystallography, , 59 (Pt 7 ) ,1273-5 More Information
Smith, William James; Nassar, Nicolas; Bretscher, Anthony; Cerione, Richard A; Karplus, P Andrew (2003. ) Structure of the active N-terminal domain of Ezrin. Conformational and mobility changes identify keystone interactions.The Journal of biological chemistry, , 278 (7 ) ,4949-56 More Information
Hall, Brian E; Bar-Sagi, Dafna; Nassar, Nicolas (2002. ) The structural basis for the transition from Ras-GTP to Ras-GDP.Proceedings of the National Academy of Sciences of the United States of America, , 99 (19 ) ,12138-42 More Information
Hegde, Shailaja; Gasilina, Anjelika; Wunderlich, Mark; Lin, Yuan; Buchholzer, Marcel; Krumbach, Oliver H F; Akbarzadeh, Mohammad; Ahmadian, Mohammad Reza; Seibel, William; Zheng, Yi; Perentesis, John P; Mizukawa, Benjamin E; Vinnedge, Lisa Privette; Cancelas, José A; Nassar, Nicolas N (2022. ) Inhibition of the RacGEF VAV3 by the small molecule IODVA1 impedes RAC signaling and overcomes resistance to tyrosine kinase inhibition in acute lymphoblastic leukemia.Leukemia, , 36 (3 ) ,637-647 More Information