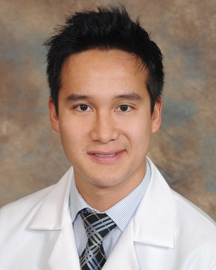 Quinn M Nguyen , MD
Instructor of Clinical
University of Cincinnati Medical Center
Room MRP 322
234 Goodman Street
Cincinnati, Ohio 45219
Phone 513-558-4194
Fax 513-558-0995
Email quinn.nguyen@uc.edu
Current Role
Quinn Ngyen, MD, is Staff Physicial of the UC Department of Anesthesiology at UC College of Medicine.
Current Clinical Focus and Interests
Quinn's clinical focus and interests are with Anesthesiology. 

Summary of Background/Previous Work History, Education and Achievements 
Quinn received his medical degree from University of Cincinnati College of Medicine in 2012 and a Bachelor's degree in Biology from Xavier University in 2008.  

 
 
Bachelor: Xavier University Cincinnati, OH, 2008 (Biology)
Medical Degree: University of Cincinnati College of Medicine Cincinnati, OH, 2012
Residency: Emory University Atlanta, GA, 2014 (Neurology)
American Board of Anesthesiology (Certification Date: 02-13-2021 )
Anesthesiology
Fibromyalgia
Pain Medicine
Foot Pain and Problems
Hand Pain
Hip Pain
Jaw Pain
Joint Pain
Knee Pain
Musculoskeletal Pain
Neuralgias
Osteoarthritis (Degenerative Arthritis)
Pain
Peripheral Neuropathy
Postoperative Pain
Radiculopathy
Referred Pain
Residual Limb pain
Sacroiliac Joint Pain
Sciatica
Anesthesiology
Pain Management
Research and Practice Interests
Academic - University of Cincinnati Medical Center
Room MRP 322
Cincinnati  Ohio, 45219
Phone: 513-558-4194
Fax: 513-558-0995
quinn.nguyen@uc.edu