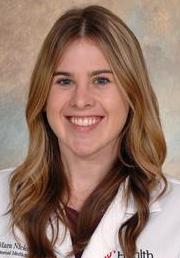 Mara Catherine Nickel
Clinical Instructor
Personal Statement
Throughout medical school, I valued opportunities where I was able to listen to people and scratch beneath the surface of their lives. Following a mass shooting in the city, I took part in community events and round table discussions that focused on reducing gun violence in Cincinnati neighborhoods. It was a profound experience to hold a woman's hand as she told me about her niece who was killed in a school shooting, talk with a soft-spoken father who couldn't believe that his son was murdered in front of his own home, and listen as a police officer shared what he encounters when he responds to unimaginable scenes of violence. Mentoring an at-risk child for several years gave me a better understanding of what it means to grow up in the inner city as a young, black male, and of the barriers caused by a lack of education, healthcare, and family structure. It was eye-opening to receive a call from his grandmother asking if I could help him with a school project, as no one at his house could read, and I will never forget the child describing to me his mother's lesson on how to act around, and approach police officers. Conversations and experiences like these have taught me lessons that textbooks and exams could not teach me: the human side of medicine.

Why I Chose Cincinnati
As a medical student, I had been impressed with the internal medicine program at UC, and I am extremely grateful for the support and mentorship provided by the faculty, fellows, and residents in the program. In addition, I have come to love the city of Cincinnati and find it rewarding to care for and learn from a complex, vulnerable, and diverse patient population. I am excited to be staying for another three years with great friends and mentors, and an amazing community!
 
MD: University of Cincinnati College of Medicine