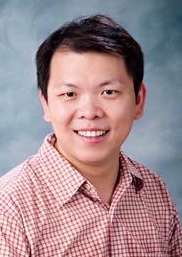 Nan Niu
Assoc Professor
Rhodes Hall
832
CEAS - Electrical and Computer Engineeri - 0030
My current research interests focus on the information seeking strategies that developers use in software engineering. I take an ecological-evolutionary, foraging-theoretic approach to understanding and improving developers' search for relevant information in their daily activities, such as debugging, refactoring, and reuse. My research group investigates how the task environment and the information environment re-shape developers' behaviors, or more accurately, how the developers' behaviors and their environments co-evolve, each shaping the other in important ways. My CAREER project (see http://ceas.uc.edu/news-1415/niu-receives-nsf-career-award.html) links software developers' rational behaviors together with their social information foraging, learning, and co-creation.
Ph.D.: University of Toronto Toronto, ON, Canada, 2009 (Computer Science)
M.Sc.: University of Alberta Edmonton, AB, Canada, 2004 (Computing Science)
B.Eng.: Beijing Institute of Technology Beijing, China, 1999 (Computer Science and Engineering)
Research and Practice Interests
Software Engineering, Information Seeking, and Human-Centered Computing.
Positions and Work Experience
1999 -2001 Software Developer, Lenovo Group Limited, Beijing, PR China
2009 -2014 Assistant Professor (tenure-track), Department of Computer Science and Engineering, Mississippi State University, Mississippi, USA
2014 -To Present Assistant Professor (tenure-track), University of Cincinnati, Cincinnati, Ohio
Grant: #CCF-1350487 Investigators:Niu, Nan 09-01-2014 -08-31-2019 National Science Foundation CAREER: Linking the Solo and Social Levels in Software Engineering Role:PI $78,698.00 Awarded Level:Federal
Grant: #PO-0008390-Task Order 3 / G504TO9DBC0017-14463 Investigators:Niu, Nan 10-20-2015 -01-14-2016 Department of Defense Automated Tool Support for Scientific Software Verification and Validation Role:PI $110,000.00 Active Level:Federal
Grant: #ACI-1558219 Investigators:Niu, Nan; Sokoloff, Michael 07-01-2016 -06-30-2018 National Science Foundation Collaborative Research: S2I2: Cncp: Conceptualization of an S2I2 Institute for High Energy Physics Role:Collaborator $344,581.00 Active Level:Federal
Grant: #CCF-1735433 Investigators:Niu, Nan 03-15-2017 -09-30-2017 National Science Foundation Travel Grant for Grand Challenges of Traceability (GCT): The Next Ten Years Role:PI $7,000.00 Active Level:Federal
Grant: #1919.03.22.91 / FA8650-13-D-1547/0003 Investigators:Jha, Rashmi; Niu, Nan; Ralescu, Anca 08-01-2017 -07-31-2018 Department of the Air Force Exploring Binary Diversification in Codes for Cyber Defense Role:Collaborator $67,500.00 Active Level:Federal
Grant: #RY7-UC-19-1 Investigators:Niu, Nan 05-06-2019 -11-30-2020 Ohio Department of Higher Education Automated generation of attacks against x86-based embedded system platforms Role:PI $52,259.00 Awarded Level:State of Ohio
Grant: #R40209 Investigators:Niu, Nan; Wang, Boyang; Wei, Xuetao 07-01-2019 -12-31-2020 UC's Collaborative Research Advancement Grant Program - Track 1: Pilot Teams Efficient Cryptocurrency Malware Detection Role:Collaborator $24,962.00 Active Level:Internal UC
Grant: #Exh A-6 SETS02-UC/MAA-2018 - FA8650-14-D-1724/0002 Investigators:Bhatnagar, Raj; Gerner, Frank; Niu, Nan 05-26-2019 -08-24-2019 Air Force Research Laboratory Exhibit A-6: Application and research into Using SYSML as basis for vulnerability assessment Role:PI $21,868.00 Awarded Level:Federal
Grant: #H98230-19-1-0297 Investigators:Franco, John; Niu, Nan 09-01-2019 -08-31-2020 National Security Agency Automated detection and resolution of software vulnerabilities in critical and dependable systems where hundreds and thousands of features interact with each other in complex and subtle manners. Role:Collaborator $92,193.00 Awarded Level:Federal
Grant: #STAMP01-UC/MAA-2018 (A-8) / FA8650-18-F-1613 Investigators:Bhatnagar, Raj; Minai, Ali; Niu, Nan; Ralescu, Anca; Vemuri, Ranganadha 08-26-2019 -12-28-2019 Air Force Research Laboratory Exhibit A-8: Application and research into using ML analytics to evaluate/improve verification test processes and results Role:Collaborator $123,689.40 Awarded Level:Federal
Grant: #STAMP02-UC/MAA-2018 (A-9) / FA8650-20-F-1956 Investigators:Bhatnagar, Raj; Minai, Ali; Niu, Nan; Vemuri, Ranganadha 12-29-2019 -05-02-2020 Air Force Research Laboratory Exhibit A-9: Application and research into using ML analytics to evaluate/improve verification test processes and results Role:Collaborator $98,661.80 Awarded Level:Federal
Grant: #VGSS 2020 Exhibit A_Project Exhibit A under the P&G Master Investigators:Niu, Nan 03-02-2020 -06-12-2020 Procter & Gamble Company Evaluation/Customization of Open Source Camera Drivers for Manufacturing Role:PI $13,070.00 Active Level:Industry
Grant: #STAMP02-UC/MAA-2018 / Exh A-10_FA8650-20-F-1956 Investigators:Bhatnagar, Raj; Minai, Ali; Niu, Nan; Vemuri, Ranganadha 05-03-2020 -08-22-2020 Air Force Research Laboratory Application and research into using ML analytics to evaluate/improve verification test processes and results Role:Collaborator $114,519.08 Awarded Level:Federal
Grant: #H98230-20-1-0365 Investigators:Franco, John; Niu, Nan 09-10-2020 -12-30-2021 National Security Agency Automated detection and resolution of software vulnerabilities in critical and dependable systems where hundreds and thousands of features interact with each other in complex and subtle manners. Role:Collaborator $72,392.00 Awarded Level:Federal
Grant: #TAME01-UC/MAA-2018 (A-11) Investigators:Bhatnagar, Raj; Minai, Ali; Niu, Nan 08-23-2020 -01-02-2021 Air Force Research Laboratory Exhibit A-11: Application and research into using ML analytics to evaluate/improve verification test processes and results Role:Collaborator $115,942.33 Awarded Level:Federal
Grant: #TAME01-UC/MAA-2018 (A-12) / GSA No. 47QFLA20R0008/47QFLA20F0096 Investigators:Bhatnagar, Raj; Minai, Ali; Niu, Nan 01-03-2021 -05-01-2021 Air Force Research Laboratory EXHIBIT A-12: Application and research into using ML analytics to evaluate/improve verification test processes and results Role:Collaborator $99,270.10 Awarded Level:Federal
Grant: #TAME01-UC/MAA-2018 (A-13) / GSA Contract No. 47QFLA20R0008/47QFLA20F00 Investigators:Bhatnagar, Raj; Minai, Ali; Niu, Nan 05-02-2021 -08-21-2021 Air Force Research Laboratory Application and Research Into Using ML Analytics to Evaluate/Improve Verification Test Processes and Results Role:Collaborator 62358.34 Hold Level:Federal
Grant: #H98230-21-1-0315 Investigators:Franco, John; Niu, Nan 08-23-2021 -12-31-2022 National Security Agency Automated Reverse Engineering Tools and Detection and Resolution of Software vulnerabilities in Critical and Dependable Systems Role:Collaborator 72431.00 Awarded Level:Federal
Peer Reviewed Publications
Niu N.;Fernández D. (06-01-2019. ) Special issue on just-in-time requirements engineering for software integration.Journal of Industrial Information Integration, , 14 ,1-2 More Information
Wang W.;Niu N.;Alenazi M.;Da Xu L. (06-01-2019. ) In-place traceability for automated production systems: A survey of plc and sysml tools.IEEE Transactions on Industrial Informatics, , 15 (6 ) ,3155-3162 More Information
Greer J.;Toth S.;Jha R.;Ralescu A.;Niu N.;Hirschfeld M.;Kapp D. (12-03-2018. ) Guiding Software Evolution with Binary Diversity.Proceedings of the IEEE National Aerospace Electronics Conference, NAECON, , 2018-July ,92-98 More Information
Niu N.;Wang W.;Gupta A.;Assarandarban M.;Xu L.;Savolainen J.;Cheng J. (12-01-2018. ) Requirements Socio-Technical Graphs for Managing Practitioners' Traceability Questions.IEEE Transactions on Computational Social Systems, , 5 (4 ) ,1152-1162 More Information
Cepulis D.;Niu N. (10-23-2018. ) Creating socio-technical patches for information foraging: A requirements traceability case study.Proceedings of IEEE Symposium on Visual Languages and Human-Centric Computing, VL/HCC, , 2018-October ,17-21 More Information
Wang W.;Gupta A.;Niu N. (10-19-2018. ) Mining security requirements from common vulnerabilities and exposures for agile projects.Proceedings - 2018 1st International Workshop on Quality Requirements in Agile Projects, QuaRAP 2018, , 6-9 More Information
Alenazi M.;Niu N.;Wang W.;Savolainen J. (10-19-2018. ) Using obstacle analysis to support SysML-based model testing for cyber physical systems.Proceedings - 2018 8th International Model-Driven Requirements Engineering Workshop, MoDRE 2018, , 46-55 More Information
Wang W.;Niu N.;Liu H.;Niu Z. (10-12-2018. ) Enhancing automated requirements traceability by resolving polysemy.Proceedings - 2018 IEEE 26th International Requirements Engineering Conference, RE 2018, , 40-51 More Information
Nyamawe A.;Liu H.;Niu Z.;Wang W.;Niu N. (09-05-2018. ) Recommending refactoring solutions based on traceability and code metrics.IEEE Access, , 6 ,49460-49475 More Information
Lin X.;Simon M.;Niu N. (08-27-2018. ) Hierarchical Metamorphic Relations for Testing Scientific Software.Proceedings - 2018 ACM/IEEE International Workshop on Software Engineering for Science, SE4Science 2018, , 1-8 More Information
Lin X.;Simon M.;Niu N. (06-02-2018. ) Hierarchical metamorphic relations for testing scientific software.Proceedings - International Conference on Software Engineering, , 1-8 More Information
Gupta A.;Wang W.;Niu N.;Savolainen J. (05-27-2018. ) Poster: Answering the requirements traceability questions.Proceedings - International Conference on Software Engineering, , 444-445 More Information
Niu N.;Brinkkemper S.;Franch X.;Partanen J.;Savolainen J. (03-01-2018. ) Requirements engineering and continuous deployment.IEEE Software, , 35 (2 ) ,86-90 More Information
Reddivari S.;Kotapalli M.;Niu N. (01-08-2018. ) SDVisu: A tool for clustering-based visual exploration of static dependencies.Proceedings of Computing Conference 2017, , 2018-January ,1373-1374 More Information
Lin X.;Simon M.;Niu N.;Carver J.;Rouson D. (01-01-2018. ) Blockchain Technology, Social Business, Distributed Ledger Technology.Computing in Science and Engineering, , More Information
Alenazi M.;Reddy D.;Niu N. (01-01-2018. ) Assuring Virtual PLC in the Context of SysML Models.Lecture Notes in Computer Science (including subseries Lecture Notes in Artificial Intelligence and Lecture Notes in Bioinformatics), , 10826 LNCS ,121-136 More Information
Wang W.;Gupta A.;Niu N.;Da Xu L.;Cheng J.;Niu Z. (01-01-2018. ) Automatically Tracing Dependability Requirements via Term-Based Relevance Feedback.IEEE Transactions on Industrial Informatics, , 14 (1 ) ,342-349 More Information
Jin X.;Niu N.;Wagner M. (11-09-2017. ) Facilitating end-user developers by estimating time cost of foraging a webpage.Proceedings of IEEE Symposium on Visual Languages and Human-Centric Computing, VL/HCC, , 2017-October ,31-35 More Information
Alenazi M.;Niu N.;Wang W.;Gupta A. (09-29-2017. ) Traceability for automated production systems: A position paper.Proceedings - 2017 IEEE 25th International Requirements Engineering Conference Workshops, REW 2017, , 51-55 More Information
Niu N.;Franch X.;Ernst N.;Méndez D. (09-29-2017. ) Welcome to the second international workshop on just-in-time requirements engineering: Dealing with .Proceedings - 2017 IEEE 25th International Requirements Engineering Conference Workshops, REW 2017, , xxxviii More Information
Niu N. (09-22-2017. ) RE in the Age of Continuous Deployment.Proceedings - 2017 IEEE 25th International Requirements Engineering Conference, RE 2017, , 568-569 More Information
Khatwani C.;Jin X.;Niu N.;Koshoffer A.;Newman L.;Savolainen J. (09-01-2017. ) Advancing viewpoint merging in requirements engineering: a theoretical replication and explanatory s.Requirements Engineering, , 22 (3 ) ,317-338 More Information
Jin X.;Niu N. (06-30-2017. ) Short-term revisit during programming tasks.Proceedings - 2017 IEEE/ACM 39th International Conference on Software Engineering Companion, ICSE-C 2017, , 322-324 More Information
Kamble S.;Jin X.;Niu N.;Simon M. (06-29-2017. ) A Novel Coupling Pattern in Computational Science and Engineering Software.Proceedings - 2017 IEEE/ACM 12th International Workshop on Software Engineering for Science, SE4Science 2017, , 9-12 More Information
Thota V.R.C.;Niu N.;Wang W.;Purdy C.C. (06-24-2017. ) Students' perceptions of software risks .ASEE Annual Conference and Exposition, Conference Proceedings, , 2017-June ,
Vale T.;de Almeida E.;Alves V.;Kulesza U.;Niu N.;de Lima R. (04-01-2017. ) Software product lines traceability: A systematic mapping study.Information and Software Technology, , 84 ,1-18 More Information
Hussein N.;Wang W.;Nedelec J.;Wei X.;Niu N. (01-12-2017. ) Unified profiling of attackers via domain modeling.Proceedings - 2016 IEEE 24th International Requirements Engineering Conference Workshops, REW 2016, , 98-101 More Information
Reddivari S.;Asaithambi A.;Niu N.;Wang W.;Xu L.;Cheng J. (01-02-2017. ) Ethnographic field work in requirements engineering.Enterprise Information Systems, , 11 (1 ) ,137-159 More Information
Zhang J.;Wang Y.;Wang W.;Niu N. (01-01-2017. ) A rule-based method for detecting the missing common requirements in software product line.Proceedings of 2017 International Conference on Progress in Informatics and Computing, PIC 2017, , 277-283 More Information
Niu N.;Koshoffer A.;Newman L.;Khatwani C.;Samarasinghe C.;Savolainen J. (12-02-2016. ) Advancing Repeated Research in Requirements Engineering: A Theoretical Replication of Viewpoint Merg.Proceedings - 2016 IEEE 24th International Requirements Engineering Conference, RE 2016, , 186-195 More Information
Jin X.;Niu N.;Wagner M. (11-14-2016. ) On the impact of social network information diversity on end-user programming productivity: A foragi.Proceedings of the ACM SIGSOFT Symposium on the Foundations of Software Engineering, , 15-21 More Information
Niu N.;Wang W.;Gupta A. (11-01-2016. ) Gray links in the use of requirements traceability.Proceedings of the ACM SIGSOFT Symposium on the Foundations of Software Engineering, , 13-18-November-2016 ,384-395 More Information
Niu N.;Jin X.;Niu Z.;Cheng J.R.C.;Li L.;Kataev M.Y. (09-01-2016. ) A Clustering-Based Approach to Enriching Code Foraging Environment.IEEE Transactions on Cybernetics, , 46 (9 ) ,1962-1973 More Information
Bhowmik T.;Niu N.;Wang W.;Cheng J.;Li L.;Cao X. (08-01-2016. ) Optimal group size for software change tasks: A social information foraging perspective.IEEE Transactions on Cybernetics, , 46 (8 ) ,1784-1795 More Information
Subbian V.;Niu N.;Purdy C. (06-26-2016. ) Inclusive and evidence-based instruction in software testing education .ASEE Annual Conference and Exposition, Conference Proceedings, , 2016-June ,
Jin X.;Khatwani C.;Niu N.;Wagner M.;Savolainen J. (01-01-2016. ) Pragmatic software reuse in bioinformatics: How can social network information help?.Lecture Notes in Computer Science (including subseries Lecture Notes in Artificial Intelligence and Lecture Notes in Bioinformatics), , 9679 ,247-264 More Information
Mahmoud A.;Niu N. (09-01-2015. ) On the role of semantics in automated requirements tracing.Requirements Engineering, , 20 (3 ) ,281-300 More Information
Bhowmik T.;Niu N.;Savolainen J.;Mahmoud A. (09-01-2015. ) Leveraging topic modeling and part-of-speech tagging to support combinational creativity in requirem.Requirements Engineering, , 20 (3 ) ,253-280 More Information
Wang W.;Niu N.;Liu H.;Wu Y. (08-05-2015. ) Tagging in Assisted Tracing.Proceedings - 2015 IEEE/ACM 8th International Symposium on Software and Systems Traceability, SST 2015, , 8-14 More Information
Rayasam S.;Niu N. (01-01-2015. ) Using i? for transformational creativity in requirements engineering .CEUR Workshop Proceedings, , 1402 ,67-72
Bhowmik T.;Niu N.;Singhania P.;Wang W. (01-01-2015. ) On the role of structural holes in requirements identification: An exploratory study on open-source .ACM Transactions on Management Information Systems, , 6 (3 ) , More Information
Niu N.;Bhowmik T.;Liu H.;Niu Z. (09-26-2014. ) Traceability-enabled refactoring for managing just-in-time requirements.2014 IEEE 22nd International Requirements Engineering Conference, RE 2014 - Proceedings, , 133-142 More Information
Mahmoud A.;Niu N. (01-01-2014. ) Supporting requirements to code traceability through refactoring.Requirements Engineering, , 19 (3 ) ,309-329 More Information
Bhowmik T.;Alves V.;Niu N. (01-01-2014. ) An exploratory case study on exploiting aspect orientation in mobile game porting.Advances in Intelligent Systems and Computing, , 263 ,241-261 More Information
Bhowmik T.;Niu N.;Reese D. (01-01-2014. ) Students vs. Professionals in assisted requirements tracing: How could we train our students? .ASEE Annual Conference and Exposition, Conference Proceedings, ,
Bhowmik T.;Niu N.;Mahmoud A.;Savolainen J. (01-01-2014. ) Automated support for combinational creativity in requirements engineering.2014 IEEE 22nd International Requirements Engineering Conference, RE 2014 - Proceedings, , 243-252 More Information
Niu N.;Da Xu L.;Cheng J.;Niu Z. (01-01-2014. ) Analysis of architecturally significant requirements for enterprise systems.IEEE Systems Journal, , 8 (3 ) ,850-857 More Information
Niu N.;Savolainen J.;Niu Z.;Jin M.;Cheng J. (01-01-2014. ) A systems approach to product line requirements reuse.IEEE Systems Journal, , 8 (3 ) ,827-836 More Information
Reddivari S.;Rad S.;Bhowmik T.;Cain N.;Niu N. (01-01-2014. ) Visual requirements analytics: A framework and case study.Requirements Engineering, , 19 (3 ) ,257-279 More Information
Niu N.;Xu L.;Bi Z. (11-04-2013. ) Enterprise information systems architecture-analysis and evaluation.IEEE Transactions on Industrial Informatics, , 9 (4 ) ,2147-2154 More Information
Lopez A.;Niu N. (11-01-2013. ) Multiple criteria decision support for software reuse: An industrial case study.Information Reuse and Integration in Academia and Industry, , 9783709115381 ,201-220 More Information
Niu N.;Mahmoud A.;Chen Z.;Bradshaw G. (10-30-2013. ) Departures from optimality: Understanding human analyst's information foraging in assisted requireme.Proceedings - International Conference on Software Engineering, , 572-581 More Information
Mahmoud A.;Niu N. (10-28-2013. ) Evaluating software clustering algorithms in the context of program comprehension.IEEE International Conference on Program Comprehension, , 162-171 More Information
Niu N.;Yang F.;Cheng J.;Reddivari S. (02-01-2013. ) Conflict resolution support for parallel software development.IET Software, , 7 (1 ) ,1-11 More Information
Mahmoud A.;Niu N. (01-01-2013. ) Supporting requirements traceability through refactoring.2013 21st IEEE International Requirements Engineering Conference, RE 2013 - Proceedings, , 32-41 More Information
Niu N.;Reddivari S.;Chen Z. (01-01-2013. ) Keeping requirements on track via visual analytics.2013 21st IEEE International Requirements Engineering Conference, RE 2013 - Proceedings, , 205-214 More Information
Bhowmik T.;Alves V.;Niu N. (01-01-2013. ) Porting mobile games in an aspect-oriented way: An industrial case study.Proceedings of the 2013 IEEE 14th International Conference on Information Reuse and Integration, IEEE IRI 2013, , 458-465 More Information
Savolainen J.;Niu N.;Mikkonen T.;Fogdal T. (01-01-2013. ) Long-term product line sustainability with planned staged investments.IEEE Software, , 30 (6 ) ,63-69 More Information
Niu N.;Savolainen J.;Bhowmik T.;Mahmoud A.;Reddivari S. (12-14-2012. ) A framework for examining topical locality in object-oriented software.Proceedings - International Computer Software and Applications Conference, , 219-224 More Information
Niu N.;Mahmoud A. (12-12-2012. ) Enhancing candidate link generation for requirements tracing: The cluster hypothesis revisited.2012 20th IEEE International Requirements Engineering Conference, RE 2012 - Proceedings, , 81-90 More Information
Reddivari S.;Chen Z.;Niu N. (12-12-2012. ) ReCVisu: A tool for clustering-based visual exploration of requirements.2012 20th IEEE International Requirements Engineering Conference, RE 2012 - Proceedings, , 327-328 More Information
Mahmoud A.;Niu N.;Xu S. (08-20-2012. ) A semantic relatedness approach for traceability link recovery .IEEE International Conference on Program Comprehension, , 183-192
Niu N.;Yang F.;Cheng J.;Reddivari S. (08-13-2012. ) A cost-benefit approach to recommending conflict resolution for parallel software development.2012 3rd International Workshop on Recommendation Systems for Software Engineering, RSSE 2012 - Proceedings, , 21-25 More Information
Guo J.;Wang Y.;Zhang Z.;Nummenmaa J.;Niu N. (08-01-2012. ) Model-driven approach to developing domain functional requirements in software product lines.IET Software, , 6 (4 ) ,391-401 More Information
Niu N.;Reddivari S.;Mahmoud A.;Bhowmik T.;Xu S. (08-01-2012. ) Automatic labeling of software requirements clusters.2012 4th International Workshop on Search-Driven Development: Users, Infrastructure, Tools, and Evaluation, SUITE 2012 - Proceedings, , 17-20 More Information
Sardinha A.;Yu Y.;Niu N.;Rashid A. (07-12-2012. ) EA-tracer: Identifying traceability links between code aspects and early aspects.Proceedings of the ACM Symposium on Applied Computing, , 1035-1042 More Information
Mahmoud A.;Niu N. (12-05-2011. ) TraCter: A tool for candidate traceability link clustering.Proceedings of the 2011 IEEE 19th International Requirements Engineering Conference, RE 2011, , 335-336 More Information
Niu N.;Lopez A.;Cheng J. (12-01-2011. ) Using soft systems methodology to improve requirements practices: An exploratory case study.IET Software, , 5 (6 ) ,487-495 More Information
Lopez A.;Niu N. (09-29-2011. ) Multiple criteria decision support for software reuse: A case study.Proceedings of the 2011 IEEE International Conference on Information Reuse and Integration, IRI 2011, , 200-205 More Information
Niu N.;Mahmoud A.;Yang X. (09-09-2011. ) Faceted navigation for software exploration.IEEE International Conference on Program Comprehension, , 193-196 More Information
Najafi A.;Niu N.;Najafi F. (09-08-2011. ) Multi-level decomposition approach for problem solving and design in software engineering.Proceedings of the Annual Southeast Conference, , 249-254 More Information
Niu N.;Mahmoud A.;Bradshaw G. (07-07-2011. ) Information foraging as a foundation for code navigation (NIER track).Proceedings - International Conference on Software Engineering, , 816-819 More Information
Mahmoud A.;Niu N. (07-06-2011. ) Source code indexing for automated tracing.Proceedings - International Conference on Software Engineering, , 3-9 More Information
Niu N.;Jin M.;Cheng J.R.C. (05-01-2011. ) A case study of exploiting enterprise resource planning requirements.Enterprise Information Systems, , 5 (2 ) ,183-206 More Information
Niu N.;Alves V.;Bhowmik T. (04-29-2011. ) Portability as an aspect: Rethinking modularity in mobile game development.Proceedings of the 10th International Conference on Aspect-Oriented Software Development Companion, AOSD.11, , 3 More Information
Niu N.;Reese D.;Xie K.;Smith C. (01-01-2011. ) Reuse a "software reuse" course .ASEE Annual Conference and Exposition, Conference Proceedings, ,
Lopez A.;Niu N. (12-01-2010. ) Soft systems in requirements engineering: A case study .SEKE 2010 - Proceedings of the 22nd International Conference on Software Engineering and Knowledge Engineering, , 38-41
Mahmoud A.;Niu N. (12-01-2010. ) Using semantics-enabled information retrieval in requirements tracing: An ongoing experimental inves.Proceedings - International Computer Software and Applications Conference, , 246-247 More Information
Bhowmik T.;Niu N.;Allen E. (12-01-2010. ) Modular development and verification of domain requirements via model checking.Proceedings of the Annual Southeast Conference, , More Information
Niu N.;Savolainen J.;Yu Y. (12-01-2010. ) Variability modeling for product line viewpoints integration.Proceedings - International Computer Software and Applications Conference, , 337-346 More Information
Mahmoud A.;Niu N. (10-22-2010. ) An experimental investigation of reusable requirements retrieval.2010 IEEE International Conference on Information Reuse and Integration, IRI 2010, , 330-335 More Information
Alves V.;Niu N.;Alves C.;Valença G. (01-01-2010. ) Requirements engineering for software product lines: A systematic literature review.Information and Software Technology, , 52 (8 ) ,806-820 More Information
Niu N.;Yu Y.;González-Baixauli B.;Ernst N.;Sampaio Do Prado Leite J.;Mylopoulos J. (12-14-2009. ) Aspects across software life cycle: A goal-driven approach.Lecture Notes in Computer Science (including subseries Lecture Notes in Artificial Intelligence and Lecture Notes in Bioinformatics), , 5560 LNCS ,83-110 More Information
Garcia A.;Niu N.;Moreira A.;Araujo J. (12-01-2009. ) Proceedings of the 15th Workshop on Early Aspects, EA '09, Co-located with the 8th International Con .Proceedings of the 15th Workshop on Early Aspects, EA '09, Co-located with the 8th International Conference on Aspect-Oriented Software Development, AOSD.09, ,
Niu N.;Easterbrook S. (11-30-2009. ) Concept analysis for product line requirements.Proceedings of the 8th ACM International Conference on Aspect-Oriented Software Development, AOSD'09, , 137-148 More Information
Yu Y.;Niu N.;González-Baixauli B.;Mylopoulos J.;Easterbrook S.;Do PradoLeite J. (01-01-2009. ) Requirements engineering and aspects.Lecture Notes in Business Information Processing, , 14 LNBIP ,432-452 More Information
Niu N.;Easterbrook S. (12-01-2008. ) Extracting and modeling product line functional requirements.Proceedings of the 16th IEEE International Requirements Engineering Conference, RE'08, , 155-164 More Information
Niu N.;Easterbrook S. (11-05-2008. ) On-demand cluster analysis for product line functional requirements.Proceedings - 12th International Software Product Line Conference, SPLC 2008, , 87-96 More Information
Niu N.;Easterbrook S. (09-09-2008. ) Exploiting COTS-Based RE methods: An experience report.Lecture Notes in Computer Science (including subseries Lecture Notes in Artificial Intelligence and Lecture Notes in Bioinformatics), , 5030 LNCS ,212-216 More Information
Niu N.;Easterbrook S. (12-01-2007. ) Analysis of early aspects in requirements goal models: A concept-driven approach .Lecture Notes in Computer Science (including subseries Lecture Notes in Artificial Intelligence and Lecture Notes in Bioinformatics), , 4620 LNCS ,40-72
Niu N.;Easterbrook S.;Yu Y. (12-01-2007. ) A taxonomy of asymmetric requirements aspects .Lecture Notes in Computer Science (including subseries Lecture Notes in Artificial Intelligence and Lecture Notes in Bioinformatics), , 4765 LNCS ,1-18
Yu Y.;Niu N.;González-Baixauli B.;Candillon W.;Mylopoulos J.;Easterbrook S.;Leite J.C.S.D.P.;Vanwormhoudt G. (12-01-2007. ) Tracing and validating goal aspects.Proceedings - 15th IEEE International Requirements Engineering Conference, RE 2007, , 53-58 More Information
Niu N.;Easterbrook S. (03-01-2007. ) So, you think you know others' goals? A repertory grid study.IEEE Software, , 24 (2 ) ,53-61 More Information
Niu N.;Easterbrook S. (12-01-2006. ) Discovering aspects in requirements with repertory grid.Proceedings - International Conference on Software Engineering, , 35-41 More Information
Niu N.;Easterbrook S. (12-01-2006. ) Managing terminological interference in goal models with Repertory Grid.Proceedings of the IEEE International Conference on Requirements Engineering, , 296-299 More Information
Brunet G.;Chechik M.;Easterbrook S.;Nejati S.;Niu N.;Sabetzadeh M. (05-22-2006. ) A manifesto for model merging.Proceedings of the 2006 International Workshop on Global Integrated Model Management, GaMMa 2006, co-located with the 28th International Conference on Software Engineering, ICSE 2006, , 5-11 More Information
Niu N.;Easterbrook S. (12-01-2005. ) On the use of model checking in verification of evolving agile software frameworks: An exploratory c .Proceedings of the 3rd International Workshop on Modelling, Simulation, Verification and Validation of Enterprise Information Systems, MSVVEIS 2005, in Conjunction with ICEIS 2005, , 115-117
Niu N.;Easterbrook S.;Sabetzadeh M. (12-01-2005. ) A category-theoretic approach to syntactic software merging.IEEE International Conference on Software Maintenance, ICSM, , 2005 ,197-206 More Information
2014 -2019 CAREER Award U.S. National Science Foundation
2017 Eta Kappa Nu Outstanding Professor Award University of Cincinnati
2017 College of Eng. Research Award for Young Faculty University of Cincinnati
2016 Best Paper Award 24th IEEE Int'l Requirements Engineering Conference, Beijing, China
2015 -2016 Empirical Software Engineering (EMSE Journal) Review Board Springer
2015 William H. Middendorf Research Excellence Award University of Cincinnati
2012 Outstanding Team Performance ADTRAN Senior Design Showcase
2011 StatePride Faculty Award Mississippi State University
2010 Elected to Upsilon Pi Epsilon (Honor Society in Computing Sciences) Mississippi State University
2008 -2009 Doctoral Thesis Completion Scholarship University of Toronto
2003 -2004 Mary Louise Imrie Graduate Student Award University of Alberta
2002 Best Paper Award 4th IEEE Int'l Workshop on Web Site Evolution, Montreal, Canada
2002 J Gordin Kaplan Travel Award University of Alberta
2000 Most Innovative Group Award Lenovo Group Limited (Beijing, PR China)
https://scholar.google.com/citations?user=Ag81t_4AAAAJ&hl=en,