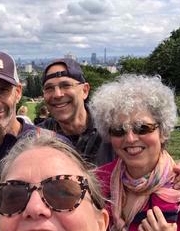 Maura O'Connor
Associate Professor
Associate Professor, Department Head
    The comparative focus of my research and writing is the social and cultural history of Britain and its Empire, across c18th-c20th, and encompassing France, Italy, and the United States. I also have keen interdisciplinary interests that range from literature and the performing arts to economics and neuroscience.  I teach a wide variety of classes at both the undergraduate and graduate levels that explore these interests. After graduating from Mount Holyoke College, I taught history and literature in secondary schools in the Bronx and Surrey, England and worked for an investment firm in San Francisco, the year before starting graduate school at UC Berkeley.
    My current book project reflects an ongoing curiosity about cultures of  finance capitalism. It attempts to write a cultural history of risk and speculation by assessing how capital moved across all kinds of borders and boundaries around the 'stock-jobbing globe' during the nineteenth century. Titled "Risking the World: The London Stock Exchange and the British Financial Empire, 1801-1910," it tells the story of the world of international finance, the culture of risk capital, and the gendered politics of speculating and investing in the British Empire from the Napoleonic Wars when the financial center shifted from Amsterdam to London to the aftermath of the South African War when London's financial supremacy was seriously challenged.
    I have another book in the making, this one, a collection of essays. "Desire in the Archive," is about grief, the body, intimacy and desire, characters in nineteenth century novels and the metaphorical arc of time's passage in coming to terms with loss. Part memoir and part historian's meditation, this book attempts to use the tools of our trade and the particular idioms of history to analyze houses with their shifting perspectives in place and time; the evidence of (personal) experience and to explore, at the same time, the ways in which memories and emotions become embodied in representations and material culture as well as embedded in the landscape.
 
Ph.D.: University of California, Berkeley 1992 (History, Modern Europe and Modern Britain)
Book
Deborah Cohen and Maura O'Connor, eds. Comparison and History: Europe in Cross-National Perspective. (Routledge, 2004).
The Romance of Italy and the English Political Imagination (St. Martin's Press, New York, 1998)