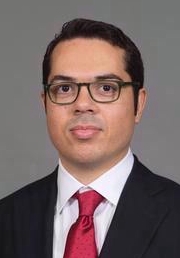 Michael Odio
Associate Professor
Sport Administration
Teachers College
436L
CECH Human Services - 0068
University of Cincinnati

Michael Odio is an Associate Professor of Sport Administration at the University of Cincinnati and holds a Ph.D. in Sport Management from the University of Florida. His scholarly interests include organizational behavior and human resource issues in sport as well as career and learning outcomes for nonstandard employees (e.g., temporary, seasonal, part-time) and internships.
Health and Human Performance (Sport Management) Ph.D. , University of Florida Gainesville, FL, USA, 2013 (Sport Management, concentration in organizational behavior)
Grant: #URC AHSS Faculty Stipend Awards AY2015-16 Investigators:Odio, Michael 05-01-2016 -04-30-2017 UC's University Research Council A need for consistency: A comprehensive analysis of the symbiotic relationship between academia and industry that impacts students' education and career Role:PI $6,000.00 Active Level:Internal UC
Grant: #A18-0262-S001 Investigators:Odio, Michael 04-01-2018 -10-31-2019 American Athletic Conference LAST Course Role:PI $1,308.00 Active Level:Private Non-Profit
Grant: #R40756 Investigators:Odio, Michael 07-01-2020 -06-30-2021 UC's URC AHSS Faculty Awards Accessibility and Opportunities: The Wicked Problem of Sport Industry Internships Role:PI $10,000.00 Active Level:Internal UC
Peer Reviewed Publications
Odio, M. A. (2019. )The role of temporal factors in sport management research .Journal of Global Sport Management, ,
Odio, M. A., Goldsmith, A., & Mahoney, K. (2018. )Examining differences in emotional labor and fan identification between different types of part-time sport facility employees .International Journal of Sport Management, ,19 (1 ),27
Odio, M. A. (2017. )Students' Search Behaviors and Career Alignment for Internships .Journal of Applied Sport Management, ,9 (4 ),22
Odio, M. A., & Kerwin, S. (2017. )The boundaryless sports career: Examining the movements of sports professionals in and out of the sport industry .International Journal of Sport Management, ,18 (3 ),330
Odio, M. A. (2017. )Managing internships in sport and entertainment: Law, ethics and practice .Sport and Entertainment Review, ,3 (1 ),63
Odio, M. A., & Kerwin, S. (2016. )Internship Characteristics, Critical Events, and Intent to Enter the Vocation .Sport Management Education Journal, ,10 (2 ),103
Odio, M. A., Sagas, M., & Kerwin, S. (2014. )The influence of the senior internship experience on the career decision making and development of tourism, recreation and sport management students. .Sport Management Education Journal, ,8 (1 ),46
Odio, M. A., Wells, J., & Kerwin, S. (2014. )Full-time student, part-time employee: Capturing the effects of socialization influences and multiple identities on affective commitment. .Event Management, ,18 (3 ),325
Bang, H., Odio, M., & Reio, T. (2014. )The moderating role of brand reputation and moral obligation: An application of the theory of planned behavior. Journal of Management Development, ,33 (4 ),282
Odio, M. A., Walker, M., & Kim, M. (2013. )Examining the stress and coping process of mega-event employees. International Journal of Event and Festival Management, ,4 (2 ),140
Kammeyer-Mueller, J. D., Rubenstein, A. L., Long, D. M., Odio, M. A., Buckman, B. R., Zhang, Y. & Halvorsen-Ganepola, M. D. (2013. )A meta-analytic structural model of dispositional affectivity and emotional labor. .Personnel Psychology, ,66 (1 ),47
Odio, M. A., & Walker M. (2012. )Seeing it through: A multilevel analysis of intern withdrawal behaviors. Journal of Contemporary Athletics, ,6 (3 ),173
Kim, M., Kim, M. K., & Odio, M. A. (2010. )Are you proud? The influence of sport and community identity and job satisfaction on pride of mega-event volunteers. Event Management, ,14 (2 ),127
Other Publications
Book Chapter
Odio, M. A., & Sheptak, D. (2019 )Managing labor in sports events Sport Facility and Event Management .Jones & bartlett
Odio, M. A., & Kerwin, S. (2017 )Sport in North America International Sport Management, 2nd Edition .
Academic - University of Cincinnati
Phone: 513-556-6756
odioml@ucmail.uc.edu