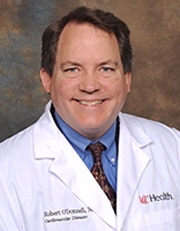 Robert E O'Donnell , MD
Associate Professor of Clinical
Medical Director, Cardiovascular Ambulatory Services and Imaging Integration; Drs. Vijay and Khushman Sanghvi Endowed Chair
Albert Sabin Way
Cincinnati, Ohio 45267
Email robert.odonnell@uc.edu
Medical Degree: SUNY Downstate School of Medicine 1999
Residency: Internal Medicine: UNC Hospitals 2002 (Internal Medicine)
Fellowship: Cardiovascular Disease: Emory University Hospital 2006 (Cardiovascular Diseases)
Fellowship: Cardiac MRI and CTA: Fuqua Heart Center, Piedmont Hospital 2007
Undergraduate Degree: University of Rochester Rochester, NY, 1989
American Board of Internal Medicine (Cardiovascular Disease) (Certification Date: 11-01-2006 ) - (Recertification Date: to 09-29-2016 )
Certified Board of Cardiovascular Computed Tomography (Certification Date: 09-16-2010 )
Certification Board of Nuclear Cardiology (Certification Date: 12-08-2007 ) - (Recertification Date: to 12-16-2017 )
Cardiology
Cardiovascular Disease
Radiology
Cardiovascular Disease
Cardiovascular Magnetic Resonance
Computed Tomography
Internal Medicine
Nuclear Cardiology
Research and Practice Interests
Areas of Expertise:
1.  General Cardiology
2.  Cardiovascular Imaging
            -Cardiovascular MRI Level III
            -Cardiovascular CT Level III
            -Nuclear Cardiology Level II (main focus is Cardiac PET and Solid State SPECT)
3.  Vascular Biology
 
Research Focus:
1.  Obtaining both diagnostic and prognostic data for cardiac amyloidosis using cardiac MRI.
2.  Identification of multi-vessel coronary artery disease using advanced imaging techniques.
3.  Developing an objective software platform for stress MRI.
4.  Evaluation of atrial remodeling secondary in response to catheter ablation of atrial fibrillation.
5.  Using cardiac MRI to test models of cardiac performance.
Grant: #AHA 18IPA34170157 Investigators:Hassett, Daniel; Kotagiri, Nalinikanth; O'Donnell, Robert 07-01-2018 -06-30-2020 American Heart Association - National Chapter Accurate and early noninvasive imaging of bacterial endocarditis Role:Collaborator $100,000.00 Active Level:Private Non-Profit
Peer Reviewed Publications
Remus, Ebony Washington; O'Donnell, Robert E; Rafferty, Kathryn; Weiss, Daiana; Joseph, Giji; Csiszar, Katalin; Fong, Sheri F T; Taylor, W Robert (2012. ) The role of lysyl oxidase family members in the stabilization of abdominal aortic aneurysms.American journal of physiology. Heart and circulatory physiology, , 303 (8 ) ,H1067-75 More Information
Suever, Jonathan D; Watson, Pierre J; Eisner, Robert L; Lerakis, Stamatios; O'Donnell, Robert E; Oshinski, John N (2011. ) Time-resolved analysis of coronary vein motion and cross-sectional area.Journal of magnetic resonance imaging : JMRI, , 34 (4 ) ,811-5 More Information
Patterson, Randolph E; Sigman, Steven R; O'Donnell, Robert E; Eisner, Robert L (2010. ) Viability assessment with MRI is superior to FDG-PET for viability: Con.Journal of nuclear cardiology : official publication of the American Society of Nuclear Cardiology, , 17 (2 ) ,298-309 More Information
Akram, Kamran; O'Donnell, Robert E; King, Spencer; Superko, H Robert; Agatston, Arthur; Voros, Szilard (2009. ) Influence of symptomatic status on the prevalence of obstructive coronary artery disease in patients with zero calcium score.Atherosclerosis, , 203 (2 ) ,533-7 More Information
Puskas JD, Williams WH, O'Donnell R, Patterson RE, Sigman SR, Smith S, Baio KT, Kilgo PD, Guyton RA (2011. ) Off-Pump and On-Pump Coronary Artery Bypass Are Associated With Similar Graft Patency, Myocardial Ischemia and Freedom From Re-intervention: Long-Term Follow-up Of A Randomized Trial. Ann Thorac Surg, , 91 (6 ) ,1836
Sun J, Stewart X, O'Donnell R, Leon A, Felner L, Thomas J, Merlino J (2009. ) Differentiation of Hypertrophic Cardiomyopathy and Cardiac Amyloidosis from Other Causes of Ventricular Wall Thickening by Two-Dimensional Strain Imaging Echocardiography. Am J Cardiol, , 103 (3 ) ,411
O'Donnell RE, Boostein RJ, Cunningham RP, Teebor GW (1994. ) Effect of pH and Temperature on the Stability of UV-Induced Repairable Pyrimidine Hydrates in DNA. .Biochemistry, , 33 (33 ) ,9875
Boorstein RJ, Cadet J, Hilbert TP, Lustig M, O'Donnell RE, Zuo S, Teebor GW (1993. ) Formation, Stabilite and Reparation de Modifications Pyrimidinques dans l'AND. J Chim Phys, , 90 (4 ) ,837
Book Chapter
Lynch M, O'Donnell R, Weintraub NL, Lopez-Candales A. (2013 ) Assessment of Mitral Annular and Velocity Vector Imaging in Acute Myopericarditis Echocardiography .(pp. E227).
Academic - Albert Sabin Way
Cincinnati  Ohio, 45267
robert.odonnell@uc.edu