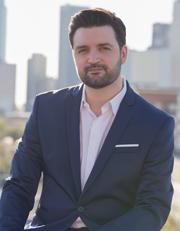 Sergio Pamies
Asst Professor
Assistant Professor of Jazz Piano
Corbett Cntr Perform Arts
1420
CCM Jazz Studies - 0003
Born in 1983 in Granada, Spain, Sergio Pamies has published four albums under his name: EntreAmigos (PSM, 2008), Borrachito (Bebyne Records, 2011), What Brought You Here? (Bebyne Records, 2017) and Summer Night at La Corrala: Solo Piano(expected October 2020). Critics have acknowledged his talent for composition, the lyrical qualities of his playing, and his natural and spontaneous ability to fuse the traditional jazz language and flamenco music of his childhood.

Pamies has performed at festivals in Austria, the Czech Republic, Poland, Slovakia, Colombia, Perú, China, Spain and the United States. He has collaborated with outstanding artists such as Dave Liebman, Christian Scott, Rubem Dantas, Antonio Serrano, Diego Amador, Pepe Luis Carmona "Habichuela," Quamon Fowler, Brad Leali, Quincy Davis, Stockton Helbing, Ashleigh Smith, Samuel Torres, Tatiana Mayfield, Michael Miskiewicz and Joan Albert Amargós. Besides leading his own projects, he has produced other artists such as Verso Suelto (Verso Suelto, Youkali Music 2016), Korean singer Roja (My Shining Hour, Mirrorball Music, 2013) and The Zebras (Flamenco Jazz Project, North Texas Jazz, 2011).

Previously, Pamies taught jazz piano, jazz arranging and composition, in addition to leading the small group program, at University of Texas in Arlington. Pamies has given master classes and presented his research at Universidad de Granada (Spain), University of North Texas, University of Central Oklahoma, University of Texas at Arlington (USA), East Shanghai Normal University, Contemporary Music Institute of Zhuhai (China), Universidad Autónoma de Bucaramanga, Universidad Industrial de Santander and Universidad EAFIT de Medellín (Colombia), among other institutions. Pamies is a frequent collaborator of the European Piano Teachers Association's Piano Professional journal, and a reviewer for the scholarly journal Jazz Education in Research and Practice.

Pamies received his bachelor's degree in Jazz Piano (Liceo Conservatory in Barcelona, 2007), and then moved to the United States to study with Stefan Karlsson and complete a master's degree in Jazz Piano at the University of North Texas (UNT), where he was awarded "Outstanding Student" in 2011. Pamies finished his doctoral studies (DMA in Jazz Piano) in 2016. He was the pianist of the seven-time Grammy nominated One O'Clock Lab Band at UNT, where he had the opportunity to perform with guest artists such as Bobby McFerrin, Arturo Sandoval, Marvin Stamm, Wycliffe Gordon, Doc Severinsen and Chuck Findley. As a member of the One O'Clock rhythm section, he has accompanied artists such as Christian McBride, Peter Bernstein, Lewis Nash, Tim Hagans and Greg Osby, among others. He is the featured soloist on Rich DeRosa's composition "Neil," which received a Grammy nomination in 2016 for "Best Instrumental Composition."

In 2015, Pamies was selected for the "Latin Jazz Traditions" concert organized by Carnegie Hall, performing there with Paquito D'Rivera, having his composition "Dudú" selected for the program. In 2014, Pamies was awarded with the "Best Representation of Granada in a Foreign Country" youth cultural award by the Youth Institute of Andalucía, Spain. He has received seven DownBeat student awards: Best Instrumental Soloist (2013), Best Large Ensemble (2014) and Best Latin Group (2012) among them.
Doctor of Musical Arts (DMA): University of North Texas Denton (TX), 2016 (Major: Jazz Piano Performance Related field: Music Composition )
Master of Music, MM: University of North Texas Denton (TX), 2011 (Jazz Piano Performance)
Bachelor of Music (BM): Conservatorio del Liceo Barcelona (Spain), 2007 (Jazz Piano Performance)
Research and Practice Interests
As a researcher and a creative, I am a specialist in flamenco jazz. Other areas of interest in my research activities include jazz piano, jazz education, jazz theory, jazz improvisation, jazz small group performance, jazz historiography, and jazz arranging. My dissertation focused on how different artists have combined elements from flamenco and jazz throughout the years, and how the creative process led them into producing a new musical style with specific aesthetics that have entered jazz discourse. This study can be a resource for international jazz musicians who are seeking to combine jazz with their musical cultural heritage. In addition to my research, I have approached this topic from a creative perspective. My first two recordings as a leader were focused in developing my own vision of flamenco jazz. These compositional, arranging, recording, producing, and performance experiences have been cited by scholars in the field and reviewers (Rojas, 2012; Delannoy, 2012; Dalmace, 2013), which reflects my growing reputation as an expert in flamenco jazz. This long term project has taught me the process of developing an individual voice as an artist. As a result of finding my own artistic identity, I have published four albums under my name and have led my own groups since 2007. I have performed as a featured artist in several international jazz festivals and venues, and my music has appeared in specialized and general media, and has been critically reviewed. Musicians such as Dave Liebman, Christian Scott, Diego Amador, Antonio Serrano, Rubem Dantas, Quamon Fowler, and Samuel Torres have collaborated in my projects.

Currently, I am engaged in two research projects; expanding my dissertation topic by creating a scholarly book, and writing and publishing an educational textbook that includes various jazz piano topics. I recently had two articles published in Piano Professional (European Piano Teachers Association), that can be taken as an example of the materials I am currently developing.

 
Positions and Work Experience
08-2016 -05-2020 Adjunct Faculty, Taught Applied Jazz Piano, Jazz Ensemble, Music Appreciation., Dallas College (Mountain View Campus) , Dallas (TX)
08-2018 -05-2020 Adjunct Assistant Professor, Taught Applied Jazz Piano, Jazz Arranging, Jazz Composition, Advanced Jazz Improvisation, and serve as the Jazz Small Group Coordinator., University of Texas at Arlington, Arlington (TX)
08-2018 -05-2016 Teaching Fellow, Taught Applied Jazz Piano (graduate and undergraduate students), Jazz Performance Fundamentals, Jazz Keyboard Fundamentals, directed a big band, directed a contemporary music ensemble (called "The Zebras"), coached jazz small groups and assisted organizing performance and rehearsals schedules for the small group program., University of North Texas, Denton (TX)
Peer Reviewed Publications
Sergio Pamies Rodriguez (2021. ) "Deconstructing Modal Jazz Piano Techniques: the Relation between Debussy's Piano Works and the Innovations of Post-bop Pianists." .Jazz Education in Research and Practice, , 2 (2 ) ,