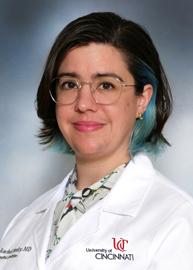 Rachel Pauley
Clinical Instructor
Personal Statement
She was forty-one and she did not want to die. My resident and I met Miranda late one night when her mean arterial pressure trended below sixty. My resident calmly reviewed the situation for her. Originally admitted for necrotizing pancreatitis, her course had included abdominal compartment syndrome, venous thrombi, and e. coli peritonitis. He explained the nuances of intensive care unit admission criteria, anti-coagulation, sepsis, and survival. He asked her if she understood. She nodded. I asked her to tell me, in her own words, the most important thing she had heard. She cried and I knew that she felt the gravity of the situation. I delight in the art of interviewing patients and constructing stories that explain their symptoms, offer guidance, and are fundamentally informed by their values. During my conversations with Miranda in the ICU, it became clear that her priority was having as much time as possible. The team tailored her treatments with this goal in mind. This is one of the most interesting parts of internal medicine: the process of defining what can be done and what should be done, based on the patient's goals of care. I feel privileged in internal medicine to be invited to engage with people on personal and deeply held beliefs. I am particularly drawn to critical care for the urgency and gravity of these conversations. I look forward to each shift in which I am able to care for patients in the hospital and engage with complex clinical problems through the lens of their goals of care.

Why I Chose Cincinnati
Cincinnati felt right. I was looking for a program that was committed to innovative medical education, patient-centered care, and iterative improvement. I felt welcomed by everyone I met in Cincinnati – the residents, the faculty, Dr. Warm, the city bus driver who made sure I didn't accidentally go to Kentucky. I am thrilled to be joining this kind, vibrant community.
MD: University of Colorado School of Medicine
University of Cincinnati College of Medicine
231 Albert Sabin Way
Cincinnati  Ohio, 45267
PAULEYRL@UCMAIL.UC.EDU