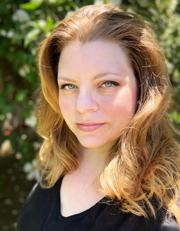 Elizabeth Rae Payne
Assistant Professor
Assistant Professor of Costume Design
Corbett Cntr Perform Arts
2510
CCM Costume Shop - 0003
A costume designer with more than 20 years of experience designing for theatre, dance and television, Elizabeth Payne officially joins CCM on Aug. 15, 2021. In her most recent position as Professor of Theatre Arts and Faculty Costume Designer at California State University Fresno, Payne designed costume and makeup for productions including A Midsummer Night's Dream, As You Like It, Assassins, Heathers the Musical, The Maids andServant of Two Masters. Previously, she worked as a visiting lecturer of costuming at Susquehanna University and as an adjunct faculty member at Ohio University-Southern in painting.

Prior to her appointment at CSU Fresno, Payne worked as a costume designer both regionally and off-Broadway where she collaborated on four world premieres for the NYC-based theatrical company Waterwell. Her off-Broadway credits include The/King/Operetta, Marco Millions (Based on Lies), Bushwars and The Persians ... A Comedy About War with 5 Songs.

Additionally, her work has been seen at the American Dance Festival, the Joyce Soho, New York University, the New York Musical Festival, the Clubbed Thumb and the Flea Theater. Most recently, she worked for two years as the assistant costume designer for the late-night talk show Conan on TBS.

Payne received her BA in Theatre and Art from Morehead State University in Kentucky in 2000 and her MFA in Design for the Stage and Film from New York University, Tisch School of the Arts in 2004. She is a member of United Scenic Artists (Local 829) and the Costume Designer's Guild (Local 892).