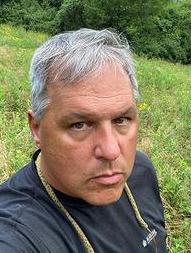 Kenneth Petren
Professor
Professor
Rieveschl Hall
800C
A&S Biological Sciences - 0006
Ph.D.: University of California, San Diego 1994
A.B.: Princeton University 1985
Research and Practice Interests
The Petren lab studies speciation, population divergence,
dispersal and species interactions in natural populations. Much of the lab's research is in the field of comparative landscape genetics, where molecular markers (like those used in forensics) are used to reconstruct migration, hybridization and population history. Other work explores how behavior affects ecological interactions. Research systems include the adaptive radiation of Darwin's finches and the dynamics of lizard invasions. The lab combines molecular genetics, genomics, behavioral experiments and field research in places like the Galápagos, southeast USA and Cincinnati, Ohio.  Visit the Petren Lab homepage.

Ken is part of the growing ECBR group within Biological Sciences.
Positions and Work Experience
2006 - Associate Professor, University of Cincinnati, Dept. Biological Sciences
2000 -2006 Assistant Professor, University of Cincinnati, Dept. Biological Sciences
2011 -2014 Department Head, Biological Sciences, U. Cincinnati,
2015 -To Present Dean, College of Arts and Sciences, U Cincinnati,
Grant: #DBI-1262863 Investigators:Petren, Kenneth; Uetz, George 10-01-2013 -09-30-2016 National Science Foundation New REU Site: Sensory Ecology: An Integrative Approach Role:PI $193,113.00 Awarded Level:Federal
Grant: #SRS 008545 Investigators:Petren, Kenneth 05-01-2013 -04-30-2016 Institute of Museum and Library Services Evaluating Two Decades of Seeds, Spores, and Tissues in CREW's CryoBioBank: Cryostorage as a Tool for Ex Situ Conservation in Botanical Gardens Role:PI $39,936.00 Active Level:Federal
Grant: #DEB-0317687 Investigators:Petren, Kenneth 09-01-2003 -08-31-2006 National Science Foundation The Role of Peripheral Isolation in Adaptive Radiation Role:PI $359,000.00 Closed Level:Federal
Grant: #MoD Sub No 139852 Investigators:Petren, Kenneth 01-01-2017 -12-31-2017 March of Dimes March of Dimes Prematurity Research Center Ohio Collaborative – Theme 1 (YEAR 5) Role:PI $5,426.00 Active Level:Private Non-Profit
Peer Reviewed Publications
Lawson L.P. and Petren K (2017) The adaptive genomic landscape of beak morphology in Darwin's finches. Molecular Ecology. 
 Lawson LP, B Fessl, FH Vargas, HL Farrington, HF Cunningham, JC Mueller, E Nemeth, PC Sevilla, K Petren. (2016) Slow motion extinction: inbreeding, introgression, and loss in the critically endangered mangrove finch (Camarhynchus heliobates). Conservation Genetics.
Kim M, Cooper B, Venkat R, Phillips J, Eidem H, Hirbo, J, Nutakki S, Williams S, Muglia L, Capra JA, Petren K, Abbot P, Rokas A, McGary K. (2015) GEneSTATION 1.0: a synthetic resource of diverse evolutionary and functional genomic data for studying the evolution of pregnancy-associated tissues and phenotypes. Nucleic Acids Research 2015 
Farrington HL, Lawson LP, Clark CM, Petren K. (2014). The evolutionary history of Darwin's finches: Speciation, gene flow and introgression in a fragmented landscape. Evolution 68: 2932–2944. 
Petren, K. (2013) The evolution of landscape genetics.  Evolution.  (Editor, special section).
Parker, P., Buckles, E. L., Farrington, H.,  Petren, K., Whiteman, N., Ricklefs, R., Bollmer, J. L. & Jiménez-Uzcátegui, G.(2011). 110 Years of Avipoxvirus on the Galápagos Islands.PLoS ONE: 6(1): e15989. doi:10.1371/journal.pone.0015989.
Farrington, H. L, & Petren, K. (2011). A century of genetic change and metapopulation dynamics in the Galápagos warbler finches (Certhidea). Evolution 65(11), 3148-61.
More Information
Short, K. H. & Petren, K. (2011). Fine-scale genetic structure arises during range expansion of an invasive gecko. PloS one, 6(10), e26258.
More Information