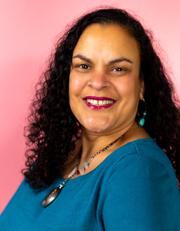 Spring Pillow
Program Manager
Managing Assistant Director of CCM Prep
Corbett Cntr Perform Arts
CCM Preparatory and Community Engagement - 0003
Spring Starr Pillow began her role as CCM's Managing Assistant Director of CCM Prep on Monday, April 3, 2023.

Spring graduated from Northern Kentucky University with a degree in Musical Theatre Performance and she holds masters credits from the University of Cincinnati in Education and Counseling. Prior to joining CCM, she was employed as the director of school programming for Wordplay Cincy.

Spring is a very active part of the initiative to combine theatre and education.  She has developed several afterschool and in-school workshops combining curriculum and drama in tristate area schools. Spring has worked for many tristate theatres—including Ensemble Theatre, Children's Theatre of Cincinnati, Covedale Theatre and The Showboat Majestic—and she was a featured cabaret performer at The Celestial. Spring has also had the privilege of singing and writing with David Kisor, a prolific children's songwriter, on several nationally recognized CDs and play projects through Growing Sound.

In her spare time, Spring enjoys writing poetry, short stories, plays and music, rehabbing old homes, singing with her band No Guarantees whenever possible, and spending time with her boys—Nick, Eli and Max—and her dogs, Sophie and Herman.