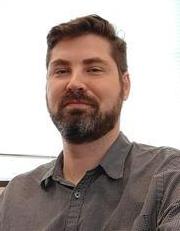 Juan Andres Pizzani
Graduate Assistant
Dr. Juan Andres Pizzani Ochoa (Caracas, 1979) completed a Master's Degree in Spanish Literature at the University of Cincinnati and a PhD Degree in Anthropology at Universidad de Los Andes in Mérida, Venezuela. He wrote the novella Visita guiada (2007) and published some of his poems in the anthology Voces Nuevas (2004). His doctoral thesis is Masculinities, Diversity and Homophobia in a Middle Class Family from Caracas, from the 90's to 2015 (2017). He authored the art books Enciclopedia Ilustrada del Arte (2002), Crayon Picture Books (2003) and Nuevo Abesedario (2020).
PhD: Universidad de Los Andes, Mérida, Venezuela, 2017 (Anthropology)
M.A.: University of Cincinnati, Ohio, 2004 (Spanish Literature)
B.A.: Universidad Metropolitana, Caracas, Venezuela, 2004 (Modern Languages with a Minor in Translation)
Research and Practice Interests
Gender and Sexualiy Studies
Queer Literatures
Latin American Literatures
Autoethnographic Research
Literary Translation
Creative Writing
Video Art
Poetry
 
Positions and Work Experience
2021 - To Present Graduate Assistant, Teaching Assistant of Spanish, University of Cincinnati, Ohio.
2018 -2021 Copywriter and Community Manager, Copywriting, Email Marketing, Social Media Empathetic Protocols, 121 Relationship Marketing, Lima, Peru.
Other Publications
Esprierlla Guerro, Ricardo. Mott, Luis. Quirós Leiva, Denis. Requena, Antonio. Juan Andrés Pizzani (ed). (2015. ) Crítica a los discursos sobre las prácticas sexuales de los pueblos originarios .Colección Degéneros, Fundación Editorial el Perro y la Rana
Clarac de Briceño, Jacqueline. Juan Andres Pizzani (ed) (2016. ) La cultura campesina en los Andes venezolanos. (2nd ed) . Fundación Editorial el Perro y la Rana
Perlongher, Néstor. Juan Andrés Pizzani (ed) (2014. ) Antología diacrónica . Fundación Editorial el Perro y la Rana
Published Books
Pizzani, Juan Andrés (2007. ) Visita guiada .Caracas , Fundación Editorial el Perro y la Rana
Book Chapter
Pizzani, Juan Andrés (2004 ) "Selección de poemas 1999-2004" Voces nuevas 2003-2004 .(pp. 269 -79).Caracas, Centro de Estudios Latinoamericanos Rómulo Gallegos