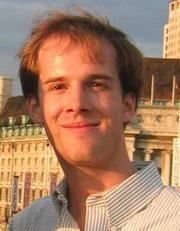 Chris Platts
Assistant Professor
Assistant Professor
Aronoff Center
DAAP School of Art - 0016
Research
Christopher Platts is a historian of medieval and early modern European art with a focus on Italian painting and manuscript illumination, ca. 1250-1500. He is currently preparing a book on the Venetian Gothic painter Paolo Veneziano (active 1310-1358) as well as studies on Ambrogio and Pietro Lorenzetti, Andrea Mantegna, Hieronymous Bosch, and Attavante. He is interested in the style, iconography, patronage, design, function, and original audiences of artworks, especially Venetian and Tuscan panel paintings of the Gothic and Renaissance periods. He trained at Harvard College, the Courtauld Institute of Art in London, and Yale, and has held residential fellowships at the Fondazione Roberto Longhi in Florence, Italy, and at the University of Heidelberg.

Curatorial Experience
Chris is also active as a curator, having conceived and co-organized exhibitions on medieval, early modern, and contemporary art at the Getty Museum ("Renaissance Splendors from the Northern Italian Courts," summer 2015), Yale University Law Library ("Representing the Law in the Most Serene Republic: Images of Authority from Renaissance Venice," winter 2016-17), University of Connecticut ("The Fabulous Lives of Morton, Nellie, and Maisie Plant: Art and Leisure in Gilded-Age Groton," spring 2019), Vassar's Frances Lehman Loeb Art Center ("The Great Wonder: Violet Oakley and the Gothic Revival at Vassar," spring 2021), and the University of Cincinnati.

Technical Study of Art
With colleagues in Chemistry, Geology, and Museum Studies, Chris co-directs a research group focused on the scientific examination of art in local and regional museums. The group has used X-ray fluorescence (XRF) and Raman spectroscopy, among other approaches, to study works attributed or related to Bernardo Daddi, Pietro Lorenzetti, Raphael, Catarina van Hemessen, Anthony Van Dyck, John Constable, and other European painters and illuminators. At the moment, they are studying a little-known, signed work by Catarina van Hemessen, a major woman artist of the Northern Renaissance during the mid-16th century.

Community Outreach
Chris has recently developed an educational outreach program in which he and University of Cincinnati students will create and deliver object-centered presentations on medieval and early modern art to local classrooms at Cincinnati pubilc high schools. He and the group will bring Gothic, Renaissance, and Baroque manuscript illuminations, printed books, and prints to the classrooms so that students can examine and physically handle actual artworks as they study art history, European history, or the visual arts.

Art Documentation & Discoveries
Another of Chris's current projects is an informal census of pre-1700 European paintings and illuminated manuscripts in lesser-known and smaller collections in the Midwest and other regions of the United States. He has discovered important artworks newly attributed to Paolo Veneziano, Attavante, Charles Le Brun, Nicolas Jarry/Louis du Guernier, and others.

Consulting & Collection-Building
Chris also serves as a consultant to private collectors, art museums, and auction houses such as Sotheby's and Christie's when there are questions of attribution, style, and dating on 14th-century Italian paintings and illuminations, especially those of the Venetian school. He works closely with librarians and curators at the University of Cincinnati, as well as donors, to purchase or pursue gifts of artworks that will enhance the teaching and research collections at the University.

In the Media/News & Digital Projects
https://www.uc.edu/news/articles/2022/10/collaboration-combines-art-science-to-detect-fakes.html<
Ph.D.: Yale (Art History)
BA: Harvard University
MA: Courtauld Institute, University of London (History of Art)
Research and Practice Interests
Medieval and Renaissance art, especially Italian painting and manuscript illumination
Invited Presentations
(2023. ) Venezianita in Venetian Gothic Painting: The Newly Discovered Betrayal of Christ by Paolo Veneziano .Renaissance Society of America Annual Meeting, San Juan, Puerto Rico.
(2022. ) "By the power of the Holy Spirit, she walked away made whole": A Unique Representation of Saint Nicholas' First Healing Miracle in Medieval Croatia, its Early Byzantine Source, and its Post-Byzantine Transformation .Byzantine Studies Conference, Los Angeles.
(2022. ) "With his Right Hand": Signatures, Pictorial Gestures, and Artistic Self-Consciousness in Pietro Lorenzetti's Arezzo Polyptych .Andrew Ladis Trecento Memorial Conference, Nashville, TN.
(2022. ) Aiding the Naked Eye: Spectroscopic Techniques for the Analysis of Ancient Sculpture and Renaissance Painting in the Cincinnati Art Museum and University of Cincinnati Art Collection .Institute for Research in Sensing, Ignite Symposium, University of Cincinnati,
(2022. ) "A New Illuminated Manuscript Signed by Attavante and Some Thoughts on Illuminators' Signatures in Renaissance Italy" .Annual St. Louis Conference in Manuscript Studies,
(2022. ) Reconsidering Mantegna's Two Standing Male Figures and its Role in the Development of the Ovetari Chapel Saint James Led to his Execution .Sixteenth Century Society Conference, Minneapolis, MN.
(2022. ) "Experimental Altarpieces and the Display of Relics in and around Venetian Territories, ca. 1350" .Renaissance Society of America Annual Meeting, Dublin.
(2021. ) The Great Wonder: Violet Oakley and the Gothic Revival at Vassar .Frances Lehman Loeb Art Center, Vassar College.
(2023. ) Signatures, Pictorial Marks, and Artistic Self-Awareness in the Italian Renaissance,from Pietro Lorenzetti to Attavante .Murray Seminar, Birkbeck College, University of London.
(2023. ) A Codex Fit for a Queen: The Prayer Book of Anne of Brittany Illuminated by Attavante (Newberry Library MS 83) .Sixteenth Century Society Conference, Baltimore, MD. Professional Meeting. . Level:International
(2024. ) The Sacred Made Sienese: Ambrogio Lorenzetti's Cambrai Madonna and Its Medieval, Renaissance, and Modern Audiences .Renaissance Society of America, Annual Meeting, Chicago. Level:International
2022 Faculty Forward Award for Collaborative, Experiential Teaching Level:University Type:Monetary
2023 Faculty Excellence Award (for Research) Selected as the sole recipient from more than 100 tenure-track or tenured faculty at the College of Design, Architecture, Art, and Planning (DAAP) UC Office of the Provost and Office of Research Status:Recipient Level:University Type:Monetary
2023 University Honors Discovery Program Grant UC Honors Program Status:Recipient Level:University Type:Grant
2023 Research and Publication Award Italian Art Society Status:Recipient Level:National Type:Monetary
2023 Renaissance Society of America Grant in Support of Innovative Teaching Level:International Type:Grant
2023 International Center for Medieval Art, Advocacy Seed Grant Level:International Type:Grant
2023 Center for DAAP Research and Innovation Grant Level:College Type:Monetary
2023 School of Art Renick Travel Fellowship Level:Department Type:Monetary
Art History, Museums, Italy, Mediterranean, Renaissance, Medieval, Early Modern, Illuminated Manuscripts, Rare Books, Venice, Siena, Florence, Byzantine, Gothic, Baroque, Duccio, Giotto, Paolo Veneziano, Exhibitions, Connoisseurship, Iconography, Patronage, Reception, Image Design
Global Renaissance Art
History of Exhibitions
Medieval Art and Architecture, 250-1450
Senior Seminar (Capstone) -- History of Prints
History of Collecting at the University of Cincinnati, 1819 to Today
European Baroque Art and Architecture
Italian Renaissance Art and Architecture
christopher.platts@uc.edu