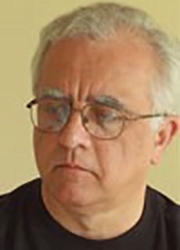 Igor V. Plitsyn
CCM Prep Master Teacher, Theory
Igor Plitsyn holds degrees in Violin and Composition from Moscow State Tchaikovsky Conservatory, Russia, and a doctorate in Composition and Theory from the University of Cincinnati College-Conservatory of Music.
 
Performers of Plitsyn's music include the USSR Radio and Television Symphony Orchestra (BSO), the USSR Radio and Television Grand Concert Orchestra, Azerbaijan Radio and Television Pops Orchestra, Azerbaijan State Choral Cappella, Moscow Philharmonic Orchestra, Moscow Ensemble Concertino and Ensemble for Contemporary Music, Cincinnati. He was a recipient of commissions and awards from Ministries of Culture and Television and Radio Committees of Russia and Azerbaijan, Meet the Composer and ASCAP.
 
His many arrangements of concert and popular music were recorded and broadcast by Russian and Azerbaijan Radio and Television. More information about his work as a composer and performer is available on his website www.igorplitsyn.net.