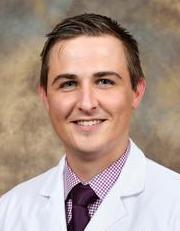 Drew Powell
Assistant Professor of Clinical-Affiliate
Medical Sciences Building
COM IM Hospital Medicine Aff Faculty - 0535
Personal Statement
The first time I stepped into a classroom to teach I felt so confident. I had my binder with my lesson plan completely prepared, I knew everything there was to know about the material. I was ready. Until someone raised their hand. He asked his question and I immediately knew the answer. As I finished my explanation and looked around the class I could see not everyone understood my explanation. In that moment I realized teaching is much more than just knowing the content. Over the next year and a half I learned a great deal about educating others and grew to love teaching. It has shaped many of my life goals, including ensuring that being an educator is a major part of my career.

Why I Chose Cincinnati
There are almost too many reasons to count what made Cincinnati stand out to me. It all starts at the top with Dr. Warm. His focus on resident education is apparent from the moment you walk in the door. The innovative programs (TRAC, Long Block, and structured mentorship) and focus on patient centered care (including bedside rounding) have made me confident that I will be able to become not only an excellent clinician, but be able to grow into an exceptional clinical educator. The city was also an awesome place to visit and I'm excited to be a part of the unique and vibrant culture of this city.