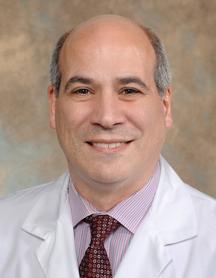 Charles Joseph Prestigiacomo , MD,FACS,FAANS
Professor of Clinical
Director of Cerebrovascular and Endovascular Surgery
University of Cincinnati
231 Albert Sabin Way
Cincinnati, Ohio 45267-0517
Phone 513-558-4438
Fax 513-558-7702
Email presticj@uc.edu
Bachelor's Degree: Georgetown College Washington, DC, 1989 (Biology)
Medical Degree: Columbia University College of Physicians and Surgeons New York, NY, 1993
Internship: Columbia - Presbyterian Medical Center New York, NY, 1994 (General Surgery)
Residency: Columbia - Presbyterian Medical Center New York, NY, 1995 (Neurological Surgery)
Research Fellowship: Columbia - Presbyterian Medical Center New York, NY, 1997 (Neurological Surgery)
Chief Resident: Columbia - Presbyterian Medical Center New York, NY, 1997 (Neurological Surgery)
Fellowship: Columbia - Presbyterian Medical Center New York, NY, 1998 (Interventional Radiology)
Fellowship: Beth Israel Medical Center Newark, NJ, 2002 (Endovascular Surgical Neuroradiology)
American Board of Neurological Surgery (Certification Date: 11-10-2006 ) - (Recertification Date: to 01-01-2017 )
Neurology
Neurosurgery
Stroke
Acute Head Bleeds
Acute Stroke
Aneurysm
Arachnoid Cysts
Arnold-Chiari Malformation
Atherosclerotic Disease
Brain Abscess
Brain Aneurysm (Cerebral aneurysm)
Brain Arteriovenous malformation (AVM)
Brain Concussion
Brain Hemorrhage
Brain Injuries
Carotid Artery Disease
Carotid Artery Injury
Carotid Artery Stenosis
Carotid Artery, Internal, Dissection
Cavernous Hemangioma
Cavernous Malformations
Central Nervous System Vascular Malformations
Cerebral Contusion
Cerebral Hemorrhage
Cerebral venous thrombosis
Cerebrovascular Disease
Cerebrovascular Disorders
Cerebrovascular Trauma
Cervical Rib Syndrome
Chiari Malformation
Chronic Brain Injury
Comprehensive Stroke
Concussion
Cranial Nerve Disease
Cranial Nerve Injuries
Cushing syndrome (Hypercortisolism)
Diffuse Axonal Injury
Facial Nerve Disease
Facial nerve injury
Facial nerve neuromas
Facial Pain
Head Injury
Head Trauma
Hemorrhagic Stroke
Hydrocephalus
Intra-arterial thrombolysis
Intracerebral Hemorrhage (ICH)
Intracranial Aneurysm
Intracranial Arteriovenous Malformations
Intracranial Artery Stenosis
Intracranial Embolism and Thrombosis
Intracranial Hematoma
Intracranial Hemorrhages
Intracranial Venous Malformations
Intraventricular Hemorrhage
Mild Traumatic Brain Injury
Moyamoya Disease
Normal Pressure Hydrocephalus
Pseudotumor Cerebri (Idiopathic Intracranial Hypertension)
Reversible Cerebral Vasoconstriction Syndrome
Ruptured Aneurysm
Severe Brain Injury
Severe Traumatic Brain Injury
Spinal Arteriovenous Malformation (AVM)
Spinal Dural Arteriovenous Fistula
Spinal Vascular Disease
Subarachnoid Hemorrhage
Subdural Hematoma
Temporal Arteritis (Giant cell arteritis)
Transient Ischemic Attack (TIA)
Transverse sinus stenosis
Traumatic Brain Injury (TBI)
Trigeminal Nerve Injuries
Trigeminal Neuralgia (Tic douloureux)
Vasospasm
Venous Sinus Occlusion
Venous Sinus Stenosis
Vertebral Artery Dissection
Neurological Surgery
Neurovascular Emergencies
Research and Practice Interests
My research interests focus on several clinical and basic research topics.  Clinically, my interests include outcomes analysis and decision analysis for patients with the various forms of cerebrovascular and spinal vascular disease along with the treatment paradigms.  This interest also carries over to critical care and trauma management of patients since some vascular pathology is seen in these populations of patients as well.
 
From a more basic science perspective, I have an interesst in the biophysics and mathematics of aneurysm formation.  I have had some experience in AVM hemodynamic studies as well.

Finally, I have an interest in education research, quality metrics and improvement and the history of medicine (specifically anatomy and neurosciences/neurosurgery).
Grant: #VUMC78063 Investigators:Prestigiacomo, Charles 01-01-2020 -06-30-2024 Vanderbilt University Medical Center BEST-II Role:PI $55,440.00 Awarded Level:Private Non-Profit
Investigators:Prestigiacomo, Charles 07-01-2022 -06-30-2025 Depuy Synthes Products, Inc. Middle Meningeal Artery Embolization for the Treatment of SuBduRal HemAtomas with TRUFILL n-BCA Role:PI 419998.00 Hold Level:Industry
Grant: #2022 BAF Research Grant Investigators:Jandarov, Roman; Johnson, Mark; Prestigiacomo, Charles; Ralescu, Anca 10-01-2022 -09-30-2023 Brain Aneurysm Foundation Morphological Analysis Through the Use of Fractal Dimension as a Predictor of Cerebral Aneurysm Behavior Role:Collaborator 30000.00 Awarded Level:Non Profit
Grant: #CL11012 (SOFAST) Investigators:Prestigiacomo, Charles -03-06-2028 MicroVention, Inc. Master Agreement with MicroVention Role:PI 0.00 Hold Level:Industry
Investigators:Prestigiacomo, Charles 10-01-2022 -09-30-2025 MicroVention, Inc. SOFAST SOFia Aspiration System as first line Technique Role:PI 0.00 Hold Level:Industry
Academic - University of Cincinnati
231 Albert Sabin Way
Cincinnati  Ohio, 45267-0517
Phone: 513-558-4438
Fax: 513-558-7702
presticj@uc.edu