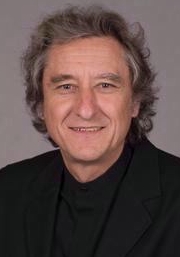 Robert Probst
FSEGD, AGI, Professor and Dean Emeritus
Van Wormer Hall
Exec VP for Academic Affairs & Provost - 0097
Simpson Center for Urban Futures
1819 Innovation Hub Suite, 335
Cincinnati, Ohio 45206
Biography
 
Robert Probst is Professor and Dean Emeritus.  He has been teaching Graphic Design at the College of Design, Architecture, Art, and Planning since 1978.
 
He was named Director of the School of Design in 2001. Under his leadership the School received press-recognition as one of the global leaders in design education and endowment to name the school: Myron E. Ullman, Jr. School of Design. He was instrumental in leading the university's efforts to becoming a member of the international PACE network, Partners for the Advancement of Collaborative Engineering Education.
 
In 2007 he was appointed Interim Dean and in 2008 he was named Dean of the College of Design, Architecture, Art, and Planning. As dean, he established a "signage" chair and raised funds to build the "Simpson Center for Urban Futures" housed at the Univserity's 1819 Innovation Hub.  In 2011, under his leadership, the university received the designation "Ohio Center of Excellence for Design and Innovation."
 
The scope of his work spans a wide range: from two-dimensional graphics, promotional and identity design, multi-dimensional interpretive exhibition work, architectural signage and environmental design to way-finding systems and product development. His professional experience is based on work for cultural, historical, zoological, educational and municipal institutions as well as for the private industry sector.
 
Robert Probst received his design education from the University of Essen, Germany and the College of Design Basel, Switzerland. He began his professional career in the renowned studio for visual communication of Otl Aicher in Germany in 1975.
 
Professor Probst's academic and professional work is featured in numerous national and international publications. He has received many awards from professional organizations. He has lectured at institutions and international conferences in the United States, Mexico, England, Spain, Germany, Switzerland, India, South Korea, Australia, and Saudi Arabia.
 
His work is included in the permanent collections of the Ohio Arts Council, the Cooper-Hewitt National Museum for Design in New York, The National Museum of Modern Art in Tokyo, The Museum of Design Zurich, and the ICOGRADA Hall of Fame, London, (International Council of Graphic Design Associations).
 
He has served on the Board of Directors of the International Society for Environmental Graphic Design for four years and as President of its Education Foundation for two years. In 1996 he was named Fellow of the SEGD. In 1997 he was elected member of the AGI, Alliance Graphique Internationale. In 2010 he was selected as one of the nation's top twenty-five design educators and administrators by the Design Futures Council.  In 2019 he was the receipient of SEGD's National Educator Award.
 
Robert Probst created a scholarship to provide financial assitance to students in the Communication Design Program.

Mr. Probst has three children with his wife Alison, — Jasmine, Alistair, and Lyndon.
BS Design, University of Essen Germany,
MS Design, College of Design Basel, Switzerland , 1974
Research and Practice Interests
Graphic Design Environmental Graphic Design Wayfinding Communication Exhibition Design Drawn Design
Simpson Center for Urban Futures
1819 Innovation Hub Suite, 335
Cincinnati  Ohio, 45206
Phone: 513-556-5742
robert.probst@uc.edu