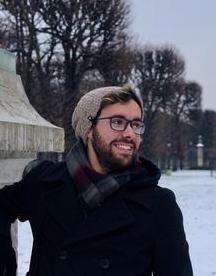 Luca LaVere Proper
Bonjour. My name is Lucas Proper but I go by Luca. I'm a second-year MA graduate teaching assistant of French & Pedagogical studies. Scholastically, I explore queer Maghrebi literature, franco-cinema, and the intersections of socio-political narratives. Personally, I enjoy reading poetry as well as writing my own (hopefully to publish someday). I also dabble in photography and absolutely love traveling when I am able. 
Bachelor of Arts: Allegheny College Meadville, PA, 2018 (Major: French language and literatures Minors: Social psychology and education)
Université Catholique de l'Ouest Angers, France , 2017 (Study Abroad. Intensive B1-level grammar courses, along with electives in 20th-century Comparative French Literature, Theatrical Expression, and French Art History.)
Research and Practice Interests

Senior Comprehensive Project, French, Allegheny College, Meadville, PA 2017–2018 Advisor: Laura Reeck, Professor of French
-  Conducted literary research of two French-Maghrebi immigrant authors' autofictions (Rachid O. & Abdellah Taïa) in order to tackle the represented issues of strangeness and otherness towards LGBTQ+ men in Morocco and France.
-  My analysis, Le salut est nulle part : une mise en récit de l'altérité au Maroc et de l'érangeté en France, was written in a period of one and a half semesters, presented at a Project showcase, as well as defended orally in French before my two readers, Laura Reeck and Jan Starczewski.
Positions and Work Experience
08-2019 -06-2020 Americorps Fellow Member, 1. Foster interpersonal relationships with students aside from class to discuss character, identity, and at-home situations. 2. Prepare, create, differentiate, and teach daily lesson plans to build students' comprehension and break down their misconceptions in mathematics and English Language Arts. 3. Assist the English Language Learners' teacher by creating daily curriculum to tackle proper pronunciation, improve reading comprehension, and oral fluency., Americorps - Great Oaks Charter School, Newark, NJ
06-2019 -05-2020 Freelance Ghostwriter, I conducted cultural and factual research in order to write articles intended to inspire readers to travel and visit specified destinations. I encourage d readers to travel more by writing about how to travel hack effectively. I often translated previously written articles from French to English and vice versa. I also occasionally wrote articles on current events in the realm of travel and political news., Remote
09-2018 -05-2019 English Teaching Assistant, My goal was to immerse students in American culture, advance in American English, and become more confident in their oral and written skills. I produced and taught lessons based on culture, grammar, vocabulary, and debate skills. I worked alongside many of the teachers in the English Department fulfilling various demands for lessons, coursework preparation, and light research. Lastly, I immersed myself in French and European culture in order to gain a deeper understanding of societal differences., CIEP, Montpellier, France
06-2017 -08-2017 Bibliography/Archive Intern, I organized, filed, corrected mistakes, and cleaned out the online MLA journal bibliography database. I also organized and sorted physical copies of journals in the department's storage room. I, along with other interns, attended weekly professional development sessions on pursuing careers in the humanities, promoting the humanities, understanding MLA format, as well as pursuing graduate programs. I developed professional habits through properly communicating with coworkers, managing my time wisely, and having respect., Modern Language Association, New York, NY
09-2016 -12-2016 Student Teacher, I prepared and implemented three lesson plans per week for levels one to three which covered aspects of French culture, geography, and grammar. I evaluated students' comprehension of material through conducting tests and recording grades. I created a calm, safe, and productive classroom environment conducive to profound learning. I engaged with students one-on-one in order to create a level of mentorship for the time I was there., Saegertown High School through Allegheny College, Saegertown, PA
08-2014 -01-2015 Contributing Writer, I primarily focused on writing opinion articles about happenings on campus in a timely manner; however, I also wrote news articles. Lastly, I collected photographs of events and submitted them for news articles., The Campus , Allegheny College, Meadville, PA
08-2014 -12-2015 Mentor/Teaching Assistant, I mainly supervised students by ensuring that they were accounted for, went to their proper classes and participated well in class. I prepared and taught a few lessons on critical thinking skills, health and wellness, history, and journalism. I developed close relationships with students to facilitate discussion and confidence in class., Gifter & Talented On-Campus Program, Allegheny College, Meadville, PA
01-2018 -05-2018 Editor of "The Gator International", I gathered submissions from various mono-, bi-, and multilingual students on campus to be a part of this yearly publication. I digitized the publication by creating an aesthetically-pleasing website that housed previous editions of the publication, information of creators, and articles by students studying abroad. I revised and edited multiple submissions in French and in English as I designed the entire layout of the publication from cover to cover., Dept. of Modern & Classical Langugages, Allegheny College, Meadville, PA