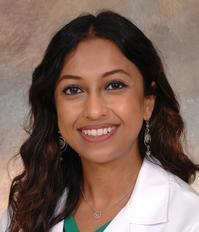 Farrah Rahim
Medical Resident/Fellow
Personal Statement
The opportunity to provide compassionate care draws me to Internal Medicine. I remember the first time I stood at a patient's bedside, hearing the attending deliver the news of metastatic gastric cancer with great care. I admired her ability to connect with the patient and elicit questions, yet still give space for the patient and family. As I passed a tissue to the crying patient, I remembered how important these subtle gestures and patience were in fostering a strong relationship between my family and our physicians. I strive to build similar trusting relationships with my patients, in which we work together to face challenges. Thinking about my own family and the emotions and stress that we endured, I have learned to delve deeper into patient stories to uncover the various obstacles that may hinder my patients' care.

Why I Chose Cincinnati
I chose Cincinnati because of the opportunities of growth and learning available at this program. It was evident on my interview day that the faculty truly care about their resident learners. The current residents have been so helpful and kind, ensuring me that I will be well supported throughout my experience at UC. I am excited to join my husband at UC and to live in a new city. I am looking forward to becoming a well-rounded physician who is well trained and prepared for any challenging scenario I am faced with in the future.
MD: McGovern Medical School at the University of Texas Health Science Center at Houston