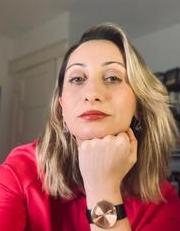 Aida Ramusovic-Witham
Graduate Assistant
University of Cincinnati
Cincinnati, Ohio Phone 513 291 2438
Email ramusoaa@mail.uc.edu
Aida Ramusovic is an experienced and creative producer having worked mostly in broadcast news program and investigative journalism. Aida started as a political radio talk host in Montenegro in 2002. She continued her broadcast career as a reporter, anchor and senior news editor at national station TV Vijesti. She worked as producer on multiple investigative reporting projects with TV Vijesti, before becoming the first Media Ombudsman in Montenegro. Through her work with TV Vijesti, and later as director of non profit NOMEN, Aida trained and managed teams of political and investigative reporters. Aida is an avid yogi and cook. She holds a B.A in English literature from University of Montenegro, and MA in Media and communication from University in Florence, Italy. Currently, she is enrolled as Graduate student at University of Cincinnati.
 
MA Communication and media studies: University of Florence Florence, Italy, 2001 (Communication and media)
Masters in Social politics and strategic direction for sustainable spatial development: University of Bologna Italy, 2006 (Sustainable development)
Bachelor's degree in English language and literature: University of Montenegro Montenegro, 2001 (English language and literature)
Positions and Work Experience
09-01-2020 - PhD student, PhD in Political Science. https://www.artsci.uc.edu, University of Cincinnati, Main campus
01-01-2015 - Managing director, Responsible for managing and fundraising of NOMEN. Oversaw and coordinated management plans, tracked milestones across projects and institute necessary work flow. Resolved issues that have the potential to jeopardize performance and/or ability of partners to meet agreed project goals; submitted financial and narrative reports to donors, supported strategic development of partners, recommended new development opportunities., NOMEN Non profit, Montenegro
02-01-2008 -02-01-2015 News Producer and TV anchor, Responsible for managing a news room of 20+ journalists Managing journalistic investigative projects in the field of EU affairs, transparency in government, human rights, education, regional projects, art and cultural projects. Responsible for fundraising of journalistic projects; maintaining media partnerships; working with team on internal rules and strategies., Television Vijesti, Montenegro
02-02-2016 -04-02-2016 Advisor for the media, Media advisor and organizer of The Prince of Wales visit to Montenegro, UK Embassy in Montenegro, Montenegro
08-01-2016 -01-01-2019 PR Specialist, Created, planned and executed public relations strategies. Improved the quality of company's voice via different online and offline channels. Organized and oversaw events such as fairs, open day, seminars, conferences etc. Provided effective crisis management solutions in the times of need Conduct research and analyze public opinion, I&F McCann Group, Montenegro
01-02-2013 -01-05-2020 Media consultant, Responsible for monitoring, preparing and digesting news related to the EU issues. Supported the EU Info Centre team with media intelligence and research analysis. In charge of providing content analysis or editorial opinion., EU Info Center, Montenegro
Other Publications
Aida Ramusovic (2015. ) Guidelines for journalists on how to report terrorism .
Aida Ramusovic (2016. ) Perception of Security in Montenegro .
Aida Ramusovic and Defacto agency (2018. ) Impact of media on Counter violent extremism in Montenegro .
Aida Ramusovic (2019. ) Guidelines on how to recognize fake news .
Academic - University of Cincinnati
Cincinnati  Ohio, Phone: 513 291 2438
ramusoaa@mail.uc.edu