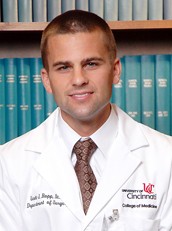 Scott J. Rapp , MD
Associate Professor of Clinical-Affiliate
Medical Sciences Building
COM Surgery Plastic/Reconstructive/Hand - 0513
B.A., magna cum laude, Miami University, Oxford, OH: 2004
M.D., Northeastern Ohio Universities College of Medicine, Rootstown, OH: 2008
Other Publications
Schmidt S, Evancho-Chapman M, Rapp S. (2006. ) Efficacy of Ximelagatran in Enhancing the Performance of Small-diameter Prosthetic Vascular Grafts in a Canine Model .Manuscript, unpublished,
Paper Presentations
Paranjape C, Rapp S, Kamienski R. (06-2007. ) Isolated and Spontaneous Dissection of the Celiac Artery: Clinical Presentation and Treatment Options .
Lehman JA, Schmidt S, Evancho-Chapman M, Rapp S. (07-2007. ) A Comparison of Complications and Wound Healing Between Bovie and Scalpel on Skin Flaps: A Swine Study .
Alpha Omega Alpha, Northeastern Ohio Universities College of Medicine
Clinical Campus Honors: Surgery, Medicine, OB/GYN, Pediatrics, Family Practice, Northeastern Ohio Universities College of Medicine
Basic Science Honors: Human Anatomy, Microscopic Anatomy, Northeastern Ohio Universities College of Medicine
Phi Beta Kappa Society, Miami University
Golden Key National Honor Society
National Society of Collegiate Scholars
Alpha Lambda Delta/ Phi Eta Sigma Honors Fraternity
National Dean's List (2000-2004), Miami University
Miami University Honors Scholarship (1999-2000), Miami University
Post Graduate Training and Education
07-2008-To Present Integrated Plastic Surgery / General Surgery Residency, University of Cincinnati, Cincinnati, OH,
07-2009: Researcher: Cincinnati Children's Hospital Center: Acellular persiosteum impregnated with cultured mesynchymal progenitor cell lines and its effects on bone tissue engineering. Proposal for Cincinnati CCTST Grant Program.
2007: Surgical Research Assistant: Akron Plastics Group, Summa Health Systems, James A Lehman, M.D. I aided in study design, preparation and execution of a swine study comparing the outcomes on full thickness skin flaps in regards to wound healing and adverse events when performing the procedure by scalpel vs. electrocautery.
2005 -2006: Surgical Research Assistant: Falor Center of Vascular Research, Summa Health Systems, Steve Schmidt, Ph.D. For two summers I worked in the animal lab involved with assessing the effectiveness of various drugs in sustaining the patency of small diameter PTFE grafts in a canine model. I gained experience in vascular surgery as the first-assist for over 17 procedures, as well as partaking in workshops involved with laparoscopic, microscopic, and trauma surgery techniques.
2003 -2004: Genetics Lab Assistant: Miami University, Susan Hoffman, Ph.D. With the intent to incorporate the common cat into future medical models, the focus was in the location and sequencing of CYP2 genes found in the Cytochrome p450 gene cluster. I was exposed to the practices in primer design, RNA sequencing, BAC cloning, PCR, Hybridization, and Southern Blot techniques.
Volunteer Activities:

 

Habitat for Humanity (2008)

Open Medicine Clinic (2007)

Tutor of Gross Anatomy, Microscopic Anatomy, NEOUCOM (2005-2006)

Mini-Medical School, Educator, NEOUCOM (2005-2006)

Childhood Cancer Program Buddy (2004-2006)

AMSA member (2004-present)

                                 

Employment/ Extracurricular:



Professional Soccer Player - PSV Eindhoven, NL (1999-2000)

PSV Soccer Camp Coordinator/Coach (2001-present)

Miami Club Soccer Captain (2000-2003)

Miami Women's Club Soccer Coach (2001-2003)
Member of the Kappa Sigma Fraternity, Theta Upsilon Chapter (2000-present)

Construction on Residential Housing (2004)

 

Hobbies:

 

Scuba Diving

Traveling (19 different countries)

Espresso Coffee

Piano

Fly-fishing

Snow Skiing

,