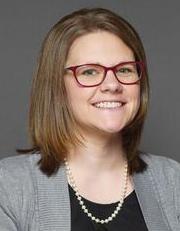 Kelly Rawe
Assoc Dir Academic Student Advising
Associate Director of Advising (campus-based Information Technology and Cybersecurity: Last Names H-I; all online Information Technology and Cybersecurity students
Teachers College
360
CECH Student Services Center - 0014
I have been serving at UC as an Academic Advisor for students in the College of Education, Criminal Justice and Human Services since 2012.  I grew up in the Cincinnati area, and am excited to be here at UC!

I graduated from Georgetown College in Kentucky in 2007 with a degree in Political Science and minors in German and Psychology.  While in college, I served as an Orientation Leader, Orientation Coordinator, Student Life Intern, Student Government Public Relations Chair, and was very involved with Greek Life.  Because of the impact many higher education professionals had on my collegiate experience, I decided to pursue a Masters in Higher Education and Student Affairs.  I graduated with my masters in 2009 from the University of South Carolina.

I have been working in higher education since my graduation, and have had roles in Orientation,  Residence Life, Greek Life, Campus Activities and Leadership, and Academic Advising.
Master of Education: University of South Carolina Columbia, SC, 2009 (Higher Education and Student Affairs)
Bachelor of Arts: Georgetown College Georgetown, KY, 2007 (Political Science)