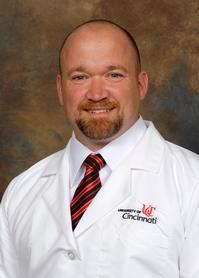 Michael D Riddle
Instructor of Clinical
Visiting Instructor of Clinical, CRNA Program
Procter Hall
CON CRNA - 0038
Master of Science in Nursing: University of Cincinnati Cincinnati, OH, 2009 (Nurse Anesthesia)
Bachelor of Science in Nursing: University of Cincinnati Cincinnati, OH, 2005
Bachelor of Science : Northern Kentucky University Highland Heights, KY, 2002 (Psychology)
Associate of Arts: Campbell University Camp Lejeune, NC, 1994
American Association of Nurse Anesthetists (Certification Date: 06-17-2010 ) - (Recertification Date: to 08-01-2020 )
Certified Registered Nurse Anesthetist
Research and Practice Interests
Spring -                                   Research
Summer 2004                       Supervisor: Dr. Mark Bardgett
Project: Effects of exercise on neurogenesis and spatial memory in mice with hippocampal lesions.
                                                                Duties: Maintenance and handling of mice, data collection and literature searches.
 
Summer 2003                       Research and Publication
                                                 Supervisor: Dr. Mark Bardgett
Project: Locomotor activity and neurobehavioral effects of magnesium depletion in mice.             
Duties: Maintenance and handling of mice, data collection and literature searches.
 
Spring 2003                           Research
                                                 Supervisor: Dr. Mark Bardgett
Project: Alcohol preference and neurobehavioral effects of magnesium depletion in mice.
                                                                Duties: Maintenance and handling of mice, data collection and literature searches.
 
Spring 1999                           Independent Study
                                                 Supervisor: Dr. Jeffery Smith
                                                                Project: Job satisfaction in regard to status and physical workspace.
                           &nb
Positions and Work Experience
05-2010 -To Present Certified Registered Nurse Anesthetist (CRNA), Administer various anesthetics in academic acute care/ trauma hospital and community hospital settings for numerous surgical specialties including ENT, plastic, vascular, ophthalmic, GYN, orthopedic, urological, neurosurgical, trauma, burns, endo, and general/robotic surgery. Visiting instructor of clinical nursing providing clinical teaching and evaluations of student nurse anesthetists., University of Cincinnati Physicians (formerly University Anesthesia Associates), Cincinnati, OH
09-2007 -12-2009 Clinical experiences include: University hospital (Level 1 trauma center), Cincinnati Children's Hospital Medical Center, Cincinnati Veterans Administration Hospital, Mercy Fairfield Hospital, and Bethesda Hospital. Clinical cases include: neurosurgery, obstetrics, pediatrics, ENT, orthopedics, vascular, cardiac, and general surgeries. Implemented and managed general and regional anesthesia techniques, as well as performed monitored anesthesia care. , University of Cincinnati, Nurse Anesthesia Clinical Experience., Cincinnati, OH
07-2005 -08-2007 Registered Nurse, Level one surgical intensive care unit, completion of the critical care internship program, clinical skills - hemodynamic monitoring/assessment, continuous ECG monitoring and interpretation, blood gas interpretation, ventilators, invasive lines, and use of vasoactive infusions. Charge nurse responsibilities to include: staffing assignments, admissions and transfers to/from the unit, and resolution of family/interpersonal staff issues as they arise. , The University Hospital, Cincinnati, OH
01-2003 -06-2005 University of Cincinnati – B.S. Nursing – Full time student.,
09-1996 -12-2002 Police officer, Community-policing patrol, crime scene investigator, crisis intervention/hostage negotiator, field training officer, drug abuse resistance education officer. Special training includes: domestic violence and adult sexual assault, child abuse and sexual assault, advanced crisis intervention, basic and advanced hostage negotiation, drug abuse resistance education., City of Florence, Florence, KY
09-1995 -08-1996 Patient care assistant, Assisted in the provision of basic patient care with orthopedic and trauma patients. Performed phlebotomy, blood pressure readings, daily living activities and other care as directed by the nurse or physician., University of Cincinnati Hospital, Cincinnati, OH
01-1993 -12-1994 Battalion Medical/Health Records Supervisor, Supervised 13 personnel, while maintaining 1300 health records, numerous health programs, and sick call. Organized and directed medical support for tactical operations in the continental United States and abroad. Coordinated and instructed navy and marine personnel on medical subject matter. Worked independently and collectively to provide direct medical support to marine field units. , Eighth Engineers Support Battalion, Second Service Support Group, Camp Lejuene, North Carolina.,
06-1991 -10-1992 ICU/PACU Shift Supervisor, Delivered and supervised personnel in the monitoring, assessment, evaluation, and treatment of life-threatening conditions of critically ill adults. Supervised and administered preoperative and postoperative care. Tasked with interviewing, admitting, and discharging patients for the same day surgery unit. , Naval Hospital, Naval Air Station,, Corpus Christi, Texas.
11-2013 -08-2016 Owner, Co-founded and incorporated small business within a well defined niche as an archery retail, pro shop and training center. Developed business plan, created and maintained business Quickbooks profile, handle all invoicing, banking transactions, accounts receivables/payables and employee files. Maintained archery instructor training/certification through international Olympic committee. Instructed middle and high school archery teams. , M&M Archery Range and Training Center, Florence, KY
Peer Reviewed Publications
Bardgett, Mark E; Schultheis, Patrick J; Muzny, Ashley; Riddle, Michael D; Wagge, Jordan R (2007. ) Magnesium deficiency reduces fear-induced conditional lick suppression in mice. Magnesium research : official organ of the International Society for the Development of Research on Magnesium, , 20 (1 ) ,58-65
2007 Leo W. & Clara Thorley Pfeiffer Scholarship
2004 Nellie Alden Franz Scholarship
2005 Sigma Theta Tau
2004 Sigma Xi
2001 Alpha Chi
1999 Golden Key International Honor Society
1998 Psi Chi
National Dean's List 1998-1999, 2000-2001
Police Officer of the Month 05/1997 and 11/2001
1994 Navy Commendation Medal
1990 National Defense Service Medal
1994 Navy Good Conduct
2005 Accelerated Pathway Leadership Award