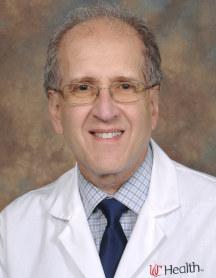 Ross L Ristagno , MD
Physician
3188 Bellvue Avenue
Cincinnati, Ohio 45219-0761
Phone 513-584-2146
Fax 513-558-1599
Email ristagrl@ucmail.uc.edu
Bachelor's Degree: University of Michigan Ann Arbor Michigan , 1975
Medical Degree: University of Michigan Ann Arbor Michigan, 1979
Resident : Henry Ford Hospital Detroit, MI, 1982 (Internal Medicine )
Fellowship : University of Pennyslvania Philadelphia, Penn, 1986 (Cardiovascular-Pulmonary Division )
Resident : University of Cincinnati Medical Center Cincinnati, OH, 2005 (Diagnostic Radiology)
Fellowship : University of North Carolina Chapel Hill NC, 2006 (Vascular and Interventional Radiology)
American Board of Internal Medicine (Certification Date: 09-14-1983 )
American Board of Internal Medicine (Pulmonary Disease) (Certification Date: 11-11-1986 )
American Board of Radiology (Interventional and Diagnostic Radiology) (Certification Date: 10-16-2017 )
Diagnostic Radiology
Interventional Radiology
Radiology
Arterial disease
Biliary disease
Liver disease
Venous Disease
Venous Insufficiency
Venous Thromboembolism
Venous Thrombosis
Critical Care Medicine
Internal Medicine
Interventional Radiology and Diagnostic Radiology
Positions and Work Experience
2008 -To Present Section Chief, Interventional Radiology, University of Cincinnati Academic Health Center, Cincinnati OH
2008 -To Present Staff Radiologist , Cincinnati Children's Hospital Medical Center , Cincinnati OH
2007 -To Present Consulting Radiologist , The Drake Hospital , Cincinnati OH
2007 -To Present Radiologist, University Pointe Surgical Hospital , West Chester OH
2006 -To Present Attending Radiologist , University of Cincinnati Academic Health Center , Cincinnati OH
2006 -To Present Attending Radiologist, The Cincinnati Veterans Affairs Medical Center , Cincinnati OH
2006 -To Present Assistant Professor of Radiology, Interventional and Diagnostic Radiology, University of Cincinnati Academic Health Center, Cincinnati OH
1997 -2000 Medical Staff Physician , Anderson Mercy Hospital, Cincinnati OH
1997 -2001 Medical Staff Physician , Kenwood Jewish Hospital, Cincinnati OH
1996 -2001 Medical Staff Physician , Anderson Mercy Hospital , Cincinnati OH
1993 -2001 President, Tri-state Pulmonary Associates, Inc, Cincinnati OH
1991 -2001 Medical Staff Physician, Deaconess Hospital , Cincinnati OH
1987 -2001 Medical Staff Physician, Brown County General Hospital, Georgetown OH
1986 -2001 Attending Staff Physician, The Christ Hospital , Cincinnati OH
1986 -2001 Pulmonary and Critical Care Medicine, Private Practice,
1983 -1986 Medical Staff Physician , Hospital of the University of Pennsylvania, Philadelphia PA
1980 -1982 Emergency Room Physician, Henry Ford Hospital, Detroit and West Bloomfield Michigan
Grant: #R01CA158439 Investigators:Ahmad, Syed; Chadalavada, Seetharam; Choe, K. Ann; Mast, T. Douglas; Rao, Marepalli; Ristagno, Ross; Shah, Shimul; Wang, Jiang 06-01-2018 -05-31-2023 National Cancer Institute Monitoring and control of human liver cancer ablation using real-time, 3D echo decorrelation imaging Role:Collaborator $437,316.00 Awarded Level:Federal
Published Abstracts
Rezaei A, Vu DN, Ristagno R, Aeron G (2010. ) Internal jugular vein access, a faster, safer approach to perform diagnostic and maintenance procedures in dialysis shunts. .[Abstract]J Vasc Interv Radiol, 21 ,S119 -S120
Rezaei A, Vu DN, Ristagno R, Aeron G (2010. ) Interventional treatment of post cholecystectomy complications, a second look. .[Abstract]Vasc Interv Radiol , 21 ,S120.
Ristagno R, Rahim K, Moulton JS, Boshell H, Rezaei A, Vu DN (2010. ) Retroperitoneal hemorrhage: An organized approach to differential diagnosis, inquiry for the bleeding artery and embolotherapy based on the compartmental anatomy of the retroperitoneum. Vasc Interv Radiol , 21 ,S120 -S121
Zuckerman DA Rudich S Ristagno RL Schatzman CV (2008. ) Effectiveness of selective internal radiation in advanced hepatocellular carcinoma: single center experience .[Abstract]J Vasc Interv Radiol, 19 ,S132
Ristagno RL Heimer R Fishman AP Sampson PM (1987. ) Collagen chains detected by western blotting using a 125 I-labeled 45K fragment of fibronectin (45K FN) .[Abstract]Federation Proceedings , 46 ,1992
Peer Reviewed Publications
Boshell H, Ristagno RL (2007. ) Percutaneous cholecystostomy in the management of acute cholecystitis .Infect Dis Clin Pract , , 15 ,1-5
Ristagno RL Biddinger PW Pina EM Meyer CA (2005. ) Multifocal micronodular pneumocyte hyperplasia in tuberous sclerosis .AJR, , 184 ,S37-S39
Ristagno RL Hiratzka LF Rost RC (2002. ) An unusual care of pneumorrhachis following resection of lung carcinoma .Chest , , 121 ,1712 1714
Ware T Ristagno RL (1991. ) Breakage of forcep valve cover .Chest , , 100 ,1741
Ristagno RL Kornstein MJ Hansen-Flaschen JJ (1986. ) Diagnosis of occult meat aspiration by fiberoptic bronchoscopy .American Journal of Medicine , , 80 ,154-156
Ristagno RL Saravolatz L. D (1985. ) A pseudoepidemic of Legionellosis .Chest , , 88 ,466-467
Ristagno RL (1981. ) Drugs associated with retroperitoneal fibrosis .The Western Journal of Medicine, , 135 ,159-160
Ristagno RL Interventional Radiology - A Survival Guide, second edition, book review .Acad Radiol , , 13 ,533
Dhar VK, Sutton JM, Xia BT, Levinsky NC, Wilson GC, Smith M, Choe KA, Moulton J, Vu D, Ristagno R, Sussman JJ, Edwards MJ, Abbott DE, Ahmad SA. (2017. ) Fistulojejunostomy Versus Distal Pancreatectomy for the Management of the Disconnected Pancreas Remnant Following Necrotizing Pancreatitis.J Gastrointest Surg, , 21 (7 ) ,1121 More Information
Makramalla A, Itri JN, Choe KA, Ristagno RL. (2016. ) Transarterial Therapies for Hepatocellular Carcinoma.Semin Roentgenol, , 51 (2 ) ,95 More Information
Stahl CC, Moulton J, Vu D, Ristagno R, Choe K, Sussman JJ, Shah SA, Ahmad SA, Abbott DE. (2015. ) Routine use of U-tube drainage for necrotizing pancreatitis: a step toward less morbidity and resource utilization.Surgery, , 158 (4 ) ,919 More Information
McDaniel JD, Kukreja K, Ristagno RL, Yazigi N, Nathan JD, Tiao G. (2013. ) Radiofrequency ablation of a large hepatic adenoma in a child.J Pediatr Surg, , 48 (6 ) ,E19 More Information
Starnes SL, Wolujewicz M, Guitron J, Williams V, Scheler J, Ristagno R (2018. ) Radiotracer localization of nonpalpable pulmonary nodules: A single-center experience.J Thorac Cardiovasc Surg, , 156 (5 ) ,1986 More Information
Aguado A, ristagno R, Towbin AJ, Gupta A, Haberle S, Qi Z, Patel M, Kukreha KM, Tiao GM, Geller JI (2019. ) Transarterial radioembolization with yttrium-90 of unresectable primary hepatic malignancy in children .Pediatric Blood and Cancer, , e2750 More Information
Kim, Young; Stahl, Christopher C; Makramalla, Abouelmagd; Olowokure, Olugbenga O; Ristagno, Ross L; Dhar, Vikrom K; Schoech, Michael R; Chadalavada, Seetharam; Latif, Tahir; Kharofa, Jordan; Bari, Khurram; Shah, Shimul A (2017. ) Downstaging therapy followed by liver transplantation for hepatocellular carcinoma beyond Milan criteria.Surgery, , 162 (6 ) ,1250-1258 More Information
Makramalla, Abouelmagd; Itri, Jason N; Choe, Kyuran Ann; Ristagno, Ross L (2016. ) Transarterial Therapies for Hepatocellular Carcinoma.Seminars in roentgenology, , 51 (2 ) ,95-105 More Information
Solomkin, Joseph S; Ristagno, Ross L; Das, Anita F; Cone, John B; Wilson, Samuel E; Rotstein, Ori D; Murphy, Brian S; Severin, Kimberley S; Bruss, Jon B (2013. ) Source control review in clinical trials of anti-infective agents in complicated intra-abdominal infections.Clinical infectious diseases : an official publication of the Infectious Diseases Society of America, , 56 (12 ) ,1765-73 More Information
Wolujewicz, Michael; Obert, Lisa; Schatzman, Carmen; Ristagno, Ross L (2012. ) A graphic look at massive fibroid expulsion following uterine artery embolization.Journal of vascular and interventional radiology : JVIR, , 23 (4 ) ,570-1 More Information
McDaniel, Janice D; Kukreja, Kamlesh; Ristagno, Ross L; Yazigi, Nada; Nathan, Jaimie D; Tiao, Gregory (2013. ) Radiofrequency ablation of a large hepatic adenoma in a child.Journal of pediatric surgery, , 48 (6 ) ,E19-22 More Information
Book Chapter
Ristagno RL (2000 ) Atelectasis In Conn's Current Therapy 52nd Edition .(pp. 170 -171).Rakel Robert E ed
Ristagno RL Hiratzka L (1991 ) Atelectasis In Current Diagnosis 8 .(pp. 387 -391).Conn Rex B ed
Poster Presentations
Stultz D Ristagno RL (10-2002. ) Code blue in the CT suite .Poster presentation at Ohio American College of Physicians Meeting,
Gollamudi J, Kukreja K, Ristagno R (11-30-2010. ) Treatment of deep venous thrombosis in children with mechanical anc catheter directed thrombolysis. Radiologic Society of North America – 96th Scientific Assembly and Annual Meeting, Chicago, Illinois. .
Clarke CN, Miao Y, Ristagno R, Ahmad S, Solomkin J (04-19-2010. ) Role of resistant gram-positive bacteria in treatment failure for percutaneous drainage of post-operative complicated intra-abdominal infection (CIAI). .Surgical Infection Society Thirtieth Annual Meeting, Las Vegas, Nevada. .
Dong-sik Kim MD PhD Jiang Wang MD Travis C. Doty RN BSN Amit D Tevar MD Joseph F Buell MD Ross . Ristagno MD Steven M Rudich MD Ph (03-2009. ) Comparison of Radiologic and Pathologic Response following 90Y Microspheres Therapy for Hepatocellular Carcinoma .Oral Poster Presentation at the Annual American Hepatopancreatobiliary Meeting, Miami Beach Florida. .
Rudich S Schatzman C Tevar A Buell J Woodle ES Doty T Marshall A Ristagno R Zuckerman D (03-2008. ) Selective internal radiation therapy for advanced hepatocellular carcinoma: is there a benefit? .Eighth American Hepatopancreatobiliary Congress Annual Scientific Session and Post Graduate Course, Ft. Lauderdale Florida. . .
2008 The Harold B. Spitz, M.D. Resident Teaching Award Department of Radiology University of Cincinnati College of Medicine
2001 Outstanding Teaching Attending Award Department of Internal Medicine The Christ Hospital
1995 Marion A. Blankenhorn Society Teaching Award Department of Internal Medicine University of Cincinnati College of Medicine
1986 Dorothy M. Steward Research Award American Lung Association
The Christ Hospital (Medical Intensive Care Unit ) Director Type:Departmental Service 1993 -1999
(Critical Care Collaborative Clinical Committee ) Co-Director Type:Departmental Service 1993 -1999
The Christ Hospital (Pulmonary Medicine ) Director Type:Departmental Service 1995 -2001
The Christ Hospital (Respiratory Care ) Director Type:Departmental Service 1995 -2001
The Christ Hospital (University of Cincinnati College of Medicine Fourth-year Medical Student Elective in Pulmonary Medicine ) Director Type:University/College Service 1998 -2001
The Christ Hospital (University of Cincinnati College of Medicine Fourth-year Medical Student Elective in Critical Care Medicine ) Director Type:University/College Service 1999 -2001
(Vascular and Interventional Radiology Fellowship ) Director Type:University/College Service 2008 -To Present
University of Cincinnati Academic Health Center (Peripherally Inserted Central Catheter (PICC) Team ) Director Type:Departmental Service 2007 -To Present
Cincinnati Academic Health Center (Chief Preceptor Radiologist Assistant Student Training ) Type:Departmental Service 2008 -To Present
University of Cincinnati Academic Health Center (Section Chief Interventional Radiology ) Type:Departmental Service 2008 -To Present
2008 -To Present: Association of Program Directors in Interventional Radiology
2008 -To Present: Endovascular Procedures Committee University of Cincinnati Academic Health Center , Cincinnati OH
2005 -To Present: Member Society of Interventional Radiology ,
2003 -To Present: Member American Roentgen Ray Society ,
2001 -To Present: Member The Radiologic Society of North America,
2001 -To Present: Member American College of Radiology,
1996 -1999: Clinical Resource Management Committee Alliance of Greater Cincinnati , Cincinnati OH
1995 -2001: Coporate Quality Committee The Christ Hospital , Cincinnati OH
1995 -2001: Endoscopy Committee The Christ Hospital , Cincinnati OH
1994 -2001: Medical Ethics Committee The Christ Hospital , Cincinnati OH
1994 -2001: Internal Medicine Residency Cirriculum Committee The Christ Hospital , Cincinnati OH
1983 -To Present: Member Ohio State Mecial Association ,
1983 -To Present: Fellow Academy of Medicine of Cincinnati,
1982 -To Present: Fellow American College of Chest Physicians,
Academic - 3188 Bellvue Avenue
Cincinnati  Ohio, 45219-0761
Phone: 513-584-2146
Fax: 513-558-1599
ristagrl@ucmail.uc.edu