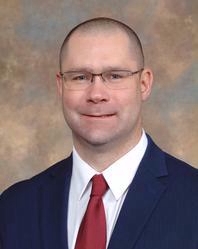 Matthew James Robson
Assistant Professor
Medical Sciences Building
3202
Pharmacy Robson Lab - 0004
231 Albert Sabin Way
Cincinnati, Ohio 45267-0514
Robson's Lab
231 Albert Sabin Way
Cincinnati, Ohio 45229
Ph.D. , West Virginia University Morgantown, WV, 2013 (Pharmaceutical and Pharmacological Sciences)
B.S., Canisius College Buffalo, NY, 2007 (Biochemistry)
Positions and Work Experience
2004 -2008 Research Assistant, DENT Neurologic Institute,
2013 -2016 Postdoctoral Fellow, Vanderbilt University ,
2016 -2017 Research Assistant Professor, Florida Atlantic University ,
Research and Practice Interests

The focus of my laboratory's research is to understand how traumatic brain injury (TBI) alters neuronal signaling and behavior that is associated with neuropsychiatric disorders including depression and social withdrawal. Chronic changes in psychosocial states, mood and cognition often accompany acute TBI.  TBI results in neuroinflammation and molecular signaling alterations within the brain that have been linked to neuropsychiatric disorders, although the precise mechanisms by which this occurs are still poorly understood. A greater understanding of the molecular underpinnings by which TBI results in neuroinflammation and changes in neural signaling that result in behavioral changes will lead to the identification of drug targets and better medical treatments for those who suffer from TBI.
Grant: #NS007491 NIH Role:Trainee Type:Fellowship
Investigators:Robson PhRMA Foundation Role:Investigator Type:Fellowship
Investigators:Robson NARSAD Role:Investigator Active Type:Grant
Grant: #NARSAD Young Investigator Grant 25230 Investigators:Robson, Matthew 01-01-2018 -07-14-2019 Brain & Behavior Research Foundation Regulation of SERT Activity by IL-1R1 Signaling in Serotonergic Neurons Role:PI $47,022.28 Active
Investigators:Robson 2019 -2020 PhRMA Foundation Role of Sigma-1 Receptors in Traumatic Brain Injury Role:PI $100,000 Active Type:Grant
Grant: #PhRMA 2019 Investigators:Robson, Matthew 03-01-2019 -02-28-2020 PhRMA Foundation Role of Sigma-1 Receptors in Traumatic Brain Injury Role:PI $100,000.00 Awarded Level:Private Non-Profit
Grant: #R25081 Investigators:Robson, Matthew 04-01-2019 -03-31-2020 UC's URC Faculty Research Cost Support Awards Program CO2- Induced Slosh Mitigation as a Strategy to Prevent Tramatic Brain Injury Role:PI $7,500.00 Active Level:Internal UC
Peer Reviewed Publications
Gengo, Fran; Westphal, Erica S; Rainka, Michelle M; Janda, Maria; Robson, Matthew J; Hourihane, J Maurice; Bates, Vernice (2016. ) Platelet response to increased aspirin dose in patients with persistent platelet aggregation while treated with aspirin 81?mg.Journal of clinical pharmacology, , 56 (4 ) ,414-21
Gengo, Francis M; Rainka, Michelle; Robson, Matthew; Gengo, Michael F; Forrest, Alan; Hourihane, Maurice; Bates, Vernice (2008. ) Prevalence of platelet nonresponsiveness to aspirin in patients treated for secondary stroke prophylaxis and in patients with recurrent ischemic events.Journal of clinical pharmacology, , 48 (3 ) ,335-43
Lucke-Wold, Brandon P; Turner, Ryan C; Logsdon, Aric F; Nguyen, Linda; Bailes, Julian E; Lee, John M; Robson, Matthew J; Omalu, Bennet I; Huber, Jason D; Rosen, Charles L (2016. ) Endoplasmic reticulum stress implicated in chronic traumatic encephalopathy.Journal of neurosurgery, , 124 (3 ) ,687-702
Turner, Ryan C; Lucke-Wold, Brandon P; Robson, Matthew J; Lee, John M; Bailes, Julian E (2016. ) Alzheimer's disease and chronic traumatic encephalopathy: Distinct but possibly overlapping disease entities.Brain injury, , 30 (11 ) ,1279-1292
Lucke-Wold, Brandon P; Naser, Zachary J; Logsdon, Aric F; Turner, Ryan C; Smith, Kelly E; Robson, Matthew J; Bailes, Julian E; Lee, John M; Rosen, Charles L; Huber, Jason D (2015. ) Amelioration of nicotinamide adenine dinucleotide phosphate-oxidase mediated stress reduces cell death after blast-induced traumatic brain injury.Translational research : the journal of laboratory and clinical medicine, , 166 (6 ) ,509-528.e1
Turner, Ryan C; Lucke-Wold, Brandon P; Logsdon, Aric F; Robson, Matthew J; Lee, John M; Bailes, Julian E; Dashnaw, Matthew L; Huber, Jason D; Petraglia, Anthony L; Rosen, Charles L (2015. ) Modeling Chronic Traumatic Encephalopathy: The Way Forward for Future Discovery.Frontiers in neurology, , 6 ,223
Turner, Ryan C; Lucke-Wold, Brandon P; Logsdon, Aric F; Robson, Matthew J; Dashnaw, Matthew L; Huang, Jason H; Smith, Kelly E; Huber, Jason D; Rosen, Charles L; Petraglia, Anthony L (2015. ) The Quest to Model Chronic Traumatic Encephalopathy: A Multiple Model and Injury Paradigm Experience.Frontiers in neurology, , 6 ,222
Nguyen, Linda; Lucke-Wold, Brandon P; Mookerjee, Shona A; Cavendish, John Z; Robson, Matthew J; Scandinaro, Anna L; Matsumoto, Rae R (2015. ) Role of sigma-1 receptors in neurodegenerative diseases.Journal of pharmacological sciences, , 127 (1 ) ,17-29
Logsdon, Aric Flint; Turner, Ryan Coddington; Lucke-Wold, Brandon Peter; Robson, Matthew James; Naser, Zachary James; Smith, Kelly Elizabeth; Matsumoto, Rae Reiko; Huber, Jason Delwyn; Rosen, Charles Lee (2014. ) Altering endoplasmic reticulum stress in a model of blast-induced traumatic brain injury controls cellular fate and ameliorates neuropsychiatric symptoms.Frontiers in cellular neuroscience, , 8 ,421
Nguyen, Linda; Kaushal, Nidhi; Robson, Matthew J; Matsumoto, Rae R (2014. ) Sigma receptors as potential therapeutic targets for neuroprotection.European journal of pharmacology, , 743 ,42-7
Matsumoto, Rae R; Seminerio, Michael J; Turner, Ryan C; Robson, Matthew J; Nguyen, Linda; Miller, Diane B; O'Callaghan, James P (2014. ) Methamphetamine-induced toxicity: an updated review on issues related to hyperthermia.Pharmacology & therapeutics, , 144 (1 ) ,28-40
Robson, Matthew J; Turner, Ryan C; Naser, Zachary J; McCurdy, Christopher R; O'Callaghan, James P; Huber, Jason D; Matsumoto, Rae R (2014. ) SN79, a sigma receptor antagonist, attenuates methamphetamine-induced astrogliosis through a blockade of OSMR/gp130 signaling and STAT3 phosphorylation.Experimental neurology, , 254 ,180-9
Nguyen, Linda; Robson, Matthew J; Healy, Jason R; Scandinaro, Anna L; Matsumoto, Rae R (2014. ) Involvement of sigma-1 receptors in the antidepressant-like effects of dextromethorphan.PloS one, , 9 (2 ) ,e89985
Kaushal, Nidhi; Robson, Matthew J; Rosen, Abagail; McCurdy, Christopher R; Matsumoto, Rae R (2014. ) Neuroprotective targets through which 6-acetyl-3-(4-(4-(4-fluorophenyl)piperazin-1-yl)butyl)benzo[d]oxazol-2(3H)-one (SN79), a sigma receptor ligand, mitigates the effects of methamphetamine in vitro.European journal of pharmacology, , 724 ,193-203
Matsumoto, Rae R; Nguyen, Linda; Kaushal, Nidhi; Robson, Matthew J (2014. ) Sigma (?) receptors as potential therapeutic targets to mitigate psychostimulant effects.Advances in pharmacology (San Diego, Calif.), , 69 ,323-86
Turner, Ryan C; Naser, Zachary J; Logsdon, Aric F; DiPasquale, Kenneth H; Jackson, Garrett J; Robson, Matthew J; Gettens, Robert T T; Matsumoto, Rae R; Huber, Jason D; Rosen, Charles L (2013. ) Modeling clinically relevant blast parameters based on scaling principles produces functional & histological deficits in rats.Experimental neurology, , 248 ,520-9
Robson, Matthew J; Turner, Ryan C; Naser, Zachary J; McCurdy, Christopher R; Huber, Jason D; Matsumoto, Rae R (2013. ) SN79, a sigma receptor ligand, blocks methamphetamine-induced microglial activation and cytokine upregulation.Experimental neurology, , 247 ,134-42
Kaushal, Nidhi; Seminerio, Michael J; Robson, Matthew J; McCurdy, Christopher R; Matsumoto, Rae R (2013. ) Pharmacological evaluation of SN79, a sigma (?) receptor ligand, against methamphetamine-induced neurotoxicity in vivo.European neuropsychopharmacology : the journal of the European College of Neuropsychopharmacology, , 23 (8 ) ,960-71
Turner, Ryan C; Lucke-Wold, Brandon P; Robson, Matthew J; Omalu, Bennet I; Petraglia, Anthony L; Bailes, Julian E (2012. ) Repetitive traumatic brain injury and development of chronic traumatic encephalopathy: a potential role for biomarkers in diagnosis, prognosis, and treatment?.Frontiers in neurology, , 3 ,186
Robson, Matthew J; Seminerio, Michael J; McCurdy, Christopher R; Coop, Andrew; Matsumoto, Rae R (2013. ) ? Receptor antagonist attenuation of methamphetamine-induced neurotoxicity is correlated to body temperature modulation. Pharmacological reports : PR, , 65 (2 ) ,343-9
Seminerio, Michael J; Robson, Matthew J; McCurdy, Christopher R; Matsumoto, Rae R (2012. ) Sigma receptor antagonists attenuate acute methamphetamine-induced hyperthermia by a mechanism independent of IL-1? mRNA expression in the hypothalamus.European journal of pharmacology, , 691 (1-3 ) ,103-9
Robson, Matthew J; Elliott, Meenal; Seminerio, Michael J; Matsumoto, Rae R (2012. ) Evaluation of sigma (?) receptors in the antidepressant-like effects of ketamine in vitro and in vivo.European neuropsychopharmacology : the journal of the European College of Neuropsychopharmacology, , 22 (4 ) ,308-17
Seminerio, Michael J; Robson, Matthew J; Abdelazeem, Ahmed H; Mesangeau, Christophe; Jamalapuram, Seshulatha; Avery, Bonnie A; McCurdy, Christopher R; Matsumoto, Rae R (2012. ) Synthesis and pharmacological characterization of a novel sigma receptor ligand with improved metabolic stability and antagonistic effects against methamphetamine.The AAPS journal, , 14 (1 ) ,43-51
Kaushal, Nidhi; Elliott, Meenal; Robson, Matthew J; Iyer, Anand Krishnan V; Rojanasakul, Yon; Coop, Andrew; Matsumoto, Rae R (2012. ) AC927, a ? receptor ligand, blocks methamphetamine-induced release of dopamine and generation of reactive oxygen species in NG108-15 cells.Molecular pharmacology, , 81 (3 ) ,299-308
Xu, Yan-Tong; Robson, Matthew J; Szeszel-Fedorowicz, Wioletta; Patel, Divyen; Rooney, Robert; McCurdy, Christopher R; Matsumoto, Rae R (2012. ) CM156, a sigma receptor ligand, reverses cocaine-induced place conditioning and transcriptional responses in the brain.Pharmacology, biochemistry, and behavior, , 101 (1 ) ,174-80
Robson, Matthew J; Noorbakhsh, Bahar; Seminerio, Michael J; Matsumoto, Rae R (2012. ) Sigma-1 receptors: potential targets for the treatment of substance abuse. Current pharmaceutical design, , 18 (7 ) ,902-19
Kaushal, Nidhi; Robson, Matthew J; Vinnakota, Harsha; Narayanan, Sanju; Avery, Bonnie A; McCurdy, Christopher R; Matsumoto, Rae R (2011. ) Synthesis and pharmacological evaluation of 6-acetyl-3-(4-(4-(4-fluorophenyl)piperazin-1-yl)butyl)benzo[d]oxazol-2(3H)-one (SN79), a cocaine antagonist, in rodents.The AAPS journal, , 13 (3 ) ,336-46
Fishback, James A; Robson, Matthew J; Xu, Yan-Tong; Matsumoto, Rae R (2010. ) Sigma receptors: potential targets for a new class of antidepressant drug.Pharmacology & therapeutics, , 127 (3 ) ,271-82
Robson, Matthew J; Quinlan, Meagan A; Blakely, Randy D (2017. ) Immune System Activation and Depression: Roles of Serotonin in the Central Nervous System and Periphery.ACS chemical neuroscience, , 8 (5 ) ,932-942
Robson, Matthew J; Zhu, Chong-Bin; Quinlan, Meagan A; Botschner, David A; Baganz, Nicole L; Lindler, Kathryn M; Thome, Jason G; Hewlett, William A; Blakely, Randy D (2016. ) Generation and Characterization of Mice Expressing a Conditional Allele of the Interleukin-1 Receptor Type 1.PloS one, , 11 (3 ) ,e0150068
Baganz, N L; Lindler, K M; Zhu, C B; Smith, J T; Robson, M J; Iwamoto, H; Deneris, E S; Hewlett, W A; Blakely, R D (2015. ) A requirement of serotonergic p38? mitogen-activated protein kinase for peripheral immune system activation of CNS serotonin uptake and serotonin-linked behaviors.Translational psychiatry, , 5 ,e671
Robson, Matthew J; Quinlan, Meagan A; Margolis, Kara Gross; Gajewski-Kurdziel, Paula A; Veenstra-VanderWeele, Jeremy; Gershon, Michael D; Watterson, D Martin; Blakely, Randy D (2018. ) p38a MAPK signaling drives pharmacologically reversible brain and gastrointestinal phenotypes in the SERT Ala56 mouse.Proceedings of the National Academy of Sciences of the United States of America, ,
Burke, Susan J; Batdorf, Heidi M; Burk, David H; Martin, Thomas M; Mendoza, Tamra; Stadler, Krisztian; Alami, Wateen; Karlstad, Michael D; Robson, Matthew J; Blakely, Randy D; Mynatt, Randall L; Collier, J Jason (2018. ) Pancreatic deletion of the interleukin-1 receptor disrupts whole body glucose homeostasis and promotes islet B-cell de-differentiation.Molecular metabolism, ,
Quinlan, Meagan A; Krout, Danielle; Katamish, Rania; Robson, Matthew J; Nettesheim, Catherine; Gresch, Paul J; Mash, Deborah; Henry, Keith; Blakely, Randy D (2019. ) Human Serotonin Transporter Coding Variation Establishes Conformational Bias with Functional Consequences.ACS chemical neuroscience, ,
Liu, Xiaoyu; Nemeth, Daniel P; McKim, Daniel B; Zhu, Ling; DiSabato, Damon J; Berdysz, Olimpia; Gorantla, Gowthami; Oliver, Braedan; Witcher, Kristina G; Wang, Yufen; Negray, Christina E; Vegesna, Rekha S; Sheridan, John F; Godbout, Jonathan P; Robson, Matthew J; Blakely, Randy D; Popovich, Phillip G; Bilbo, Staci D; Quan, Ning (2019. ) Cell-Type-Specific Interleukin 1 Receptor 1 Signaling in the Brain Regulates Distinct Neuroimmune Activities.Immunity, ,
231 Albert Sabin Way
Cincinnati  Ohio, 45267-0514
Phone: 513-558-0333
Matthew.Robson@UC.edu
Research - Robson's Lab
231 Albert Sabin Way
Cincinnati  Ohio, 45229
http://pharmacy.uc.edu/research/robson_laboratory