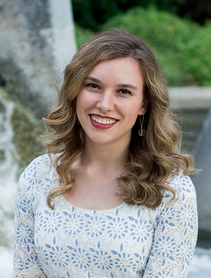 Mallory Rock
Graduate Assistant
Mallory is a PhD student in the School of Public and International Affairs at the University of Cincinnati. Her subfields are American Politics and Comparative Politics, and she is pursuing a doctoral concentration in Feminist Comparative and International Politics. Mallory's research interests include women in politics, conservative women, white Christian nationalism, and white identity politics.
Bachelor's: Brigham Young University Provo, UT, 2018 (English)
Research and Practice Interests
Gender and Politics
Conservative Women
White Identity Politics
American Politics
Positions and Work Experience
08-2018 -02-2019 Communications Intern, Office of Georgia Governor, Atlanta, GA
02-2018 -04-2018 Policy Research and Analysis Intern, Romney for Utah Campaign, Orem, UT
Paper Presentations
Rock, Mallory (04-08-2023. ) Conservative Women and the Rise of White Christian Nationalism in the United States .San Francisco, Californa. Conference.
Identity politics, American politics, Conservative women, Nationalism, Gender and politics, White identity
Academic - rockmy@mail.uc.edu