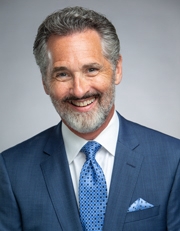 Stanley E. Romanstein
Professor
Professor of Musicology
Van Wormer Hall
CCM Composition, Musicology & Theory - 0097
Stanley E. Romanstein, PhD, is an accomplished nonprofit executive with more than 25 years of leadership and management experience in education and the arts. He served as the dean of CCM from 2018-22.

Prior to his appointment at CCM, Romanstein served as professor of practice/music and the arts at Georgia State University's Creative Media Institute (2014-18), where his work focused on building music industry collaborations. During this time, he also served as a principal at BLJackson Associates, a consulting firm based in Atlanta that works with arts, humanities and education-focused nonprofits across the country. The firm creates and implements tailored solutions to challenges in organizational strategy, governance and development/fundraising.

As President and CEO of the Atlanta Symphony Orchestra (2010-14), he strengthened the orchestra's connection to the community through expanded concert offerings and a wide range of impactful education offerings. He also created and implemented a new business model that reversed a 12-year history of financial loss and positioned the orchestra for long-term sustainability and artistic achievement.

As President and CEO of the Minnesota Humanities Center (2001-10), Romanstein transformed the center from a small organization with a local focus to a highly regarded regional and national leader in its field. He also created and distributed acclaimed new media; this included a collection of four Somali folk tales taken from the oral tradition and written down for the very first time, as well as an Emmy Award-winning documentary entitled Iron Range: Minnesota Building America.

Romanstein proved to be an enthusiastic and productive fundraiser at the Minnesota Humanities Center, Frederick R. Weisman Art Museum and the Baltimore School of the Arts. He attracted new local, regional and national funding to support the center's $4 million annual budget, including support from the Minnesota State Legislature by establishing partnerships with the state's four ethnic councils: American Indian, African American, Latino and Asian. As Director of Development at the University of Minnesota's Frederick R. Weisman Art Museum (2000-01), Romanstein led what was, at the time, the highest grossing annual fund drive while laying the groundwork for the museum's successful capital campaign. As Director of Baltimore School for the Arts (1996-2000), Romanstein positioned the school for a successful capital campaign as well as a facility renovation and expansion.

From 1987-96, Romanstein served as an associate professor and chair of the music department at St. Lawrence University, a highly selective liberal arts institution in New York. He refocused the department's traditional music curriculum to emphasize interdisciplinary and multicultural perspectives and created meaningful connections with departments and colleagues across the campus.
Bachelor of Music Education: Carson-Newman College Jefferson City, Tennessee, 1976 (Music Education)
Master of Music: CCM Cincinnati, OH, 1980 (Choral Conducting)
PhD: CCM Cincinnati, OH, 1990 (Music)
stanley.romanstein@uc.edu