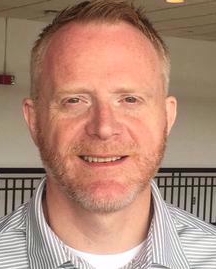 Matthew Rota , PhD
Asst Dean
Director of IT Director, Office of Technology-Enhanced Learning
I am the Director of the Office of Technology-Enhanced Learning for the College of Nursing and Sr. Instructional Designer. In my role as the Director, the College of Nursing's instructional design department and our college IT department, known as CATER report to me. This office unifies instructional design and information technology. In this role, I provide leadership oversight to ensure the departments align with the colleges' vision of 'through the creative leveraging of technology, we will transform health care" – by providing a community of practice supported by ongoing professional development and faculty partnership as well as innovative pedagogical approaches - online and face-to-face.

Here is an article from the Cincinnati Enquirer about my role at UC, College of Nursing: http://news.cincinnati.com/article/20130317/NEWS0102/303180041

Before joining UC College of Nursing, I spent 10 years in the corporate arena as an instructional designer, most recently for Trivantis, designing eLearning courses for Cincinnati Public Schools, Microsoft, P&G, Best Western, Novartis, and other fortune 500 companies. Before Trivantis, I was the Vice President of Altoria Solutions in Cincinnati, Ohio. At Altoria, I oversaw the design, development and deployment of our eLearning managed CMS, called Paralearning. 

From 2007 - 2009, I served as a board member of  the United Way of Cincinnati,and from 2005-2008, I served as the chair of the National Task Force for the United Way of America's Young Leader initiative. In 2005, I received the Cincinnati Business Journal Forty Under Forty award and was recognized as one of the top business leaders under 40 in Cincinnati.

My PhD is in Instructional Design for Online Learning, specializing in Virtual Clinical Reality and Virtual Augmentation, and I also hold a M.Ed. in C&I focusing on Instructional Design and Adult Learning Strategies, B.S. in Education and B.A. Medieval History - University of Cincinnati.
PhD: Capella University Minneapolis , 2017 (Education - Nursing Virtual Patient Simulations)
Grant: #NEOMED sub OSU sub MEDTAPP Investigators:Rota, Matthew 01-01-2016 -06-30-2017 Centers for Medicare & Medicaid Services NEOMED MEDTAPP CHW Expansion grant - UC CON Subcontract Role:PI $36,300.00 Active Level:Federal
Grant: #NEOMED G0104-C sub OSU 60055249 sub MEDTAPP G-1617-05-0003; MD 201609 Investigators:Rota, Matthew 07-01-2016 -06-30-2017 Centers for Medicare & Medicaid Services NEOMED MEDTAPP CHW Expansion grant - UC CON Subcontract - yr2 NCC Role:PI $27,660.00 Active Level:Federal
Grant: #211-2017-M-94065 Investigators:Gillespie, Gordon; Rota, Matthew 09-01-2017 -12-31-2018 Centers for Disease Control and Prevention Developing Workplace Violence & Bullying Case Studies for Training Nursing Students (2017-2018) Yr. 7 Role:Collaborator $32,467.05 Active Level:Federal
Grant: #ANF 6107 Investigators:Clark, Angela; Rota, Matthew 09-01-2017 -08-31-2018 American Nurses Foundation A feasibility study of an iOs group-based opioid overdose educational intervention for emergency department nurses responding to opioid overdoses Role:Collaborator $7,395.00 Active Level:Private Non-Profit
Grant: #1R21NR016992-01A1 Investigators:Bakas, Tamilyn; Brehm, Bonnie; Dunning, Kari; Kissela, Brett; McCarthy, Michael; Miller, Elaine; Rota, Matthew 07-20-2018 -06-30-2020 National Institute of Nursing Research Caregiver Self-Management Needs through Skill-Building Role:Collaborator $206,757.00 Active Level:Federal
Grant: #1R21NR016992-01A1 Investigators:Bakas, Tamilyn; Brehm, Bonnie; Dunning, Kari; Kissela, Brett; McCarthy, Michael; Miller, Elaine; Rota, Matthew 07-20-2018 -06-30-2020 National Institute of Nursing Research Caregiver Self-Management Needs through Skill-Building Role:Collaborator $455,388.00 Active Level:Federal
Grant: #U4E42429 Investigators:Clark, Angela; Green, Donna; Irwin, Amber; Rota, Matthew; Wagner, Robin; Werdman, Eileen 07-01-2021 -06-30-2023 Health Resources and Services Administration Appalachian Experiential Learning and Simulation Program (App-ELS) Role:Collaborator 500000.00 Awarded Level:Federal
Grant: #1R21NR016992-01A1 Investigators:Bakas, Tamilyn; Brehm, Bonnie; Dunning, Kari; Kissela, Brett; McCarthy, Michael; Miller, Elaine; Rota, Matthew 07-20-2018 -06-30-2021 National Institute of Nursing Research Caregiver Self-Management Needs through Skill-Building Role:Collaborator 455388.00 Active Level:Federal
Grant: #R01NR020184 Investigators:Bakas, Tamilyn; Dunning, Kari; Harnett, Brett; Jones, Holly; Kreitzer, Natalie; Miller, Elaine; Rota, Matthew 04-12-2022 -01-31-2023 National Institute of Nursing Research Telehealth Assessment and Skill-Building Intervention for Stroke Caregivers (TASK III) Role:Collaborator 636524.00 Awarded Level:Federal