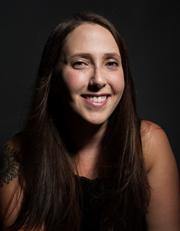 Caroline Sackleh
Admissions Counselor
Emery Hall
CCM Admissions & Student Services - 0003
Caroline Sackleh, DMA (she/her), is CCM's Undergraduate Admissions Counselor, joining the college in January 2022. She holds over five years of college admissions experience, both in undergraduate and graduate areas, prior to this appointment with Louisiana State University School of Music and CCM.

Sackleh is the founder, as well as executive and artistic director, of New Downbeat; a new music collective that features women musicians performing works from living composers exclusively. She most recently received her Doctorate in Bassoon Performance from CCM with a cognate in Chamber Music, where she studied with William Winstead, Martin Garcia, Christopher Sales and Martin James.

In addition to her work within the new music sphere, she is an active freelancer in and around the Cincinnati tri-state area and has performed with many notable orchestras: Dayton Philharmonic, Kentucky Symphony Orchestra, Richmond Symphony Orchestra, Southwestern Ohio Philharmonic, Carmel Symphony Orchestra, Baton Rouge Symphony Orchestra, Rapides Symphony Orchestra and the Urbana-Champaign Symphony Orchestra.
Sackleh received a Master's degree from Louisiana State University, and a Bachelor's degree from the University of Illinois at Urbana-Champaign; both in Bassoon Performance.

Originally from Naperville, Illinois, Sackleh began playing the bassoon in the seventh grade after hearing Sergei Prokofiev's Peter and the Wolf and thinking that the sound of the grandfather was the coolest thing ever! Some of her interests include gardening, cooking, live concerts, hiking and knitting.
BM: University of Illinois at Urbana-Champaign 2015 (Bassoon Performance)
MM: Louisiana State University 2017 (Bassoon Performance)
DMA: University of Cincinnati College-Conservatory of Music (CCM) 2020 (Bassoon Performance)