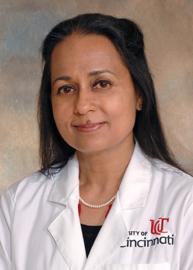 Renu Sah
Associate Professor
DR. RENU SAH earned her PhD in Biochemistry from Lucknow University, India. After completing her postdoctoral training in Neuropharmacology at the University of Wisconsin, Madison, WI and Duke University, Durham, NC, she joined the Department of Psychiatry, University of Cincinnati in 2003. Dr. Sah's major research interests include the Neurobiology of Anxiety and Fear- associated Disorders with the long term goal of identifying underlying mechanisms and novel therapeutic targets of intervention. Currently, the primary focus of her lab is the investigation of Panic Disorder (PD),  Posttraumatic Stress Disorder (PTSD) and associated comorbid conditions using translational approaches. Recent work aims to investigate shared mechanisms between PTSD, PD with inflammatory conditions such as asthma.

Research Interests
The focus of my research program is to understand the pathophysiology of anxiety, stress and trauma associated disorders with the long term goal of identifying novel therapeutic targets. Collectively, Anxiety disorders are the most prevalent among psychiatric disorders in our society, inflicting about 18% of the adult population. Often anxiety and stress associated disorders are comorbid with other conditions such as depression, inflammation and eating disorders. My lab investigates underlying mechanisms that may promote vulnerability to these conditions. Currently, most projects in the lab are focused on  Panic Disorder (PD) and Posttraumatic Stress Disorder (PTSD). More recently, we are investigating Panic-PTSD comorbidity as well as their association with inflammatory condiitons such as asthma. We use a "bench" and "bedside" approach that includes rodent models of PTSD and panic-like phenomena in conjunction with human studies to fully appreciate the translational relevance and better understand these disorders.
 
Doctoral Degree, Lucknow University (Biochemistry)
Post-Doctoral Training, University of Wisconsin and Duke University (Neuropharmacology)
Positions and Work Experience
10-01-2014 -To Present Associate Professor ,
Research and Practice Interests
The focus of my research program is to understand mechanisms underlying fear and anxiety behaviors and how they manifest into disorders such as Panic Disorder (PD) and Posttraumatic Stress disorder (PTSD). The long term goal is to delineate novel brain circuits and therapeutic targets. My lab is particularly interested in how the brain processes fear generated by "external" versus "internal"  threats to survival. For example, a life-threatening experience in combat or crime (external) versus suffocation and inability to breathe (internal).  Both constitute threats to survival and activate unique fear circuits in the brain.  Understanding these specialized circuits and associated molecules will help us understand disorders such as PD and PTSD where patients mount abnormal fear responses to a wide range of  external and internal triggers. 

Panic Disorder (PD) project :
Individuals with Panic disorder have intense episodes of extreme fear, cardiovascular activation and hyperventilation constituting panic attacks   Initial panic attacks appear spontaneously, "out of the blue" and are unpredictable.  After a few of these unanticipated attacks people develop phobias and anticipatory anxiety leading to more panic attacks. It is not clear how panic attacks happen and why some individuals are susceptible to these initial attacks. Accumulating evidence suggests that these are tied to false alarms within the body that create an internal state of threat. Disruptions in acid-base balance are thought to contribute and acidosis has been proposed as a trigger of panic attacks. We are investigating the role of unique brain areas, specialized acid sensing mechanisms and brain immune cells in panic and fear related behaviors using mouse models simulating panic-relevant behaviors, in conjunction with neurochemical measures, cellular responses and pharmacological manipulations.
Relevance: Our studies provide important leads on unique mechanisms by which nternal homeostatic disturbances in pH get translated into panic responses.  This association is critical to the pathophysiology of PD and may lead to more specific and effective treatments

  
PTSD and PD comorbidity project:  
 Fear associated disorders are often comorbid and may share common factors of vulnerability. Accumulating data report high incidence of panic disorder in veterans with PTSD, almost double to that observed in civilian populations. Comorbid PTSD-PD leads to higher treatment resistance, disability and economic burden. We are developing rodent paradigms that enable us to study potential mechanisms that may contribute to comorbid PTSD and PD. We are also testing the effects of therapeutic treatments on PTSD and panic relevant behaviors, associated circuits and molecules.   

PTSD and Asthma:
Strong clinical evidence supports an association of severe asthma with PTSD prevalence and risk. Using novel genetic mice models, we are investigating asthma-linked inflammatory mechanisms in driving posttraumatic behavior and physiology.



 
 
VA Merit Award Central Neuropeptide Y (NPY): A Novel Target for PTSD Pathophysiology Role:Principal Investigator Active Type:Grant Level:National
Grant: #1R21MH083213-01 NIMH Role of a novel pH-sensing receptor TDAG8 in panic Completed
Grant: #1R01MH093362 Acid sensing and panic Role:Principal Investigator Active Type:Grant Level:National
Ono Pharmaceuticals Ltd, Japan TDAG8 antagonist Ono6A in Panic-associated outcomes Role:Principal Investigator Active Type:Contract Level:International
Grant: #P2D1 / R43 MH079518-01 Investigators:Dolgas, Charles; Jones, Kenneth; Sah, Renu 01-01-2007 -12-31-2007 National Institute of Mental Health Efficacy of the Melatonin Agonist in the Treatment of Depression Role:PI $61,286.00 Active Level:Federal
Grant: #R21 MH083213 Investigators:Herman, James; Sah, Renu 04-01-2008 -03-31-2011 National Institute of Mental Health Role of Novel PH-Sensing Receptor TDAG8 in Panic Role:PI $374,291.00 Closed Level:Federal
Grant: #SRS 006839 Investigators:Sah, Renu 10-01-2009 -09-30-2010 Department of Veterans Affairs Intergovernmental Personnel Act Agreement for Renu Sah Role:PI $42,000.00 Closed Level:Federal
Grant: #R01 MH093362 Investigators:Herman, James; Krause, Eric; Sah, Renu 02-10-2012 -11-30-2016 National Institute of Mental Health Acid-Sensing and Panic Role:PI $764,987.00 Active Level:Federal
Grant: #ECA-Sarah Schmeltzer Investigators:Sah, Renu 10-01-2012 -10-31-2013 Department of Veterans Affairs Educational Collaboration Agreement - Sarah Schmeltzer Role:PI $28,333.00 Active Level:Federal
Grant: #TDAG8 Investigators:Sah, Renu 03-10-2013 -02-27-2014 Ono Pharmaceutical Co., Ltd. TDAG8 antagonist project Role:PI $102,050.00 Active Level:Foreign Industry
Grant: #VA IPA Investigators:Sah, Renu; Schurdak, Jennifer 01-01-2015 -03-31-2015 Department of Veterans Affairs VA IPA for Jennifer Schurdak Role:Collaborator $11,243.00 Active Level:Federal
Grant: #R21MH117483 Investigators:Sah, Renu 02-01-2019 -12-31-2020 National Institute of Mental Health Neuroinflammation, asthma and PTSD Role:PI $255,202.00 Awarded Level:Federal
BAD DATE -BAD DATE VA Merit Award Microglial mechanisms in panic PTSD Role:PI Type:Grant Level:National
Peer Reviewed Publications
McGuire, Jennifer; Herman, James P; Horn, Paul S; Sallee, Floyd R; Sah, Renu (2010. ) Enhanced fear recall and emotional arousal in rats recovering from chronic variable stress.Physiology & behavior, ,
Estes, Anne-Marie; McAllen, Kathleen; Parker, Michael S; Sah, Renu; Sweatman, Trevor; Park, Edwards A; Balasubramaniam, Ambikaipakan; Sallee, Floyd R; Walker, Mary W; Parker, Steven L (2010. ) Maintenance of Y receptor dimers in epithelial cells depends on interaction with G-protein heterotrimers.Amino acids, ,
Sah, Renu; Ekhator, Nosakhare N; Strawn, Jeffrey R; Sallee, Floyd R; Baker, Dewleen G; Horn, Paul S; Geracioti, Thomas D (2009. ) Low cerebrospinal fluid neuropeptide Y concentrations in posttraumatic stress disorder.Biological psychiatry, , 66 (7 ) ,705-7
McGuire, Jennifer; Herman, James P; Ghosal, Sriparna; Eaton, Katherine; Sallee, Floyd R; Sah, Renu (2009. ) Acid-sensing by the T cell death-associated gene 8 (TDAG8) receptor cloned from rat brain.Biochemical and biophysical research communications, , 386 (3 ) ,420-5
Parker, M S; Sah, R; Park, E A; Sweatman, T; Balasubramaniam, A; Sallee, F R; Parker, S L (2009. ) Oligomerization of the heptahelical G protein coupling receptors: a case for association using transmembrane helices. Mini reviews in medicinal chemistry, , 9 (3 ) ,329-39
Parker, Steven L; Parker, Michael S; Wong, Ying Y; Sah, Renu; Balasubramaniam, Ambikaipakan; Sallee, Floyd (2008. ) Importance of a N-terminal aspartate in the internalization of the neuropeptide Y Y2 receptor.European journal of pharmacology, , 594 (1-3 ) ,26-31
Parker, Steven L; Parker, Michael S; Sah, Renu; Balasubramaniam, Ambikaipakan; Sallee, Floyd R (2008. ) Pertussis toxin induces parallel loss of neuropeptide Y Y1 receptor dimers and Gi alpha subunit function in CHO cells.European journal of pharmacology, , 579 (1-3 ) ,13-25
Parker, M S; Sah, R; Balasubramaniam, A; Sallee, F R; Sweatman, T; Park, E A; Parker, S L (2008. ) Dimers of the neuropeptide Y (NPY) Y2 receptor show asymmetry in agonist affinity and association with G proteins.Journal of receptor and signal transduction research, , 28 (5 ) ,437-51
Parker, S L; Parker, M S; Estes, A M; Wong, Y Y; Sah, R; Sweatman, T; Park, E A; Balasubramaniam, A; Sallee, F R (2008. ) The neuropeptide Y (NPY) Y2 receptors are largely dimeric in the kidney, but monomeric in the forebrain.Journal of receptor and signal transduction research, , 28 (3 ) ,245-63
Sah, Rajan; Epstein, Laurence M; Kwong, Raymond Y (2007. ) Images in cardiovascular medicine. Intramural atrial hematoma after catheter ablation for atrial tachyarrhythmias.Circulation, , 115 (18 ) ,e446-7
Parker, S L; Parker, M S; Sah, R; Sallee, F R; Balasubramaniam, A (2007. ) Parallel inactivation of Y2 receptor and G-proteins in CHO cells by pertussis toxin.Regulatory peptides, , 139 (1-3 ) ,128-35
Sah, Renu; Parker, Steven L; Sheriff, Sulaiman; Eaton, Katherine; Balasubramaniam, Ambikaipakan; Sallee, Floyd R (2007. ) Interaction of NPY compounds with the rat glucocorticoid-induced receptor (GIR) reveals similarity to the NPY-Y2 receptor.Peptides, , 28 (2 ) ,302-9
Parker, S L; Parker, M S; Sah, R; Balasubramaniam, A; Sallee, F R (2007. ) Self-regulation of agonist activity at the Y receptors.Peptides, , 28 (2 ) ,203-13
Eaton, Katherine; Sallee, Floyd R; Sah, Renu (2007. ) Relevance of neuropeptide Y (NPY) in psychiatry. Current topics in medicinal chemistry, , 7 (17 ) ,1645-59
Li, Juan; Jadin, Kyle; Masuda, Koichi; Sah, Robert; Muehleman, Carol (2006. ) Characterization of lesions of the talus and description of tram-track lesions. Foot & ankle international / American Orthopaedic Foot and Ankle Society [and] Swiss Foot and Ankle Society, , 27 (5 ) ,344-55
Trivieri, Maria Giovanna; Oudit, Gavin Y; Sah, Rajan; Kerfant, Benoit-Gilles; Sun, Hui; Gramolini, Anthony O; Pan, Yan; Wickenden, Alan D; Croteau, Walburga; Morreale de Escobar, Gabriella; Pekhletski, Roman; St Germain, Donald; Maclennan, David H; Backx, Peter H (2006. ) Cardiac-specific elevations in thyroid hormone enhance contractility and prevent pressure overload-induced cardiac dysfunction.Proceedings of the National Academy of Sciences of the United States of America, , 103 (15 ) ,6043-8
Parker, M S; Sah, R; Sheriff, S; Balasubramaniam, A; Parker, S L (2005. ) Internalization of cloned pancreatic polypeptide receptors is accelerated by all types of Y4 agonists.Regulatory peptides, , 132 (1-3 ) ,91-101
Sah, Renu; Balasubramaniam, Ambikaipakan; Parker, Michael S; Sallee, Floyd; Parker, Steven L (2005. ) Neuropeptide Y as a partial agonist of the Y1 receptor.European journal of pharmacology, , 525 (1-3 ) ,60-8
Parker, Steven L; Parker, Michael S; Sah, Renu; Sallee, Floyd (2005. ) Angiogenesis and rhodopsin-like receptors: a role for N-terminal acidic residues?.Biochemical and biophysical research communications, , 335 (4 ) ,983-92
Brunskill, Eric W; Ehrman, Lisa A; Williams, Michael T; Klanke, Justin; Hammer, Daniel; Schaefer, Tori L; Sah, Renu; Dorn, Gerald W; Potter, S Steven; Vorhees, Charles V (2005. ) Abnormal neurodevelopment, neurosignaling and behaviour in Npas3-deficient mice.The European journal of neuroscience, , 22 (6 ) ,1265-76
Singh, Kiran; Singh, S K; Sah, R; Singh, Indu; Raman, Rajiva (2005. ) Mutation C677T in the methylenetetrahydrofolate reductase gene is associated with male infertility in an Indian population.International journal of andrology, , 28 (2 ) ,115-9
Williams, Michael T; Schaefer, Tori L; Ehrman, Lisa A; Able, Jessica A; Gudelsky, Gary A; Sah, Renu; Vorhees, Charles V (2005. ) 3,4-Methylenedioxymethamphetamine administration on postnatal day 11 in rats increases pituitary-adrenal output and reduces striatal and hippocampal serotonin without altering SERT activity.Brain research, , 1039 (1-2 ) ,97-107
Akeson, Wayne H; Massie, Jennifer B; Huang, Bill; Giurea, Alexander; Sah, Robert; Garfin, Steven R; Kim, Choll W Topical high-molecular-weight hyaluronan and a roofing barrier sheet equally inhibit postlaminectomy fibrosis.The spine journal : official journal of the North American Spine Society, , 5 (2 ) ,180-90
Parker, Michael S; Sah, Renu; Balasubramaniam, Ambikaipakan; Parker, Steven L (2005. ) Lithium inhibits internalization and endosomal processing of both neuropeptide Y (NPY) Y1 and transferrin receptors.Neuroscience letters, , 374 (1 ) ,43-6
Sah, R; Pritchard, L M; Richtand, N M; Ahlbrand, R; Eaton, K; Sallee, F R; Herman, J P (2005. ) Expression of the glucocorticoid-induced receptor mRNA in rat brain.Neuroscience, , 133 (1 ) ,281-92
Galeffi, Francesca; Sah, Renu; Pond, Brooks B; George, Amanda; Schwartz-Bloom, Rochelle D (2004. ) Changes in intracellular chloride after oxygen-glucose deprivation of the adult hippocampal slice: effect of diazepam.The Journal of neuroscience : the official journal of the Society for Neuroscience, , 24 (18 ) ,4478-88
Crackower, Michael A; Oudit, Gavin Y; Kozieradzki, Ivona; Sarao, Renu; Sun, Hui; Sasaki, Takehiko; Hirsch, Emilio; Suzuki, Akira; Shioi, Tetsuo; Irie-Sasaki, Junko; Sah, Rajan; Cheng, Hai-Ying M; Rybin, Vitalyi O; Lembo, Giuseppe; Fratta, Luigi; Oliveira-dos-Santos, Antonio J; Benovic, Jeffery L; Kahn, C Ronald; Izumo, Seigo; Steinberg, Susan F; Wymann, Matthias P; Backx, Peter H; Penninger, Josef M (2002. ) Regulation of myocardial contractility and cell size by distinct PI3K-PTEN signaling pathways. Cell, , 110 (6 ) ,737-49
Kaprielian, Roger; Sah, Rajan; Nguyen, Tin; Wickenden, Alan D; Backx, Peter H (2002. ) Myocardial infarction in rat eliminates regional heterogeneity of AP profiles, I(to) K(+) currents, and [Ca(2+)](i) transients.American journal of physiology. Heart and circulatory physiology, , 283 (3 ) ,H1157-68
Davisson, Twana; Kunig, Sabine; Chen, Albert; Sah, Robert; Ratcliffe, Anthony (2002. ) Static and dynamic compression modulate matrix metabolism in tissue engineered cartilage.Journal of orthopaedic research : official publication of the Orthopaedic Research Society, , 20 (4 ) ,842-8
Sah, Rajan; Oudit, Gavin Y; Nguyen, The-Tin T; Lim, Hae W; Wickenden, Alan D; Wilson, Gregory J; Molkentin, Jeffery D; Backx, Peter H (2002. ) Inhibition of calcineurin and sarcolemmal Ca2+ influx protects cardiac morphology and ventricular function in K(v)4.2N transgenic mice. Circulation, , 105 (15 ) ,1850-6
Sah, Rajan; Ramirez, Rafael J; Backx, Peter H (2002. ) Modulation of Ca(2+) release in cardiac myocytes by changes in repolarization rate: role of phase-1 action potential repolarization in excitation-contraction coupling. Circulation research, , 90 (2 ) ,165-73
Sah, Renu; Galeffi, Francesca; Ahrens, Rebecca; Jordan, Gwendolyn; Schwartz-Bloom, Rochelle D (2002. ) Modulation of the GABA(A)-gated chloride channel by reactive oxygen species. Journal of neurochemistry, , 80 (3 ) ,383-91
Sah, R; Ramirez, R J; Kaprielian, R; Backx, P H (2001. ) Alterations in action potential profile enhance excitation-contraction coupling in rat cardiac myocytes. The Journal of physiology, , 533 (Pt 1 ) ,201-14
Oudit, G Y; Kassiri, Z; Sah, R; Ramirez, R J; Zobel, C; Backx, P H (2001. ) The molecular physiology of the cardiac transient outward potassium current (I(to)) in normal and diseased myocardium.Journal of molecular and cellular cardiology, , 33 (5 ) ,851-72
Schwartz-Bloom, R D; Sah, R (2001. ) gamma-Aminobutyric acid(A) neurotransmission and cerebral ischemia. Journal of neurochemistry, , 77 (2 ) ,353-71
Wickenden, A D; Lee, P; Sah, R; Huang, Q; Fishman, G I; Backx, P H (1999. ) Targeted expression of a dominant-negative K(v)4.2 K(+) channel subunit in the mouse heart. Circulation research, , 85 (11 ) ,1067-76
Sah, R; Schwartz-Bloom, R D (1999. ) Optical imaging reveals elevated intracellular chloride in hippocampal pyramidal neurons after oxidative stress. The Journal of neuroscience : the official journal of the Society for Neuroscience, , 19 (21 ) ,9209-17
Hanna, W J; Tsushima, R G; Sah, R; McCutcheon, L J; Marban, E; Backx, P H (1996. ) The equine periodic paralysis Na+ channel mutation alters molecular transitions between the open and inactivated states. The Journal of physiology, , 497 ( Pt 2) ,349-64
Vollmer LE, Ghosal S, Rush JA, Sallee FR, Herman JP, Weinert M, Sah R. (2013. ) Attenuated stress-evoked anxiety, increased sucrose preference and delayed spatial learning in glucocorticoid-induced receptor-deficient mice. Genes Brain & Behavior, , 12 (2 ) ,241-249
Sah R and Geracioti TD (2013. ) Neuropeptide Y and posttraumatic stress disorder. Molecular Psychiatry, ,
Parker MS, Sah R, Parker SL. (2012. ) Surface masking shapes the traffic of the neuropeptide Y Y2 receptor. Peptides, , 37 (1 ) ,40-48
McGuire JL, Larke LE, Sallee FR, Herman JP, Sah R. (2011. ) Differential Regulation of Neuropeptide Y in the Amygdala and Prefrontal Cortex during Recovery from Chronic Variable Stress. Front Behav Neurosci., , 5 ,54
Winter, Andrew; Ahlbrand, Rebecca; Naik, Devanshi; Sah, Renu (2017. ) Differential behavioral sensitivity to carbon dioxide (CO2) inhalation in rats.Neuroscience, , 346 ,423-433
Sun, Xuming; Tommasi, Ellen; Molina, Doris; Sah, Renu; Brosnihan, K Bridget; Diz, Debra; Petrovic, Snezana (2016. ) Deletion of proton-sensing receptor GPR4 associates with lower blood pressure and lower binding of angiotensin II receptor in SFO.American journal of physiology. Renal physiology, , 311 (6 ) ,F1260-F1266
E Vollmer, L; Ghosal, S; A Rush, J; R Sallee, F; P Herman, J; Weinert, M; Sah, R (2013. ) Attenuated stress-evoked anxiety, increased sucrose preference and delayed spatial learning in glucocorticoid-induced receptor-deficient mice.Genes, brain, and behavior, , 12 (2 ) ,241-9
Sah, R; Geracioti, T D (2013. ) Neuropeptide Y and posttraumatic stress disorder.Molecular psychiatry, , 18 (6 ) ,646-55
Parker, Michael S; Sah, Renu; Parker, Steven L (2012. ) Surface masking shapes the traffic of the neuropeptide Y Y2 receptor.Peptides, , 37 (1 ) ,40-8
Vollmer, Lauren Larke; Ghosal, Sriparna; McGuire, Jennifer L; Ahlbrand, Rebecca L; Li, Ke-Yong; Santin, Joseph M; Ratliff-Rang, Christine A; Patrone, Luis G A; Rush, Jennifer; Lewkowich, Ian P; Herman, James P; Putnam, Robert W; Sah, Renu (2016. ) Microglial Acid Sensing Regulates Carbon Dioxide-Evoked Fear.Biological psychiatry, , 80 (7 ) ,541-51
Smith, Brittany L; Schmeltzer, Sarah N; Packard, Benjamin A; Sah, Renu; Herman, James P (2016. ) Divergent effects of repeated restraint versus chronic variable stress on prefrontal cortical immune status after LPS injection.Brain, behavior, and immunity, , 57 ,263-70
Schmeltzer, Sarah N; Herman, James P; Sah, Renu (2016. ) Neuropeptide Y (NPY) and posttraumatic stress disorder (PTSD): A translational update.Experimental neurology, , 284 (Pt B ) ,196-210
Vollmer, Lauren L; Schmeltzer, Sarah; Schurdak, Jennifer; Ahlbrand, Rebecca; Rush, Jennifer; Dolgas, Charles M; Baccei, Mark L; Sah, Renu (2016. ) Neuropeptide Y Impairs Retrieval of Extinguished Fear and Modulates Excitability of Neurons in the Infralimbic Prefrontal Cortex.The Journal of neuroscience : the official journal of the Society for Neuroscience, , 36 (4 ) ,1306-15
Sah, Renu; Ulrich-Lai, Yvonne M (2015. ) Introduction to the 2014 Neurobiology of Stress Special Issue.Physiology & behavior, , 150 ,1
Vollmer, Lauren Larke; Schmeltzer, Sarah N; Ahlbrand, Rebecca; Sah, Renu (2015. ) A potential role for the acid-sensing T cell death associated gene-8 (TDAG8) receptor in depression-like behavior.Physiology & behavior, , 150 ,78-82
Vollmer, L L; Strawn, J R; Sah, R (2015. ) Acid-base dysregulation and chemosensory mechanisms in panic disorder: a translational update.Translational psychiatry, , 5 ,e572
Schmeltzer, Sarah N; Vollmer, Lauren L; Rush, Jennifer E; Weinert, Mychal; Dolgas, Charles M; Sah, Renu (2015. ) History of chronic stress modifies acute stress-evoked fear memory and acoustic startle in male rats.Stress (Amsterdam, Netherlands), , 18 (2 ) ,244-53
Parker, Michael S; Sah, Renu; Balasubramaniam, Ambikaipakan; Sallee, Floyd R; Park, Edwards A; Parker, Steven L (2014. ) On the expansion of ribosomal proteins and RNAs in eukaryotes.Amino acids, , 46 (7 ) ,1589-604
Parker, Michael S; Sah, Renu; Balasubramaniam, Ambikaipakan; Park, Edwards A; Sallee, Floyd R; Parker, Steven L (2014. ) Dimers of G-protein coupled receptors as versatile storage and response units.International journal of molecular sciences, , 15 (3 ) ,4856-77
Sah, Renu; Ekhator, Nosakhare N; Jefferson-Wilson, Lena; Horn, Paul S; Geracioti, Thomas D (2014. ) Cerebrospinal fluid neuropeptide Y in combat veterans with and without posttraumatic stress disorder.Psychoneuroendocrinology, , 40 ,277-83
Müller, Timo D; Müller, Anne; Yi, Chun-Xia; Habegger, Kirk M; Meyer, Carola W; Gaylinn, Bruce D; Finan, Brian; Heppner, Kristy; Trivedi, Chitrang; Bielohuby, Maximilian; Abplanalp, William; Meyer, Franziska; Piechowski, Carolin L; Pratzka, Juliane; Stemmer, Kerstin; Holland, Jenna; Hembree, Jazzmin; Bhardwaj, Nakul; Raver, Christine; Ottaway, Nickki; Krishna, Radha; Sah, Renu; Sallee, Floyd R; Woods, Stephen C; Perez-Tilve, Diego; Bidlingmaier, Martin; Thorner, Michael O; Krude, Heiko; Smiley, David; DiMarchi, Richard; Hofmann, Susanna; Pfluger, Paul T; Kleinau, Gunnar; Biebermann, Heike; Tschöp, Matthias H (2013. ) The orphan receptor Gpr83 regulates systemic energy metabolism via ghrelin-dependent and ghrelin-independent mechanisms.Nature communications, , 4 ,1968
McGuire, Jennifer L; Larke, Lauren E; Sallee, Floyd R; Herman, James P; Sah, Renu (2011. ) Differential Regulation of Neuropeptide Y in the Amygdala and Prefrontal Cortex during Recovery from Chronic Variable Stress.Frontiers in behavioral neuroscience, , 5 ,54
Parker, M S; Sah, R; Balasubramaniam, A; Sallee, F R; Zerbe, O; Parker, S L (2011. ) Non-specific binding and general cross-reactivity of Y receptor agonists are correlated and should importantly depend on their acidic sectors.Peptides, , 32 (2 ) ,258-65
McMurray, Katherine M J; Strawn, Jeffrey R; Sah, Renu (2019. ) Fluoxetine Modulates Spontaneous and Conditioned Behaviors to Carbon Dioxide (CO2) Inhalation and Alters Forebrain-Midbrain Neuronal Activation.Neuroscience, , 396 ,108-118
Schubert, Inga; Ahlbrand, Rebecca; Winter, Andrew; Vollmer, Lauren; Lewkowich, Ian; Sah, Renu (2018. ) Enhanced fear and altered neuronal activation in forebrain limbic regions of CX3CR1-deficient mice.Brain, behavior, and immunity, , 68 ,34-43
Strawn, Jeffrey R; Vollmer, Lauren L; McMurray, Katherine M J; Mills, Jeffrey A; Mossman, Sarah A; Varney, Sara T; Schroeder, Heidi K; Sah, Renu (2018. ) Acid-sensing T cell death associated gene-8 receptor expression in panic disorder.Brain, behavior, and immunity, , 67 ,36-41
Academic - Reading Campus
2120 East Galbraith Road
Cincinnati  Ohio, 45237
Phone: 513-558-5129
Fax: 513-297-0966
renu.sah@uc.edu