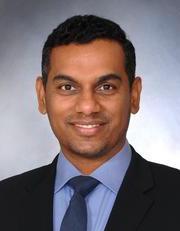 Vinay S. Mallikarjuna , MD
Clinical Instructor
UCMC - Pathology
234 Goodman Street
Cincinnati , Ohio 45219
Email sakalevy@ucmail.uc.edu
Resident physician in training committed to learn and provide excellent diagnostic service and in turn patient care. Diverse experience in variety of healthcare settings in primary care, teaching, basic science & clinical research. Dedicated team player and professional striving to maintain high standards in the field. 
Medical degree: J.J.M.Medical College (Rajiv Gandhi University of Health Sciences) Davanagere, Karnataka -India, (M.B.B.S)
Postgraduate residency training (Class 2025): University of Cincinnati Medical Center, (Anatomic & Clinical Pathology)
Positions and Work Experience
- Visiting Scientist , Fox Chase Cancer Center, Philadelphia, PA.
- Teaching fellowship, St. George's University School of Medicine, Grenada - West Indies
- Medical Officer , S.S. Institue of Medical Sciences, Davanagere, Karnataka -India
Poster Presentations
Mallikarjuna, V.S., Matloob, S., Pei, J., Talarchek, J.N., Al-Saleem, E.D., Al-Saleem, T., Fung, H., Wasik, M.A., Testa, J.R., Nejati, M.R. (2020. ) "Role of Chromosomal Microarrays in evaluation of Myelodysplastic Syndromes: A Single Institution Experience". United States and Canadian Academy of Pathology (USCAP)2020., Los Angeles, CA. . Professional Meeting. . Level:International
Madabhavi, I., Mallikarjuna, V.S, Sandeep, K.S., Sarkar, M., Shah, M., Modi, M., (2019. ) "Intraconal metastasis leading to diagnosis of Hepatocellular Carcinoma" .American Society of Clinical Pathology (ASCP) 2019, Phoenix, Arizona.. . Professional Meeting. . Level:International
Academic - UCMC - Pathology
234 Goodman Street
Cincinnati   Ohio, 45219
sakalevy@ucmail.uc.edu