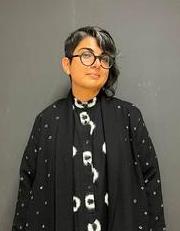 Arti Sandhu
Associate Professor
Aronoff Center
DAAP School of Design - 0016
Arti Sandhu is currently an Associate Professor in the Fashion Program, in the School of Design at DAAP. Prior to this she taught at Columbia College Chicago and Massey University, New Zealand. Originally from India, she studied Fashion Design at N.I.F.T. (New Delhi) and received her Master's degree in Fashion and Textiles from Nottingham Trent University (U.K.).
 
Her research is mainly centered on contemporary Indian fashion and related design culture. She is also interested in the development of critical and reflective design processes relevant to the field of fashion; and the imbuing of designed artifacts with a sense of personal voice and identity as a way of strengthening the design process. This she explores in her own creative work and as part of her teaching.
 
Arti is the author of Indian Fashion: Tradition, Innovation, Style, published by Bloomsbury Academic. 
Published Books
Arti Sandhu (2015. )Indian Fashion: Tradition, Innovation, Style .London, New York ,Bloomsbury Academic (Author)
Associate Professor,
Academic - arti.sandhu@uc.edu