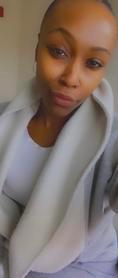 Simone Nicole Savannah
Post Doc Fellow
Edwards Center
EDWARDS 1
A&S Taft Research Center - 0369
Simone Savannah, Ph.D. is a Black feminist writer and teacher born and raised in Columbus Ohio. She is the author of Uses of My Body (Barrow Street 2020) and Like Kansas (Big Lucks 2018). She is the winner of the Barrow Street Poetry Book Prize chosen by Jericho Brown.
 
Her work has been published in Apogee, The Fem, Powder Keg, GlitterMob, Shade Journal, BreakBeat Poets, and several other journals and anthologies. She earned her M.Ed and B.A. from Ohio University. She holds a PhD in Creative Writing from the University of Kansas. 
​
Simone is also a certified personal trainer.