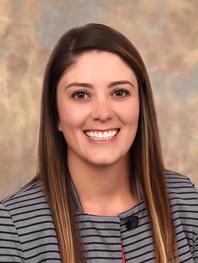 Elizabeth Grace Schlosser , PharmD, BCPS, BCACP
Asst Professor - Clin
Assistant Professor - Population Health
3255 Eden Avenue, Kowalewski Hall 369
Cincinnati, Ohio 45267
Phone 513-558-3670
Email elizabeth.schlosser@uc.edu
Dr. Elizabeth Schlosser is an Assistant Professor of Pharmacy Practice and Administrative Sciences with a focus in Population Health at the University of Cincinnati James L. Winkle College of Pharmacy. She coordinates the Pharmacy Practice Advancement I course in the third pharmacy professional year. She also serves as the Coordinator of the Co-Curricular Program where she is responsible for coordinating the co-curricular program to complement the curriculum in order to achieve excellence in student outcomes. The duties of the Co-Curricular Coordinator include ongoing evaluation and revision of the co-curricular process, assessment of co-curricular activities/partners, and education of faculty regarding the co-curricular program.

Dr. Schlosser also maintains an active practice in Population Health and Ambulatory Care at St. Elizabeth Physicians and is a Board Certified Pharmacotherapy Specialist (BCPS) and Board Certified Ambulatory Care Pharmacist (BCACP). 

Dr. Schlosser, a native of Lexington, KY, earned her Bachelor of Arts degree in History at Centre College in Danville, KY and her Doctor of Pharmacy degree at Lipscomb University College of Pharmacy in Nashville, TN. While in pharmacy school, she took on many leadership roles including serving as Worth Chief Counselor of the Phi Delta Chi Pharmacy Fraternity. She then completed a PGY1 Pharmacy Residency and PGY2 Ambulatory Care Pharmacy Residency at St. Elizabeth Healthcare in Northern Kentucky. 

Dr. Schlosser has been very involved in the American Society of Health-System Pharmacists throughout her career. She has served as a member and Chair of the New Practitioners Forum Career Development Advisory Group. She also served as a member on the ASHP New Pracitioners Forum Executive Committee. Currently, she serves on the ASHP Section of Pharmacy Educators Student Education and Learning Experience Advisory group. 

In her spare time, Dr. Schlosser is an active member of the Charities Guild of Northern Kentucky and enjoys reading, traveling, and doing anything related to Disney or with her puppies Si and Archie. 
Bachelor of Arts : Centre College Danville, KY, 2012 (History)
Doctor of Pharmacy: Lipscomb University Nashville, TN, 2017
Grant: #N/A Investigators:Berryman, Elizabeth 07-01-2020 -06-30-2021 UC's Launch Awards Spring Semester (20SS) Research Launch Awards Role:PI $2,500.00 Active Level:Internal UC
Grant: #Pharmacy New Practitioner Pharmacist Leadership Research Grant Investigators:Berryman, Elizabeth; Hincapie Echeverri, Ana Lucia 01-29-2021 -07-29-2022 American Society of Health-System Pharmacists Research and Education Foundation Assessment of Pharmacy Technician Job Satisfaction in Unique Ambulatory Pharmacy Settings: A mixed-methods analysis Role:PI $4,957.00 Awarded Level:Private Non-Profit
Peer Reviewed Publications
Elizabeth G. Schlosser, Erica Neff, Suzanne M. Francis, Hannah Vormohr, Ana L. Hincapie (2020. ) Implementation of a protocol-driven pharmacy technician refill process at a large physician network.Journal of the American Pharmacists Association, ,
More Information
Quach, David; Gore, Stephanie; Schlosser, Elizabeth G (2020. ) A practical guide to feedback in the workplace: Interpreting and acting on feedback from learners and direct reports.American journal of health-system pharmacy : AJHP : official journal of the American Society of Health-System Pharmacists, , More Information
Goodlet, Kellie J; Raymond, Alexandre; Schlosser, Elizabeth G (2020. ) A practical guide to feedback in the workplace: Transitioning from learner to independent practitioner.American journal of health-system pharmacy : AJHP : official journal of the American Society of Health-System Pharmacists, , 77 (15 ) ,1196-1199 More Information
Schlosser, Elizabeth G; Rennekamp, Tara; Bald, Elizabeth; Jean, Stephanie; Raber, Hanna; Bato, Agathea; Llambi, Leandro; Hincapie, Ana L (2022. ) Assessment of pharmacy technician job satisfaction and duties in ambulatory care pharmacy settings: A mixed-methods analysis.American journal of health-system pharmacy : AJHP : official journal of the American Society of Health-System Pharmacists, , More Information
Hincapie A, Schlosser E, Damachi U, Neff E, Llambi L, Groves K, MacKinnon NJ (2021. ) Perceptions of the provision of drug information, pharmaceutical detailing and engagement with non-personal promotion at a large physicians network: a mixed-methods study.BMJ Open, ,
More Information
Hincapie, Ana; Schlosser, Elizabeth; Damachi, Udim; Neff, Erica; Llambi, Leandro; Groves, Kent; MacKinnon, Neil J (2021. ) Perceptions of the provision of drug information, pharmaceutical detailing and engagement with non-personal promotion at a large physicians network: a mixed-methods study.BMJ open, , 11 (1 ) ,e041098 More Information
Book Chapter
Ana L. Hincapie, Elizabeth Schlosser (2022 ) Chapter Thirteen: Quality Improvement Research in Pharmacy Settings Student Handbook for Pharmacy Practice Research: A Companion Book to Conduct Practice-Based Research in Pharmacy .McGraw Hill (Co-Author)
Poster Presentations
Joshua Heiden, PharmD; Russell Currington, PharmD, BC-ADM; Lydia Bailey, PharmD; Elizabeth Berryman, PharmD, BCPS, BCACP; Mike Espel, RPh (2021. ) Nurse Practitioner Driven Telephonic Primary Care in a Charitable Pharmacy: A Cost-Benefit Analysis .American Pharmacists Association Annual Meeting, Virtual. . Professional Meeting. . Level:National
Elizabeth G. Schlosser (Berryman), PharmD, BCPS, BCACP; Erica Neff, PharmD, BCACP; Suzanne M. Francis, PharmD, BCACP; Hannah Vormohr, PharmD; Ana L. Hincapie, MS, PhD (2020. ) Implementation of a Protocol-Driven Pharmacy Technician Approved Refill Process at a Large Physician Network .American Society of Health-System Pharmacists Midyear Clinical Meeting, Virtual. . Professional Meeting. . Level:National
Implementation of a Protocol-Driven Pharmacy Technician Approved Refill Process at a Large Physician Network Poster
Ana L. Hincapie, MS, PhD; Elizabeth Berryman, PharmD, BCPS, BCACP; Neil J. MacKinnon, BPharm, PhD; Udim Damachi, BS; Mathew Smalley, PharmD candidate; Erica Neff, PharmD; Meaghan Markovich, MD; Kent E. M. Groves, PhD (2020. ) Health Care Personnel Engagement with Drug Information Communication and Marketing Strategies in a Large Physicians' Network. American Pharmacists Association Annual Meeting, Virtual. . Professional Meeting. . Level:National
Kelly Epplen, Pat Achoe, Emma Palmer, Adwoa Sasu, Elizabeth Schlosser (Presenter), Patricia Wigle (07-2022. ) Development of a Diversity, Equity, Inclusion, and Accessibility Strategic Plan at a College of Pharmacy .American Association of Colleges of Pharmacy, Grapevine, TX. . Professional Meeting. . Level:National
Development of a Diversity, Equity, Inclusion, and Accessibility Strategic Plan at a College of Pharmacy
Kalen R. Templeton, PharmD Candidate 2022 (Presenter); Elizabeth Schlosser, PharmD, BCPS, BCACP (12-2021. ) Integrating Student Pharmacists to Address Asthma Population Health Care Gaps .American Society of Health-System Pharmacists Midyear Clinical Meeting, Virtual. . Professional Meeting. . Level:National
Integrating Student Pharmacists to Address Asthma Population Health Care Gaps
Elizabeth Berryman, PharmD, BCPS; Megan Borchers, PharmD, AAHIVP; Kimber Boothe, PharmD, MHA (06-2019. ) Effects of implementation of a pharmacist-managed Hepatitis C clinic .American Society of Health-System Pharmacists Summer Meeting, Boston, MA. . Professional Meeting. . Level:National
Elizabeth Berryman, PharmD, BCPS; Kelly Epplen, PharmD, BCACP; Suzi Francis, PharmD, BCACP, CDE; Ana Hincapie, PhD (05-2019. ) A pharmacist's approach to improve ambulatory medication reconciliation processes across a large physician organization. Kentucky Society of Health-System Pharmacists Spring Meeting, Lexington, KY. . Level:Regional
Elizabeth Berryman, PharmD; Kathleen Miller, PharmD, MPA, BCPS (08-2018. ) Analyzing the financial impact of pharmacy-driven medication reconciliation in a large community hospital. Greater Cincinnati Society of Health-System Pharmacists Annual Best Practices Research Symposium, Cincinnati, OH. . Level:Local
Joshua Cockroft, BA (Presenter), Camellia Koleyni, MD, Samuel Starks, BS, Elizabeth Berryman, PharmD, Sophie Druffner, Heather Davidson, PhD (04-2018. ) Vanderbilt/Lipscomb University Student Hotspotting: A Case Study in Interprofessional Student Patient Advocacy .Stanford Medicine X, Stanford, CA. . Level:National
Elizabeth Berryman, PharmD; Kathleen Miller, PharmD, MPA, BCPS (12-2017. ) Analyzing the financial impact of pharmacy-driven medication reconciliation in a large community hospital .American Society of Health-System Pharmacists Midyear Clinical Meeting, Orlando, FL. . Level:National
Elizabeth Berryman, BA; Madeleine Drummond, BA, RN; Taylor Gautier, BA; Haden Geiger; Christine Shoaf, BA, RN; Amol Utrankar, BA (01-2016. ) In his corner: the ongoing impact of patient-centered care on a high-utilizing patient with complicated chronic illness. Student Hotspotting Wrap-Up Conference, Camden, NJ. . Level:National
2022 St. Elizabeth Healthcare PGY2 Ambulatory Care Residency Preceptor of the Year
Post Graduate Training and Education
07-01-2017-06-30-2018 PGY1 Pharmacy Practice Resident, St. Elizabeth Healthcare, , Ft. Thomas, KY
07-01-2018-06-30-2019 PGY2 Ambulatory Care Pharmacy Resident , St. Elizabeth Healthcare, , Edgewood, KY
Academic - 3255 Eden Avenue, Kowalewski Hall 369
Cincinnati  Ohio, 45267
Phone: 513-558-3670
elizabeth.schlosser@uc.edu