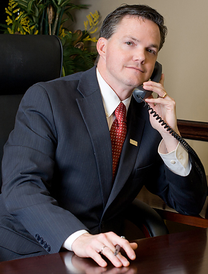 William James Schretter
Instructor - Adjunct
William J Schretter, MBA, CLU®, ChFC®, CFP®, ATA®, CFEI®, LSSBB®, CFC®

"As a fiduciary, I provide life, financial, and legacy planning services to help you identify, afford, and achieve your goals…I understand the value of financial planning and having a plan that is based on your values."

Personal Life:
Bill Schretter grew up in Cincinnati Ohio. He attended St Gertrude School, St Xavier High School, Miami University, and the University of Cincinnati. He is married with two teenage children. "When in college, my father suffered from heart problems and strokes, so I understand the pain and the importance of planning for bad things to happen to good people. I understand that life can change in a mere evening... I understand that there is more to the value of a human life than their bank balance or credit rating. I am here to help my clients achieve their personal mission in life through education, proper planning, and effective use of resources"

Formal Education and Career Experience:
Bill is the founder and Senior Consultant of Life-Legacy Services, and Life-Legacy Financial Counsel, Inc., a fee-for-service professional advisory association that helps clients Plan Their Future, Live Their Life, and Craft Their Legacy™. He has worked with people of all levels of wealth and background; so, he understands the intricacies of wealth management, especially the value of sharing your values (messages of love, appreciation, and advice) to inspire those you love and leave behind at death. He has developed and presented financial education seminars for students, public audiences, and for private industry. He has been quoted in the Dayton Daily News, CNBC, Bloomberg, Money Geek, Smart Asset, and the CFP Board Lets Make a Plan Blog website.

Formal Education and Professional Activities:
o BS, Business Management- Miami University
o MBA, University of Cincinnati
o CLU®- Chartered Life Underwriter, The American College
o ChFC®- Chartered Financial Consultant, The American College
o CFP®- CERTIFIED FINANCIAL PLANNER™, CFP Board 115542
o ATA®- Accredited Tax Advisor, Certificate #1101120335
o LSSBB®- Lean Six Sigma Black Belt –Certificate # 19111513, November 15, 2019
o CFP Board Ambassador™ since 2015*
o Intuit Certified Tax Professional™ – Certificate # 82320845
o Ohio Life & Health Insurance Agent, License #601605, since 2002
o Certified Financial Counselor®, specializing in Positive Psychology to Financial Behavior and client goal achievement.

oConducting professional research on the correlation between unethical behavior and compensation/reward systems in Financial Services. 
o Creator of the 5P Audit Process™ that encourages the application of best practices in customer service, marketing communications, employee training, compensation, and operational systems  to positively impact corporate culture and client service.
o  Co-Creator of the BSB Consulting Process™ that analyzes and prepares employees for business succession and new business systems. The BSB GAP Analysis™ method develops strategies to move individuals and organization from where they are now to where they want to be. 
o  Published author on Legacy Planning and the preservation of Generational Wealth and the impact on individual life purpose.
MBA: University of Cincinnati Cincinnati, Ohio, 2001 (Finance)
BS: Miami University Ohio, 1994 (Marketing)
More Information About Bill Schretter ... Learn more at the website www.BillSchretter.com
Practice - Life-Legacy Services
Ohio, 45036
Phone: 513-295-3036
billschretter@life-legacy.us