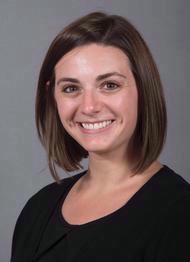 Elaine Frances Shafer
Asst Dir Academic Student Advising
Academic Advisor - Criminal Justice, Information Technology, and Paralegal Studies (Last Names H-O)
Teachers College
CECH Student Services Center - 0002
Academic advising plays an essential role in the life of a college student and I love serving our students in the College of Education, Criminal Justice and Human Services.  

After graduating Miami University with a Bachelor of Arts in International Studies, I began my career as a higher education professional.  I spent four years at Owens Community College located in Toledo, Ohio as an academic and immigration advisor for international students.  This experience helped instill within me a passion for helping students succeed.  

My goal as an academic advisor is to empower individuals to attain their academic, personal and professional goals.  
502 Teachers College
Phone: 513-556-1382