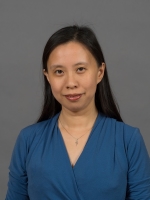 Linna Shi
Professor
Dr. Linna Shi is an assistant professor of accounting at the University of Cincinnati. She holds a PhD in Accounting from Syracuse University and a MS in Finance from Stockholm School of Economics. She is also a Chartered Financial Analyst® (CFA). Her main areas of research include earnings quality and management, market mispricing on accounting information, and corporate governance. Dr. Shi has published in the Review of Accounting Studies, Journal of Corporate Finance, Journal of Business, Finance & Accounting, Accounting Horizons, and Advances in Accounting. Her teaching interests focus on financial accounting and financial statement analysis.
Ph D: Syracuse University 2011 (Accounting)
MS: Stockholm School of Economics 2005 (Finance)
Research and Practice Interests
earnings quality and earnings management, mispricing on accounting information, accounting disclosures, corporate governance
Positions and Work Experience
08-15-2016 - Assistant Professor of Accounting, University of Cincinnati,
09-01-2011 -07-31-2016 Assistant Professor of Accounting, Binghamton University, SUNY,
Published Abstracts
Mintchik, Natalia;Shi, Linna; The intangibles and goodwill as the proxies for audit complexity in audit fee research.
Other Publications
Harris, David; Shi, Linna; Xie, Hong (06-2018. ) Does Benchmark-Beating Detect Earnings Management? Evidence from Accounting Irregularities .41 , Advances in Accounting
Darrough, Masako; Shi, Linna; Wang, Ping (12-2017. ) Do Peer Warnings Affect CEO Compensation? .31 (3 ) , Accounting Horizons
Shi, Linna; Wang, Ping; Zhou, Nan (2017. ) Enhanced disclosure of other comprehensive income and increased usefulness of net income: The implications of Accounting Standards Update 2011-05 .29 (2 ) , Research in Accounting Regulation
Dai, Lili; Dharwadkar, Ravi; Shi, Linna; Zhang, Bohui (08-2017. ) The Governance Transfer of Blockholders: Evidence from Block Acquisitions and Earnings Management around the World .45 , Journal of Corporate Finance
Wang, Ping; Darrough, Masako; Shi, Linna (09-2016. ) Earnings Warnings and CEO Welfare .43 (09/10/19 ) , Journal of Business, Finance & Accounting
Shi, Linna; Zhang, Huai; Guo, Jun (2014. ) Analysts' Cash Flow Forecasts and Pricing of Accruals .30 (1 ) , Advances in Accounting, incorporating Advances in International Accounting
Shi, Linna; Zhang, Huai (2012. ) the Earnings Fixation Hypothesis Explain the Accrual Anomaly .17 (1 ) , Review of Accounting Studies
Shi, Linna; Zhang, Huai (2011. ) On Alternative Measures of Accruals .25 (4 ) , Accounting Horizons
05-2018 Dean's List of Teaching Excellence - Spring 2018
12-2017 Dean's List of Teaching Excellence - Fall 2017 Level:College Type:Teaching
2014 School of Management Teaching Award Type:Teaching
2013 Best Paper Award Level:National Type:Scholarship/Research
09-2011: American Accounting Association, National
12-2002: CFA Institute, International
FIN STATE ANAL
FIN STATE ANAL
FIN STATE ANAL
INTERMED ACCT I
FINSTATEANAL
FINSTATEANAL
FIN STATE ANAL
INTERMED ACCT I
FIN STATE ANAL
FIN STATE ANAL
Accepted Contributions

David Harris, Linna Shi, Hong Xie,  (Accepted). Does Benchmark-Beating Detect Earnings Management? Evidence from Accounting Irregularities. Advances in Accounting.,
321 Carl H. Lindner Hall
Phone: 513-556-2097
Fax: 513-556-6278
shiln@ucmail.uc.edu