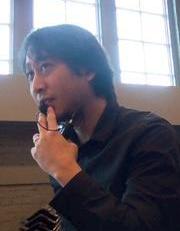 Kazuaki Shiota
Instructor - Adjunct
Adjunct Instructor in General Studies (Music)
Emery Hall
CCM General Studies - 0003
Kazuaki Shiota began serving as an Adjunct Instructor of General Studies (Music) in the Fall of 2012 at CCM where he teaches Japanese Pop Music Online and Jam Laptop Online courses.

He received his Doctor of Musical Arts and Master of Music in music composition from the University of Cincinnati (UC) and Bachelor of Music in music composition from the University of North Texas.

While attending UC, he primarily studied under Dr. Mara Helmuth for computer music composition and served as a teaching assistant to teach undergraduate and graduate students Introduction to Electronic Music with a full tuition scholarship for four academic years.

His compositions have been presented in the national and international conferences such as Society for Electro-Acoustic Music in the United States (SEAMUS) and the International Compute Music Conference (ICMC). He presented an Introduction of A General-Purpose Interactive Dance Methodology for the SEAMUS 2015 National Conference with Karen Shiota.

He was a finalist (third place) of the Voices of Change Russell Horn Young Composers Competition in 2002 and the finalist of the IDEAS Festival at Indiana University in 2005. He was awarded for the Faculty Development Council Award regarding online course development from existing CCM coursework in August 2013.

He was a former faculty member of CCM Prep where he taught music composition, technology and theory. He taught "Computer Music and Engineering" and "Japanese Language and Culture" at St. Andrew's Episcopal School in Ridgeland, Mississippi for after-school activities. He was a long-term substitute instructor of music (piano, written theory/keyboard skills, and music technology) to teach (4 - 12 grades) at Power APAC Elementary School in Jackson, Mississippi. He taught music courses at Shobi University, Tamagawa University, and Aichi University of the Arts in Japan.

He is also a faculty member of Millsaps Conservatory of Music where he teaches music composition, theory, and technology through online.
DMA: University of Cincinnati Cincinnati, OH, 2012 (music composition)
MM: University of Cincinnati Cincinnati, OH, 2006 (music composition)
BM: University of North Texas Denton, TX, 2004 (music composition)