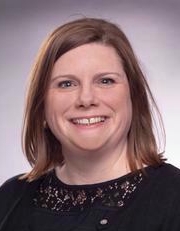 Carolyn Shisler
Assistant Professor Educator
CC West Woods Acad Cntr
285
CC Physical Therapy Assisting - 0160
Prof. Shisler is an Assistant Professor and the Program Director for the Physical Therapist Assistant Program.

She holds a B.S. in physical therapy from Marquette University and an M.Ed. in Curriculum and Instruction from the University of Cincinnati. 

Her teaching content is in the area of acute care physical therapy and the medically complex patient. Most recently, her focus has been on improving collaboration and communication within the PT-PTA team. Prof. Shisler has established intraprofessional experiences with two local DPT programs and completed her master's theses on the intraprofessional team as it relates to the entry-level skills for the acute care PTA.

Her goal as a faculty member is to relate her love for her patients and her profession to her students.  Physical therapy is more than just treating a diagnosis, it is treating a person. She is also passionate about teaching physical therapists and student physical therapists the abundance of knowledge and skills that physical therapist assistants bring to the clinical setting and their patients.

Despite her teaching and administrative schedule, Prof. Shisler continues to work at The Christ Hospital in the acute care setting evaluating and treating people who are critically ill and/or recovering from medical and surgical diagnoses. She has been a practicing PT for over 30 years.
Bachelor of Science: Marquette University Milwaukee, WI, 1992 (Physical Therapy)
Masters of Education: University of Cincinnati Cincinnati, OH, 2019 (Curriculum and Instruction)
Research and Practice Interests
Areas of Practice and Interest include:
Critical Care/Intensive Care Unit 
Clinical Education of PT and PTA students
Training Clinical Instructors to be better teachers
Interprofessional Education
Intraprofessional Education (Building the PT-PTA Team)
Readiness for physical therapist assistants to be entry-level in the acute care setting upon graduation
Mental Health education for PT practitioners 
Positions and Work Experience
1995 -2015 Senior Physical Therapist, Site Coordinator for Clinical Education, The Christ Hospital, Cincinnati, OH
2015 -To Present Physical Therapist, PRN, The Christ Hospital, Cincinnati, OH
1992 -1995 Physical Therapist, University Hospital of Cleveland, Cleveland, OH
1992 -To Present: APTA Member Member of the American Physical Therapy Associate, Ohio Physical Therapy Association and the Southwest District of the Ohio Physical Therapy Association
Faculty Development Activities
2018 -To Present Co-chair Coordinates semester long, monthly meetings for faculty to get together to share and discuss current topics in teaching, Faculty Learning Community University of Cincinnati, Clermont
Carolyn is an APTA Trainer for both the Level 1 and Level 2 Credentialed Clinical Instructor Programs. Please refer to https://www.apta.org/Educators/ClinicalEducatorDevelopment/ for more information on the Clinical Instructor Credentialing Programs,