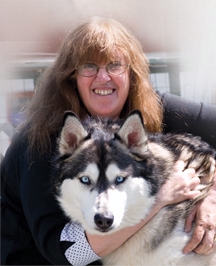 Melissa Robin Shyan-Norwalt , PhD, CAAB
Assoc Professor - Educator
Edwards Center One
5140 Edwards Center
Corry Blvd
Cincinnati, Ohio 45221
Phone 513-556-5521 or 317-496-7502
Email shyannmr@ucmail.uc.edu
Dr. Shyan-Norwalt received her Doctorate in Experimental Psychology at the University of Hawaii in Comparative Cognition. After a two-year postdoctoral fellowship on research in primate cognition at the University of Texas Health Sciences Center at Houston, she taught for two years at Southwest Texas State University, and then moved to Butler University in Indianapolis, where she taught experimental methods, learning, and cognition for 13 years. She has been a college professor, published scientist, animal shelter manager, and animal behaviorist. She is an Educator Assistant Professor in the College of Arts and Science of Arts and Sciences at the University of Cincinnati and runs a private practice in companion, domestic, and exotic animal behavior. Primary research interests include animal welfare, the human-animal bond, and animal cognition.
PhD: University of Hawaii at Manoa Honolulu, HI, 1985 (Experimental Psychology/Comparative Cognition)
MS: Illinois Institute of Technology Chicago, IL, 1981 (Experimental Psychology/Comparative Cogntion)
BA: Hood College Frederick, MD, 1977 (Double Major: Psychology and Philosophy)
Research and Practice Interests
Although I am an Educator Assistant Professor of Psychology, I have a history of research in Comparative Cognition. I have three primary research interests: 1. (Basic science) the processes related to the serial list memory and the serial position effect, 2. The behavioral correlates of perception, and 3. (Applied science) models of scientifically-based animal enrichment, scientifically based behavior problem solving and the human–animal bond.

I also maintain a professional practice. I am a Certified Applied Animal Behaviorist (CAAB, certified by the Animal Behavior Society), and was a member of the Board of Professional Certification for four years. I provide behavioral consultations for private animal owners, zoos, and laboratories. 
 
 
Positions and Work Experience
2015 - - present. Educator Assistant Professor, Psychology, Teaching in-class and online Psychology courses. Developing and presenting new online courses. Serving on Department Psychology online course committee and on Department travel committee. Mentoring student in Senior Thesis, UC College of Arts and Science of A&S, Cincinnati, Ohio
2014 -2015 Associate Professor, Psychology, Teach Psychology Courses, develop online courses. Advise students for major, serve as chair on University Block Scheduling Ad Hoc committee. Gave public education presentations. Helped revise Psych major. Mentored students in Research, University of Rio Grande, Rio Grande Ohio
2012 -2014 Animal Shelter Operations Manager, Shelter Operations Manager for Collier County Domestic Animal Services, in Naples, Florida. I evaluated animals for adoption, was responsible for animal behavior problem resolution both in-house and with adopted pets, I taught obedience training to volunteers and staff, developed enrichment programs, enhanced animal holding environments, presented public education lectures on animal behavior, and performed other animal behavior functions. I interacted with the public, enhancing customer service and pet retention, acting as a behavior resource both live and by phone. I managed 15 staff members, three supervisors, and over 40 active (200 inactive) volunteers. I supervised day-to-day activities, animal husbandry, coordinated with veterinary care, animal enrichment, public adoptions, media relations, fund raising, and public education. Our facility was an open-admissions facility and handled 3,000 domestic dogs, 3,000 domestic cats, stray and confiscated horses, pigs, goats, chickens, rabbits (and other "small fuzzies") and a variety of amphibians and reptiles and birds. I was responsible for budgets, staff professional development and annual evaluations, public-complaints and issues (there were many!), interacting with other County-government agencies, meeting county-, state-, and federal-, and other responsibilities and duties. I interacted with the Advisory Board, the County Commissioners, the news media, and other stakeholders, Collier County Domestic Animal Services, Naples, FL
2009 -2012 Acting Chair/Full Professor Psychology, Served as acting chair and Professor of Psychology--managed dept budgets, faculty, updated majors and other duties. Curriculum Committee, Chair of IRB, et set, Martin University, Indianapolis, IN
Peer Reviewed Publications
Pack, A.A., Herman, E.Y.K., Baker, C.S., Bauer, G.B., Clapham, P J., Connor,    R. C., Craig, A. S., Forestell, P. H., Frankel, A. S., Notarbartolo Di Sciara, G., Hoffmann-Kuhnt, M., Mercado III, E., Mobley, J., Shyan-Norwalt, M.R., Spitz, S.S., Solangi, M., Thompson, R.K.R., Von Fersen, L., Uyeyama, R., Wells, R. & Wolz, J.P. (2017). Memories: Louis M. Herman (1930-2016). Marine Mammal Science, 33(1), 389-406.
 
Craig, M., Rand, J.S., Mesch, R., Shyan-Norwalt, M.R., Morton, J., and Flickinger, E.A. (2012). Domestic dogs demonstrate both primacy and recency serial position effects using the radial arm maze. Journal of Comparative Psychology, 126(3), Aug 2012, 233-242. 
Story, M., Rand, J.S., Shyan-Norwalt, M.R., Mesch, R., Flickinger, E.A.(2012). Effect of short-term resveratrol supplementation on the performance of dogs in an eight arm radial maze.  The Open Nutrition Journal, 2012, 6, 80-88.
Shyan-Norwalt, M.R., Peterson, J., Milankow, B., Dale, R.H.I, and Staggs, T. (2010). Initial Findings on Visual Acuity Thresholds in an African Elephant (Loxodonta Africana).  Zoo Biology, 29(1), 30-35. 
Shyan-Norwalt, M.R. (2009). The human-animal bond in laboratory animals. Lab Animal, 38(4) April, 132-136.
Shyan-Norwalt, M.R. (2005). Caregiver Perceptions of What Indoor Cats Do "For Fun." Journal of Applied Animal Welfare Science, 8(3), 199-209.
Book Chapter
Duffee, N. & Shyan-Norwalt, M. (Accepted) Book Chapter: The IACUC. In Encyclopedia of Animal Cognition and Behavior, Vonck, J. & Shakelford, T.K. (Eds) , Springer: New York, np.
Conference/Workshop Proceedings
Shyan-Norwalt, M., Smith, R., Levy, J., Soderberg, J. (2011). Do dolphins do it: Comparison of three novel to one control condition on motivating multiply-disabled adolescents. Online Poster Proceedings of the 20th International Society for Anthrozoology Conference, Aug 4-6, Indianapolis, In. http://www.scribd.com/doc/67767957/Do-Dolphins-Do-It
-Comparison-of-Three-Novel-to-One-Control-Condition-on-Motivating-Multiply-Disabled-Adolescents
Invited Presentations
Shyan-Norwalt, M.R. (2017. ) Feline Communication: Let's Speak the Same Language .Webinar, American Association of Laboratory Animal Sciences. Workshop. . Level:International
Shyan-Norwalt, M.R. (2017. ) Canine Communication: Let's Speak the Same Language .Webinar, American Association of Laboratory Animal Sciences. Workshop. . Level:International
Shyan-Norwalt, M.R., Hettes, S & Estep, D. (2016. ) Social dominance and nothing in life is free – how useful are they for working with behavior problems in pets? .Webinar, Chat with CAABs (CAABChat. Workshop. . Level:International
Animal Behavior Society (Journal Animal Behaviour, Ethics Review Committee. ) Committee Member Type:Service to Professional Associations Level:International 2012 -2018
Animal Behavior Society (Graduate Student Grant Proposal Reviewer ) Committee Member Type:Service to Professional Associations Level:International 2015 -2016
Journal "Animal Cognition" (NA. ) Peer Review/Referee Type:Editorial Service Level:International
Psychology Department (Travel Committee ) Committee Member Type:Departmental Service Level:Department 2015 -2016
Psychology Department (Distance Learning Committee ) Committee Member Type:Departmental Service Level:Department 2015
Animal Behavior Society (Applied Animal Behavior ) Committee Member Type:Service to Professional Associations Level:International 2018
Department of Psychology (Faculty Mentor for Online Courses ) Other Type:Departmental Service Level:Department 2016
Post Graduate Training and Education
1985-1987 Postdoctoral Fellowship, Comparative Cognition, auditory processing and visual processing in primates and humans, UT Health Sciences Center, , Houston, TX
1993: Member, Animal Behavior Society Animal Behavior Society, International
1993: Certified Applied Animal Behaviorist Animal Behavior Society, International
1993: Member, Comparative Cognition Society Comparative Cognition Society, International
-PSYC-1001 INTRO TO PSYCHOLOGY Level:Undergraduate
-PSYC-1001 INTRO TO PSYCHOLOGY Level:Undergraduate
-PSYC-2030 SENSATION & PERCEPT Level:Undergraduate
-PSYC-5057 RES METH: COG PSYCH Level:Undergraduate
Faculty Development Activities
12-18-2015 -12-21-2015 Human Subjects Training Academic and Regional Health Centers Core Curriculum CITIS online Type:Tutorial
12-18-2015 -BAD DATE Human Subjects Research Core Curriculum. CITIS-- Online Type:Tutorial
12-18-2015 -12-21-2015 Students Research CITIS-- online Type:Tutorial
09-01-2015 -11-01-2015 Sexual Harassment Training UC-HR online Type:Tutorial
09-01-2015 -11-01-2015 Diversity Training UC-HR online Type:Tutorial
12-05-2015 Using "LightBoard" video-lecture system Working one-on-one with Kuyler McComas to record psychology course lectures to be incorporated into online courses, using new Lightboard Technology system, UC-Instructional Design UC-Clermont campus Type:Other
Academic - Edwards Center One
5140 Edwards Center
Cincinnati  Ohio, 45221
Phone: 513-556-5521 or 317-496-7502
shyannmr@ucmail.uc.edu