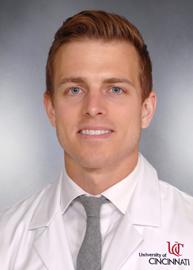 Robert Steven Sibilia , MD
Clinical Instructor
Cardiovascular Disease Fellow, 1st Year
231 Albert Albert Sabin Way, MLC 0542
Cincinnati, Ohio 45267
Email sibilirs@ucmail.uc.edu
Personal Statement
I studied bioengineering in college, ultimately earning a master's degree in this field. The year before medical school, I led an engineering team in designing a Bluetooth stethoscope for Eko Devices, a technology company in Berkeley, California. I modeled, built, and tested the stethoscope to ensure it had the features and quality necessary for physical exams. I presented the device to doctors, investors, and media at large conferences to demonstrate it's features and potential impact. My role at the interface between the engineering team and physicians allowed me to appreciate the power of cross‐disciplinary teams in healthcare. This experience helped inspire my journey into medicine so that I would be able to use tools like this stethoscope to directly help patients.

Why I Chose Cincinnati
I went to Cincinnati for medical school and loved my medicine rotations, especially my acting internship during 4th year. On interview day I was even more impressed by the program‐ especially the emphasis on resident education, patient centeredness, and continuity of care. The research and innovation in medical education at UC shows their commitment to the residents and improvement of the program.
Medical Degree: University of Cincinnati College of Medicine
Residency, Internal Medicine: University of Cincinnati College of Medicine
Peer Reviewed Publications
Benoit J, Hart K, Soliman A, Barczak C, Sibilia R, Lindsell C, Fermann G. (2017. ) Developing a Standardized Measurement of Alcohol Intoxication .American Journal of Emergency Medicine, , 35 (5 ) ,725
Academic - 231 Albert Albert Sabin Way, MLC 0542
Cincinnati  Ohio, 45267
sibilirs@ucmail.uc.edu