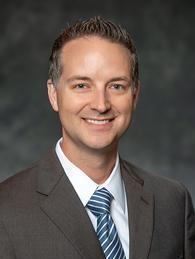 Robert A Sisk , MD
Associate Professor of Clinical-Affiliate
Medical Sciences Building
COM Ophthalmology Affiliate Programs CEI - 0527
Dr. Robert A. Sisk is a Board-Certified Diplomate of the American Board of Ophthalmology and a Fellow of the American College of Surgeons. His peers selected him as one of The Best Doctors in America.
Dr. Sisk is actively engaged in clinical research and ophthalmic education. Dr. Sisk is a principal investigator or co-investigator for many FDA-regulated investigational drug trials and studies for identification and treatment of genetic eye diseases. Dr. Sisk performs cell therapy and gene therapy procedures, including the FDA-approved gene therapy, Luxturna®. He is an Associate Professor of the Department of Ophthalmology at the University of Cincinnati, where he educates residents and fellows in vitreoretinal surgery. He is the author of numerous publications in the peer-reviewed ophthalmic literature and presents regularly at international clinical and scientific meetings.
Dr. Sisk serves adults and older children at the CEI offices in Edgewood, Kentucky and Blue Ash, Ohio. He provides care for neonates, infants, and young children at Cincinnati Children's Hospital, a top 3 hospital nationally, where he is Director of Pediatric Vitreoretinal Surgery and Director of Ophthalmic Genetics. While he routinely manages all forms of medical and surgical diseases of the retina in adults, Dr. Sisk has specialized expertise in pediatric retinal surgery, retinal dystrophies, and retinal electrophysiology.
Medical Degree: University of Kentucky
Internship: University of Cincinnati
Residency: University of Cincinnati
Fellowship: Bascom Palmer Eye Institute (Retina)
Research and Practice Interests
Vitreo-Retinal Disorders
Peer Reviewed Publications
Wilkes, Martin F; Miller, Daniel M; Mitchell, Matthew D; Zanke, Brent; Petersen, Michael R; Sisk, Robert A; Riemann, Christopher D; Foster, Robert E (2014. ) Investigation of Choroidal Neovascularization Risk Alleles in Ocular Histoplasmosis.Ophthalmology, , More Information
Gandhi, A; Miller, D M; Zink, J M; Khatana, A K; Riemann, C D; Petersen, M R; Foster, R E; Sisk, R A (2014. ) Analysis of long-term outcomes for combined pars plana vitrectomy (PPV) and glaucoma tube shunt surgery in eyes with advanced glaucoma.Eye (London, England), , 28 (3 ) ,290-5 More Information
Sisk, Robert A; Hufnagel, Robert B; Bandi, Sindura; Polzin, William J; Ahmed, Zubair M (2014. ) Planned Preterm Delivery and Treatment of Retinal Neovascularization in Norrie Disease.Ophthalmology, , More Information
Bhende, Muna; Hegde, Sandhya; Sen, Pratik Ranjan; Sisk, Robert A; Stepien, Kimberly (2013. ) Diagnostic and therapeutic challenges.Retina (Philadelphia, Pa.), , 33 (8 ) ,1720-5 More Information
Ramasubramanian, A; Correa, Z M; Augsburger, J J; Sisk, R A; Plager, D A (2013. ) Medulloepithelioma in DICER1 syndrome treated with resection.Eye (London, England), , 27 (7 ) ,896-7 More Information
Squires, James E; Sisk, Robert A; Balistreri, William F; Kohli, Rohit (2013. ) Isolated unilateral cytomegalovirus retinitis: a rare long-term complication after pediatric liver transplantation.Pediatric transplantation, , 17 (1 ) ,E16-9 More Information
Lonngi, Marcela; Houston, Samuel K; Murray, Timothy G; Sisk, Robert A; Decatur, Christina L; Cavalcante, Milena; Markoe, Arnold M (2013. ) Microincisional vitrectomy for retinal detachment in I-125 brachytherapy-treated patients with posterior uveal malignant melanoma.Clinical ophthalmology (Auckland, N.Z.), , 7 ,427-35 More Information
Sisk, Robert A; Motley, W Walker; Yang, Michael B; West, Constance E Surgical outcomes following repair of traumatic retinal detachments in cognitively impaired adolescents with self-injurious behavior.Journal of pediatric ophthalmology and strabismus, , 50 (1 ) ,20-6 More Information
Shaikh, Adeel H; Petersen, Michael R; Sisk, Robert A; Foster, Robert E; Riemann, Christopher D; Miller, Daniel M Comparative effectiveness of the dexamethasone intravitreal implant in vitrectomized and non-vitrectomized eyes with macular edema secondary to central retinal vein occlusion.Ophthalmic surgery, lasers & imaging retina, , 44 (1 ) ,28-33 More Information
Sisk, Robert A; Riemann, Christopher D; Petersen, Michael R; Foster, Robert E; Miller, Daniel M; Murray, Timothy G; Augsburger, James J (2013. ) Fundus autofluorescence findings of choroidal osteoma.Retina (Philadelphia, Pa.), , 33 (1 ) ,97-104 More Information
Shaikh, Adeel H; Petersen, Michael R; Sisk, Robert A; Foster, Robert E; Riemann, Christopher D; Miller, Daniel M (2012. ) Comparative Effectiveness of the Dexamethasone Intravitreal Implant in Vitrectomized and Non-vitrectomized Eyes With Macular Edema Secondary to Central Retinal Vein Occlusion.Ophthalmic surgery, lasers & imaging : the official journal of the International Society for Imaging in the Eye, , 1-6 More Information
Sisk, Robert A (2012. ) Valproic acid treatment may be harmful in non-dominant forms of retinitis pigmentosa.The British journal of ophthalmology, , 96 (8 ) ,1154-5 More Information
Hufnagel, Robert B; Ahmed, Zubair M; Corrêa, Zélia M; Sisk, Robert A (2012. ) Gene therapy for Leber congenital amaurosis: advances and future directions.Graefe's archive for clinical and experimental ophthalmology = Albrecht von Graefes Archiv für klinische und experimentelle Ophthalmologie, , 250 (8 ) ,1117-28 More Information
El Sanhouri, Ahmed; Sisk, Robert A; Petersen, Michael R (2012. ) Mortality from cerebral vasculitis associated with rapid steroid taper during treatment of acute posterior multifocal placoid pigment epitheliopathy.Archives of ophthalmology, , 130 (7 ) ,935-7 More Information
Sisk, Robert A Intravenous sodium fluorescein 10% for laser ablation of subtle retinal neovascularization in FEVR.Journal of pediatric ophthalmology and strabismus, , 49 (2 ) ,126-7 More Information
Cionni, Douglas A; Lewis, Shawn A; Petersen, Michael R; Foster, Robert E; Riemann, Christopher D; Sisk, Robert A; Hutchins, Robert K; Miller, Daniel M (2012. ) Analysis of outcomes for intravitreal bevacizumab in the treatment of choroidal neovascularization secondary to ocular histoplasmosis.Ophthalmology, , 119 (2 ) ,327-32 More Information
Parke, D Wilkin; Sisk, Robert A; Murray, Timothy G (2012. ) Intraoperative intravitreal triamcinolone decreases macular edema after vitrectomy with phacoemulsification.Clinical ophthalmology (Auckland, N.Z.), , 6 ,1347-53 More Information
Parke, D Wilkin; Sisk, Robert A; Houston, Samuel K; Murray, Timothy G (2012. ) Ocular hypertension after intravitreal triamcinolone with vitrectomy and phacoemulsification.Clinical ophthalmology (Auckland, N.Z.), , 6 ,925-31 More Information
Aziz, Hassan A; Berrocal, Audina M; Sisk, Robert A; Hartley, Kristin; Diaz-Barbosa, Magaly; Johnson, Rose A; Hess, Ditte; Dubovy, Sander R; Murray, Timothy G; Flynn, Harry W (2012. ) Intraocular infections in the neonatal intensive care unit.Clinical ophthalmology (Auckland, N.Z.), , 6 ,733-7 More Information
Schoenberger, Scott D; Miller, Daniel M; Riemann, Christopher D; Foster, Robert E; Sisk, Robert A; Hutchins, Robert K; Petersen, Michael R Outcomes of 25-gauge pars plana vitrectomy in the surgical management of proliferative diabetic retinopathy.Ophthalmic surgery, lasers & imaging : the official journal of the International Society for Imaging in the Eye, , 42 (6 ) ,474-80 More Information
Aziz, Hassan A; Berrocal, Audina M; Sisk, Robert A; Murray, Timothy G (2011. ) Idiopathic infantile chronic rhegmatogenous retinal detachment.Ophthalmic surgery, lasers & imaging : the official journal of the International Society for Imaging in the Eye, , 42 Online ,e63-4 More Information
Schoenberger, Scott D; Miller, Daniel M; Petersen, Michael R; Foster, Robert E; Riemann, Christopher D; Sisk, Robert A (2011. ) Nepafenac for epiretinal membrane surgery.Ophthalmology, , 118 (7 ) ,1482.e1-3 More Information
Sisk, Robert A; Berrocal, Audina M; Albini, Thomas A; Murray, Timothy G Bevacizumab for the treatment of pediatric retinal and choroidal diseases.Ophthalmic surgery, lasers & imaging : the official journal of the International Society for Imaging in the Eye, , 41 (6 ) ,582-92 More Information
Sisk, Robert A; Berrocal, Audina M; Feuer, William J; Murray, Timothy G (2010. ) Visual and anatomic outcomes with or without surgery in persistent fetal vasculature.Ophthalmology, , 117 (11 ) ,2178-83.e1-2 More Information
Leung, Ella; Sisk, Robert A; Flynn, Harry W (2010. ) Progression of diabetic tractional retinoschisis by optical coherence tomography.Ophthalmic surgery, lasers & imaging : the official journal of the International Society for Imaging in the Eye, , 41 Online ,e1-3 More Information
Sisk, Robert A; Murray, Timothy G (2010. ) Combined phacoemulsification and sutureless 23-gauge pars plana vitrectomy for complex vitreoretinal diseases.The British journal of ophthalmology, , 94 (8 ) ,1028-32 More Information
Aziz, Hassan A; Sisk, Robert A; Berrocal, Audina M; Murray, Timothy G (2010. ) Optic nerve aplasia in Aicardi syndrome.Journal of pediatric ophthalmology and strabismus, , 47 Online ,e1-4 More Information
Sisk, Robert A; Berrocal, Audina M; Schefler, Amy C; Dubovy, Sander R; Bauer, Mislen S (2010. ) Epiretinal membranes indicate a severe phenotype of neurofibromatosis type 2.Retina (Philadelphia, Pa.), , 30 (4 Suppl ) ,S51-8 More Information
Sisk, Robert A; Berrocal, Audina M; Murray, Timothy G; Mavrofrides, Elias C (2010. ) Extended Endotamponade with Perfluoro-n-Octane in Pediatric Retinal Detachment.Ophthalmic surgery, lasers & imaging : the official journal of the International Society for Imaging in the Eye, , 1-3 More Information
Sisk, Robert A; Berrocal, Audina M; Lam, Byron L (2010. ) Loss of Foveal Cone Photoreceptor Outer Segments in Occult Macular Dystrophy.Ophthalmic surgery, lasers & imaging : the official journal of the International Society for Imaging in the Eye, , 1-3 More Information
Sisk, Robert A; Berrocal, Audina M; Albini, Thomas A; Stanciu, Natalie; Gottlieb, Justin L; El Rayes, Ehab Diagnostic and therapeutic challenges.Retina (Philadelphia, Pa.), , 29 (10 ) ,1538-41 More Information
Sisk, Robert A; Wykoff, Charles C; Albini, Thomas A (2009. ) Comment on "fundus autofluorescence and multiple evanescent white dot syndrome".Retina (Philadelphia, Pa.), , 29 (9 ) ,1377-8; author reply More Information
Sisk, Robert A; Davis, Janet L; Dubovy, Sander R; Smiddy, William E Sympathetic ophthalmia following vitrectomy for endophthalmitis after intravitreal bevacizumab.Ocular immunology and inflammation, , 16 (5 ) ,236-8 More Information
Toussaint, Brian W; Appenzeller, Matthew F; Miller, Daniel M; Petersen, Michael R; Foster, Robert E; Osher, Robert H; Snyder, Michael E; Hunt, Christine K; Sisk, Robert A; Riemann, Christopher D (2015. ) Stability of the acrysof toric intraocular lens in combined cataract surgery and transconjunctival sutureless vitrectomy.Retina (Philadelphia, Pa.), , 35 (6 ) ,1065-71 More Information
Shaikh, Rehan S; Reuter, Peggy; Sisk, Robert A; Kausar, Tasleem; Shahzad, Mohsin; Maqsood, Muhammad I; Yousif, Ateeq; Ali, Muhammad; Riazuddin, Saima; Wissinger, Bernd; Ahmed, Zubair M (2015. ) Homozygous missense variant in the human CNGA3 channel causes cone-rod dystrophy.European journal of human genetics : EJHG, , 23 (4 ) ,473-80 More Information
Hufnagel, Robert B; Arno, Gavin; Hein, Nichole D; Hersheson, Joshua; Prasad, Megana; Anderson, Yvonne; Krueger, Laura A; Gregory, Louise C; Stoetzel, Corinne; Jaworek, Thomas J; Hull, Sarah; Li, Abi; Plagnol, Vincent; Willen, Christi M; Morgan, Thomas M; Prows, Cynthia A; Hegde, Rashmi S; Riazuddin, Saima; Grabowski, Gregory A; Richardson, Rudy J; Dieterich, Klaus; Huang, Taosheng; Revesz, Tamas; Martinez-Barbera, J P; Sisk, Robert A; Jefferies, Craig; Houlden, Henry; Dattani, Mehul T; Fink, John K; Dollfus, Helene; Moore, Anthony T; Ahmed, Zubair M (2015. ) Neuropathy target esterase impairments cause Oliver-McFarlane and Laurence-Moon syndromes.Journal of medical genetics, , 52 (2 ) ,85-94 More Information
Osher, James M; Sisk, Robert A; Petersen, Michael R (2015. ) Preretinal hemorrhage as a presenting sign of idiopathic macular telangiectasia type 2.Clinical ophthalmology (Auckland, N.Z.), , 9 ,1417-20 More Information
Shaikh, Adeel H; Toussaint, Brian W; Miller, Daniel M; Petersen, Michael R; Foster, Robert E; Riemann, Christopher D; Hutchins, Robert K; Sisk, Robert A (2015. ) Cost comparison of intravitreal aflibercept with bevacizumab and ranibizumab for the treatment of wet age-related macular degeneration.Ophthalmic surgery, lasers & imaging retina, , 46 (1 ) ,62-6 More Information
Sisk, Robert A; Leng, Theodore (2014. ) Multimodal imaging and multifocal electroretinography demonstrate autosomal recessive Stargardt disease may present like occult macular dystrophy.Retina (Philadelphia, Pa.), , 34 (8 ) ,1567-75 More Information
Mansour, Ahmad M; Arevalo, J Fernando; Al Kahtani, Eman; Zegarra, Hernando; Abboud, Emad; Anand, Rajiv; Ahmadieh, Hamid; Sisk, Robert A; Mirza, Salman; Tuncer, Samuray; Navea Tejerina, Amparo; Mataix, Jorge; Ascaso, Francisco J; Pulido, Jose S; Guthoff, Rainer; Goebel, Winfried; Roh, Young Jung; Banker, Alay S; Gentile, Ronald C; Martinez, Isabel Alonso; Morris, Rodney; Panday, Neeraj; Min, Park Jung; Mercé, Emilie; Lai, Timothy Y Y; Massoud, Vicky; Ghazi, Nicola G (2014. ) Role of Intravitreal Antivascular Endothelial Growth Factor Injections for Choroidal Neovascularization due to Choroidal Osteoma.Journal of ophthalmology, , 2014 ,210458 More Information
Sisk, Robert A; Smiddy, William E; Dubovy, Sander R; Miller, Darlene (2009. ) Chronic curvularia lunata endophthalmitis following cataract extraction.Retinal cases & brief reports, , 3 (4 ) ,438-9 More Information
Sisk, Robert A; Hutchins, Robert K (2007. ) Necrotizing herpetic retinopathy after intravitreal triamcinolone acetonide injection.Retinal cases & brief reports, , 1 (4 ) ,211-2 More Information
Gange, William S; Sisk, Robert A; Besirli, Cagri G; Lee, Thomas C; Havunjian, Margaret; Schwartz, Hillary; Borchert, Mark; Sengillo, Jesse D; Mendoza, Carlos; Berrocal, Audina M; Nagiel, Aaron (2021. ) Perifoveal Chorioretinal Atrophy after Subretinal Voretigene Neparvovec-rzyl for RPE65-Mediated Leber Congenital Amaurosis.Ophthalmology. Retina, , More Information
Berger, Tyler A; Manry, Matthew W; Lindsell, Lucas B; Osher, James M; Miller, Daniel M; Foster, Robert E; Riemann, Christopher D; Petersen, Michael R; Sisk, Robert A (2021. ) Outcome of Off-Label AREDS 2 Supplementation for the Treatment of Macular Degeneration in Non-Proliferative Idiopathic Type 2 Macular Telangiectasia.Clinical ophthalmology (Auckland, N.Z.), , 15 ,1133-1143 More Information
Wannamaker, Kendall W; Sisk, Robert A (2020. ) Large Subfoveal Vitelliform Lesions in a Case of Pentosan Polysulfate Maculopathy.Ophthalmology, , 127 (12 ) ,1641 More Information
Ebert, Jared J; Varma, Hersh; Sisk, Robert A (2020. ) Unilateral Terson-Like Syndrome in a Patient With a Perinatal Ischemic Stroke.Ophthalmic surgery, lasers & imaging retina, , 51 (10 ) ,592-595 More Information
Fan, Kenneth C; Yannuzzi, Nicolas A; Patel, Nimesh A; Negron, Catherin I; Sisk, Robert A; Nagiel, Aaron; Berrocal, Audina M (2020. ) Surgical Techniques for the Subretinal Delivery of Pediatric Gene Therapy.Ophthalmology. Retina, , 4 (6 ) ,644-645 More Information
Sisk, Robert A; Parekh, Prashant K; Riemann, Christopher D (2020. ) Fingerprint Macula Artifact on Optos Fundus Imaging in Nystagmus.Ophthalmology, , 127 (1 ) ,96 More Information
Ebert, Jared J; Utz, Virginia M; Sisk, Robert A (2020. ) Bilateral rhegmatogenous retinal detachments from giant retinal tears in an infant with abusive head trauma and Stickler syndrome.American journal of ophthalmology case reports, , 17 ,100581 More Information
Sheikh, Shakeel A; Sisk, Robert A; Schiavon, Cara R; Waryah, Yar M; Usmani, Muhammad A; Steel, David H; Sayer, John A; Narsani, Ashok K; Hufnagel, Robert B; Riazuddin, Saima; Kahn, Richard A; Waryah, Ali M; Ahmed, Zubair M (2019. ) Homozygous Variant in ARL3 Causes Autosomal Recessive Cone Rod Dystrophy.Investigative ophthalmology & visual science, , 60 (14 ) ,4811-4819 More Information
Shah, Amar P; Sisk, Robert A; Foster, Robert E (2019. ) COMPLICATIONS OF SERIAL ANTERIOR CHAMBER PARACENTESIS FOR INCREASED INTRAOCULAR PRESSURE AFTER INTRAVITREAL INJECTIONS.Retinal cases & brief reports, , More Information
Sisk, Robert A; Rusia, Deepam; Zamora, Brian G; Kuley, Alex; Toussaint, Brian W (2019. ) Reply.Retina (Philadelphia, Pa.), , 39 (11 ) ,e47-e48 More Information
Sisk, Robert A; Patel, Yogin P; Foster, Robert E; Petersen, Michael R (2019. ) Erosive Retinopathy and Retinal Detachment From Depot Intravitreal Triamcinolone Acetonide Injection at the End of Pars Plana Vitrectomy.Ophthalmic surgery, lasers & imaging retina, , 50 (10 ) ,613-619 More Information
Sisk, Robert A; Rusia, Deepam; Zamora, Brian G; Kuley, Alex; Toussaint, Brian W (2019. ) EFFECT OF SERIAL ANTERIOR CHAMBER PARACENTESIS ON SUSTAINED INTRAOCULAR PRESSURE ELEVATION IN PATIENTS RECEIVING INTRAVITREAL ANTI-VASCULAR ENDOTHELIAL GROWTH FACTOR THERAPY.Retina (Philadelphia, Pa.), , 39 (10 ) ,1959-1964 More Information
Sisk, Robert A (2019. ) Intraoperative Drainage of a Bullous Serous Pigment Epithelial Detachment.Ophthalmic surgery, lasers & imaging retina, , 50 (8 ) ,510-513 More Information
Sisk, Robert A (2019. ) A Technique for Closing Challenging Macular Holes.Ophthalmic surgery, lasers & imaging retina, , 50 (7 ) ,450-452 More Information
Mansour, Ahmad M; Foster, Robert E; Gallego-Pinazo, Roberto; Moschos, Marilita M; Sisk, Robert A; Chhablani, Jay; Rojanaporn, Duangnate; Sujirakul, Tharikarn; Arevalo, J Fernando; Lima, Luiz H; Wu, Lihteh; Charbaji, Abdulrazzak; Saatci, Ali O; Mansour, Hana A; Martinez-Rubio, Clara; Patel, Yogin; Gangakhedkar, Sankeert (2019. ) INTRAVITREAL ANTI-VASCULAR ENDOTHELIAL GROWTH FACTOR INJECTIONS FOR EXUDATIVE RETINAL ARTERIAL MACROANEURYSMS.Retina (Philadelphia, Pa.), , 39 (6 ) ,1133-1141 More Information
Garnai, Sarah J; Brinkmeier, Michelle L; Emery, Ben; Aleman, Tomas S; Pyle, Louise C; Veleva-Rotse, Biliana; Sisk, Robert A; Rozsa, Frank W; Ozel, Ayse Bilge; Li, Jun Z; Moroi, Sayoko E; Archer, Steven M; Lin, Cheng-Mao; Sheskey, Sarah; Wiinikka-Buesser, Laurel; Eadie, James; Urquhart, Jill E; Black, Graeme C M; Othman, Mohammad I; Boehnke, Michael; Sullivan, Scot A; Skuta, Gregory L; Pawar, Hemant S; Katz, Alexander E; Huryn, Laryssa A; Hufnagel, Robert B ; Camper, Sally A; Richards, Julia E; Prasov, Lev (2019. ) Variants in myelin regulatory factor (MYRF) cause autosomal dominant and syndromic nanophthalmos in humans and retinal degeneration in mice.PLoS genetics, , 15 (5 ) ,e1008130 More Information
Ebert, Jared J; Sisk, Robert A (2019. ) CRAO in Moyamoya Syndrome Associated With Southampton Hemoglobinopathy.Ophthalmic surgery, lasers & imaging retina, , 50 (5 ) ,e166-e170 More Information
Patel, Sunny B; Snyder, Michael E; Riemann, Christopher D; Foster, Robert E; Sisk, Robert A (2019. ) Short-term outcomes of combined pars plana vitrectomy for epiretinal membrane and phacoemulsification surgery with multifocal intraocular lens implantation.Clinical ophthalmology (Auckland, N.Z.), , 13 ,723-730 More Information
Patel, Sunny B; Snyder, Michael E; Riemann, Christopher D; Osher, James M; Mi, Cindy W; Sisk, Robert A (2019. ) COMBINED PHACOEMULSIFICATION SURGERY WITH MULTIFOCAL INTRAOCULAR LENS IMPLANTATION AND PARS PLANA VITRECTOMY FOR SYMPTOMATIC VITREOUS OPACITIES.Retinal cases & brief reports, , More Information
Christiansen, Steven M; Sisk, Robert A (2019. ) Pseudohyphema After Recent Pseudophakia.Ophthalmology, , 126 (3 ) ,466 More Information
Sisk, Robert A; Hufnagel, Robert B; Laham, Ailee; Wohler, Elizabeth S; Sobreira, Nara; Ahmed, Zubair M (2018. ) Peripheral Cone Dystrophy: Expanded Clinical Spectrum, Multimodal and Ultrawide-Field Imaging, and Genomic Analysis.Journal of ophthalmology, , 2018 ,2984934 More Information
Ahmed, Zubair M; Jaworek, Thomas J; Sarangdhar, Gowri N; Zheng, Lili; Gul, Khitab; Khan, Shaheen N; Friedman, Thomas B; Sisk, Robert A; Bartles, James R; Riazuddin, Sheikh; Riazuddin, Saima (2018. ) Inframe deletion of human ESPN is associated with deafness, vestibulopathy and vision impairment.Journal of medical genetics, , 55 (7 ) ,479-488 More Information
Mansour, Ahmad M; Sheheitli, Huda; Kucukerdonmez, Cem; Sisk, Robert A; Moura, Raphael; Moschos, Marilita M; Lima, Luiz H; Al-Shaar, Laila; Arevalo, J Fernando; Maia, Mauricio; Foster, Robert E; Kayikcioglu, Ozcan; Kozak, Igor; Kurup, Shree; Zegarra, Hernando; Gallego-Pinazo, Roberto; Hamam, Rola N; Bejjani, Riad A; Cinar, Esat; Erakgün, Ethem T; Kimura, Alan; Teixeira, Anderson (2018. ) INTRAVITREAL DEXAMETHASONE IMPLANT IN RETINITIS PIGMENTOSA-RELATED CYSTOID MACULAR EDEMA.Retina (Philadelphia, Pa.), , 38 (2 ) ,416-423 More Information
Dev Borman, Arundhati; Rachitskaya, Aleksandra; Suzani, Martina; Sisk, Robert A; Ahmed, Zubair M; Holder, Graham E; Cipriani, Valentina; Arno, Gavin; Webster, Andrew R; Hufnagel, Robert B; Berrocal, Audina; Moore, Anthony T (2017. ) Benign Yellow Dot Maculopathy: A New Macular Phenotype.Ophthalmology, , 124 (7 ) ,1004-1013 More Information
Mi, Cindy W; Petersen, Michael R; Foster, Robert E; Riemann, Christopher D; Sisk, Robert A (2017. ) New Surgical Applications for the Sidefl? Cannula.Retina (Philadelphia, Pa.), , 37 (2 ) ,400-401 More Information
Wise, Justin; Toygar, Okan; Corrêa, Zélia M; Miller, Daniel M; Sisk, Robert A SUBRETINAL CANNULATION AS A COMPLICATION OF SUTURE TRABECULOTOMY SURGERY IN A PEDIATRIC PATIENT.Retinal cases & brief reports, , 11 (1 ) ,79-82 More Information
Lindsell, Luke B; Sisk, Robert A; Miller, Daniel M; Foster, Robert E; Petersen, Michael R; Riemann, Christopher D; Hutchins, Robert K (2017. ) Comparison of outcomes: scleral buckling and pars plana vitrectomy versus vitrectomy alone for primary repair of rhegmatogenous retinal detachment.Clinical ophthalmology (Auckland, N.Z.), , 11 ,47-54 More Information
Sadaka, Ama; Sisk, Robert A; Osher, James M; Toygar, Okan; Duncan, Melinda K; Riemann, Christopher D (2016. ) Intravitreal methotrexate infusion for proliferative vitreoretinopathy.Clinical ophthalmology (Auckland, N.Z.), , 10 ,1811-1817 More Information
Dixon, Stephan G; Bruce, Carl T; Glueck, Charles J; Sisk, Robert A; Hutchins, Robert K; Jetty, Vybhav; Wang, Ping (2016. ) Retinal vascular occlusion: a window to diagnosis of familial and acquired thrombophilia and hypofibrinolysis, with important ramifications for pregnancy outcomes.Clinical ophthalmology (Auckland, N.Z.), , 10 ,1479-86 More Information
Yonekawa, Yoshihiro; Wu, Wei-Chi; Kusaka, Shunji; Robinson, Joshua; Tsujioka, Daishi; Kang, Kai B; Shapiro, Michael J; Padhi, Tapas R; Jain, Lubhani; Sears, Jonathan E; Kuriyan, Ajay E; Berrocal, Audina M; Quiram, Polly A; Gerber, Amanda E; Paul Chan, R V; Jonas, Karyn E; Wong, Sui Chien; Patel, C K; Abbey, Ashkan M; Spencer, Rand; Blair, Michael P; Chang, Emmanuel Y; Papakostas, Thanos D; Vavvas, Demetrios G; Sisk, Robert A; Ferrone, Philip J; Henderson, Robert H; Olsen, Karl R; Hartnett, M Elizabeth; Chau, Felix Y; Mukai, Shizuo; Murray, Timothy G; Thomas, Benjamin J; Meza, P Anthony; Drenser, Kimberly A; Trese, Michael T; Capone, Antonio (2016. ) Immediate Sequential Bilateral Pediatric Vitreoretinal Surgery: An International Multicenter Study.Ophthalmology, , 123 (8 ) ,1802-1808 More Information
Patterson, Emily J; Wilk, Melissa; Langlo, Christopher S; Kasilian, Melissa; Ring, Michael; Hufnagel, Robert B; Dubis, Adam M; Tee, James J; Kalitzeos, Angelos; Gardner, Jessica C; Ahmed, Zubair M; Sisk, Robert A; Larsen, Michael; Sjoberg, Stacy; Connor, Thomas B; Dubra, Alfredo; Neitz, Jay; Hardcastle, Alison J; Neitz, Maureen; Michaelides, Michel; Carroll, Joseph (2016. ) Cone Photoreceptor Structure in Patients With X-Linked Cone Dysfunction and Red-Green Color Vision Deficiency.Investigative ophthalmology & visual science, , 57 (8 ) ,3853-63 More Information
Sadaka, Ama; Sisk, Robert A (2016. ) Dramatic regression of macular and peripheral retinoschisis with dorzolamide 2 % in X-linked retinoschisis: a case report.Journal of medical case reports, , 10 (1 ) ,142 More Information
Toussaint, Brian; Petersen, Michael R; Sisk, Robert A; Riemann, Christopher D; Miller, Daniel M; Foster, Robert E; Shaikh, Adeel H; Khatana, Anup H; Zink, Jeff; Greff, Linda J (2016. ) LONG-TERM RESULTS OF COMBINED AB INTERNO TRABECULOTOMY (TRABECTOME) AND SMALL-GAUGE PARS PLANA VITRECTOMY.Retina (Philadelphia, Pa.), , 36 (6 ) ,1076-80 More Information
Kurtz, Will S; Glueck, Charles J; Hutchins, Robert K; Sisk, Robert A; Wang, Ping (2016. ) Retinal artery and vein thrombotic occlusion during pregnancy: markers for familial thrombophilia and adverse pregnancy outcomes.Clinical ophthalmology (Auckland, N.Z.), , 10 ,935-8 More Information
Sisk, Robert A; Toygar, Okan (2016. ) Full-Thickness Macular Hole Formation after Internal Limiting Membrane Peeling: Beware the "Omega Sign".Case reports in ophthalmological medicine, , 2016 ,9858291 More Information
Henry, Christopher R; Sisk, Robert A; Tzu, Jonathan H; Albini, Thomas A; Davis, Janet L; Murray, Timothy G; Berrocal, Audina M (2015. ) Long-term follow-up of intravitreal bevacizumab for the treatment of pediatric retinal and choroidal diseases.Journal of AAPOS : the official publication of the American Association for Pediatric Ophthalmology and Strabismus, , 19 (6 ) ,541-8 More Information
Cideciyan, Artur V; Hufnagel, Robert B; Carroll, Joseph; Sumaroka, Alexander; Luo, Xunda; Schwartz, Sharon B; Dubra, Alfredo; Land, Megan; Michaelides, Michel; Gardner, Jessica C; Hardcastle, Alison J; Moore, Anthony T; Sisk, Robert A; Ahmed, Zubair M; Kohl, Susanne; Wissinger, Bernd; Jacobson, Samuel G (2013. ) Human cone visual pigment deletions spare sufficient photoreceptors to warrant gene therapy.Human gene therapy, , 24 (12 ) ,993-1006 More Information
Waryah, Ali M; Ahmed, Zubair M; Bhinder, Munir A; Binder, Munir A; Choo, Daniel I; Sisk, Robert A; Shahzad, Mohsin; Khan, Shaheen N; Friedman, Thomas B; Riazuddin, Sheikh; Riazuddin, Saima (2011. ) Molecular and clinical studies of X-linked deafness among Pakistani families.Journal of human genetics, , 56 (7 ) ,534-40 More Information
Aziz, Hassan A; Berrocal, Audina; Sisk, Robert; Murray, Timothy (2009. ) Retinopathy of Prematurity and Shaken Baby Syndrome.Journal of pediatric ophthalmology and strabismus, , More Information
Practice - Cincinnati Eye Institute
1945 CEI Drive
Cincinnati  Ohio, 45242
Phone: 513-984-5133
rsisk@cvphealth.com