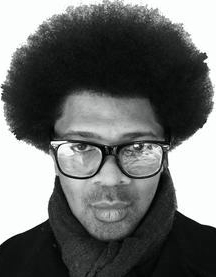 Stephen Michael Slaughter
Assistant Professor Educator
After graduating with a Masters of Architecture from The Ohio State University, and initiating his career in Thom Mayne's studio, Morphosis, Slaughter's work for and with a number of highly respected and influential architects and practices throughout the world. As a professional with nearly twenty years in practice, Asst. Prof. Slaughter's experience spans from presiding over the rollout of retail boutiques, and designing restaurants and residences, to working on and managing large-scale projects such as libraries, academic institutions, corporate headquarters and medical facilities. Concurrently, PHAT, a four-person, multi-disciplinary design collaborative, founded out of the desire to pursue an experimental practice that employs new techniques in architectural representation to interrogate enduring short comings in architectural discourse, became a vehicle for the production of work for exhibition, and has shown in venues throughout the world including the Studio Museum in Harlem, the National Gallery of Victoria, and ArchiLab in Orléans. Most recently, and prior to teaching at University of Cincinnati, the focus of Slaughter's production was as designer, project manager and inaugural board member for the Watts House Project, a not-for-profit, art-based neighborhood redevelopment organization, that leverages arts programming and architectural rehabilitation for the purpose of creative place making. 

Since being hired by University of Cincinnati as an Adjunct Instructor in 2011, Asst. Prof. Slaughter has taught two interiors and eleven architectural design studios in addition to four elective seminars in the School of Architecture and Interior Design. Slaughter has also been privileged to teach two first year planning graphic courses in the School of Planning, and one foundation design studio in the School of Design. As well, he has been sought out by  students for three independent studies and was requested as Second Chair for a graduate student's architecture thesis committee. Of the eleven architecture studios Slaughter taught or co-taught, two senior capstone courses were each honored by either an award recognizing outstanding individual achievement, Mark Pothier, DAAP Works 2011 Directors Choice Award, or group performance, HYLAND Magazine 2014 International Contemporary Furniture Fair Award for Excellence in Design for Good Works & Charity. And the sole outstanding interiors course he co-taught with Kimberley Burke, a second year "Workplace of The Future" design competition studio, four students, Matthew Ford, Mina Lee, Angie Tjisnoyo and Sara Willhoite were awarded with Metropolis Magazine's Honorable Mention for their submission "Nexus: The Locomotion Of Business". 

The threads that knit Slaughter diverse experiences has been his tacit focus on public interest design, cultural production and computer-aided design and fabrication. It is these foci, collectively, that constitutes his project, and through the academy, this project which propels him to work in the service of fulfilling the University's obligation to the ideals of cultural and racial diversity, progress research in advanced computation and fabrication and through teaching, curate an experience that provides opportunities to synthesize technical expertise with a research agenda pursuant of innovative and unconventional solutions to real world problems facing the underserved by design.