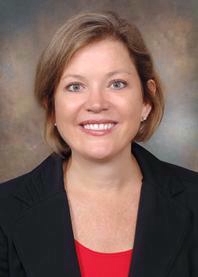 Jenelle Sobotka
Professor Educator
Director of Pharmacy Leadership Program
Professor
College of Pharmacy
Email jenelle.sobotka@uc.edu
Jenelle Sobotka, PharmD, is professor and director of the online certificate and master's programs in pharmacy leadership at the James L Winkle College of Pharmacy. Before coming to UC in 2016, she was professor and endowed chair of pharmacy practice at Ohio Northern University Raabe College of Pharmacy. She is a nationally and internationally recognized pharmacy leader.  Her various career roles and professional involvement have given her numerous experiences in advancing the pharmacist's role in patient care and in developing strong leaders for the pharmacy profession. 

Dr. Sobotka received her B.S. Pharmacy in 1987 and her Doctor of Pharmacy degree in 1989 from the University of Iowa.  Early roles included community pharmacy and VA Internal Medicine clinical specialist roles in Iowa City. Sobotka then joined the Iowa Pharmacist Association where she helped with educational and legislative advocacy for the pharmacists of Iowa.
 
Sobotka was then recruited to Procter & Gamble company, serving as Director of Professional Relations at their global headquarters in Cincinnati.  She is now teaching leadership development for the University of Cincinnati College of Pharmacy PharmD program and Director of the online Masters in Pharmacy Leadership.

Sobotka has also had extensive volunteer involvement with pharmacy associations at the state, national and international level. She was elected to 2012-13 President of the American Pharmacists Association. Sobotka also has over 20 years of global experience with the Federation of International Pharmacists (FIP); currently serving as Board Director to their Foundation and recently completed her role as Treasurer to their Academic Section. She was the 2018-19 Chair-elect of the Leadership Development SIG for the American Association of Colleges of Pharmacy. Sobotka is a former board member of of the St Vincent de Paul Charitable Pharmacy in Cincinnati.
 
Sobotka has given numerous national and international presentations on pharmacy, as well as published several articles, book chapters and co-authored a book, A Practical Guide to Pharmaceutical Care. Sobotka was Director of the Iowa Center for Pharmaceutical Care (ICPC) that received the APhA Foundation's Pinnacle Award for their work to advance patient care practice. Sobotka has received several honors and awards including the Univ. of Iowa Distinguished Alumni Award, the Kappa Epsilon National Career Achievement award and is a Fellow with the American Pharmacists Association, the Hong Kong Academy of Pharmacy and the National Academies of Practice for health care professionals.
Doctor of Pharmacy: University of Iowa Iowa City,
BS in Pharmacy: University of Iowa Iowa City, IA,
Research and Practice Interests
Leadership Development in pharmacy.
Advancement of Pharmacists' Patient Care Services in the Health Care Delivery System.
Published Books
Sobotka J, Kochanowski B. (2020. ) Chapter 1 - Self-Care and Nonprescription Pharmacotherapy; Handbook of Nonprescription Medicines .APhA (Co-Author)
Rovers J.P., Sobotka J.L., Currie J.D., Hagel H.P., McDonough R.P. (2003. ) The Practice of Pharmaceutical Care and Its Implementation in the Community Pharmacy .APhA
University of Iowa Distinguished Alumni Award, October 2021 *University of Cincinnati Faculty Excellence Award, May 2020 *Phi Lambda Sigma, National Pharmacy Leadership Honorary – selected by ONU Chapter, March 2015 *Distinguished Fellow, National Academies of Practice – April 2014 *Doctor of Humane Letters (honorary), Western University of Health Sciences, California, May 2013 *Favorite Professor Award, Ohio Northern University Mortar Board – April 2012, Feb. 2013 *Honorary Fellow, Hong Kong Academy of Pharmacy – October 2011 *National Pharmaceutical Association Foundation Building on Excellence Award- July 2009 *Kappa Epsilon National Career Achievement Award- March 2008 *Pharmacy Technician Certification Board – National Service Award - 2005 *APhA Fellow - 2003 *University of Iowa Rho Chi Honorary Alumni Award- 2003 *APhA Foundation National Pinnacle Award - presented to ICPC 1999 *Leadership Iowa Program Selected Participant, 1994-95 *Iowa Pharmacists Association Young Leadership Conference Selected Participant, 1990
2012 -2013: President of the American Pharmacists Association
2001 -2007: APhA, Board of Directors
2020: Chairman of the Foundation Board, Federation of International Pharmacists
2018 -2019: Chair, Leadership Development SIG, American Association of Colleges of Pharmacy
2017 -2021: Treasurer, Academic Section of the Federation of International Pharmacists (FIP)
2015 -2020: University of Iowa, Dean's Executive Leadership Advisory Board
2021: International Commission Member, ACPE
Academic - College of Pharmacy
jenelle.sobotka@uc.edu