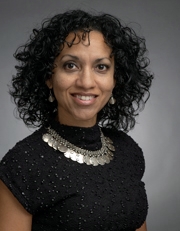 Shauna L. Steele
Associate Professor
Chair and Associate Professor of Dance
Corbett Cntr Perform Arts
3738
CCM Dance Division - 0003
An administrator and educator with nearly two decades of experience, Shauna Steele most recently taught at Michigan's Hope College where she taught dance history and criticism, jazz, modern, improvisation, assisted the historic and social dance sections, and mentored Student Dance Showcase choreographers. From 2011-18 Steele served as the dance program director and associate professor of dance at Anderson University in Indiana.

Steele is the founder and artistic director of Mocha Dance Project – which pursues projects engaging the fusion of photography, video, dance and collaboration – and was the associate director for RusticGroove Dance.

Her research interests include dance in world culture and context, Africanized movement in the Diaspora of Western culture (specifically Afro-Cuban and Afro-Caribbean), the influences of Celtic traditions on art and movement, the function of art in restricted or repressed environments, and body movement logic.

She was the artistic director of Parallel Differences youth dance and the Associate Instructor for the Indiana University African American Arts Institute's dance company. Her choreography has appeared in Robert Hay-Smith's Pollen: The Musical, RADfest, The Tank NYC, Midwest RADfest, the Arizona Positivity Project and the Ypsilanti Fringe Festival. She has taught master classes in Roots of Jazz Dance and served as dance faculty at Grand Valley State University, Eastern Michigan University, Anderson University and the University of Michigan's MPulse summer dance institute.

Steele has lead master classes and workshops in improvisational movement, African dance, modern dance, jazz, Afro-jazz and hip hop. Her professional credits include Windfall Dancers, African American Dance Company, Dancers Studio Inc., Sancocho: Musica and Dance Collage and Ann Arbor Dance Works. She has performed in Robin Wilson's Slave Moth, in Alexandra Beller's Reasons for Moving and in Gay Delanghe's Motor Tango/Tangle.

Her past projects include Millstones in August 2010 and The Positivity Project in Tempe, Arizona in October 2010. Her current choreography projects include Disobedient Objects/Caged Bird Legacy (a site-specific work), Sacred Ground (an evening length concert in three parts), /ˈākər/ (which delves into compulsive behavior and the need to sort, measure and catalogue), Leyenda in Winter (a dance for camera work), Still Frame (a video dance project) and Passengers (a contemporary modern work).

A published dance scholar, Steele's co-authored textbook, "Experiencing Dance: A Creative Approach to Dance Appreciation" (2011), examines the ever-changing culture of dance and provides a basic historical context and appreciation of dance as an art form. Her research articles include Exploring Choreographic Responsibility through the 'Cultural Lens' (2013); Drawing Parallel Lines: Dance, Architecture, and Society (2009); and Drawing Parallel Lines in Dance, Architecture, and Society: African American Modern Dance, and Jewish Deconstructivist Architecture (2006), among others.

Steele received her MFA in Dance Choreography and Performance with a focus area in History and Technology from the University of Michigan in 2006, and a BGS in Arts and Humanities with a focus area in Cultural Anthropology and Dance from Indiana University in 2002. She is a member of the American College Dance Association, World Dance Alliance and the National Dance Education Organization.