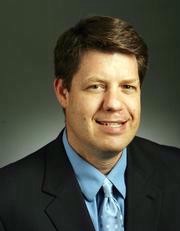 Rolf Walter Stottmann , PhD
CCHMC R.1033
MLC 7016
3333 Burnet Ave
Cincinnati, Ohio 45229
Phone 513-636-7136
Fax 513-636-4373
Email rolf.stottmann@cchmc.org
The long-term goals of our lab are to understand the genes and molecular mechanisms guiding development of the brain and face. We use animal models to identify genes required for normal development and then study the molecular consequences of disrupting their function in the developing embryo.
The mammalian forebrain contains millions of neurons making billions of connections. The cerebral cortex is the site of many higher-order functions in humans. During development of the cerebral cortex, neurons are born at the ventricular surface and migrate into the cortical plate where they differentiate, extend processes and make mature circuits within the brain and throughout the nervous system. The genetic regulation of cortical neuronal identity and migration is a major focus of the laboratory.
While structural brain defects affect a significant number of newborns each year (~15/10,000), more subtle defects in neuronal specification and migration also have drastic consequences. These include the intellectual disability disorders, autism, epilepsy and other neuropsychiatric disorders which can lead to lifelong suffering and disability. We hope to contribute to a greater understanding of the development of these brain malformations to inform a possible cure.
http://www.cincinnatichildrens.org/research/divisions/h/genetics/labs/stottmann/default/
Bachelor's Degree: University of Maryland, College Park 1995 (Physiology and Neurobiology)
Master's Degree: University of Maryland, College Park 1997 (Developmental Neurobiology)
Doctoral Degree: Duke University School of Medicine Durham, NC, 2004 (Cell Biology)
Fellowship: Brigham and Women's Hospital, Harvard Medical Schoo Boston, MA , 2011 (Postdoctoral Research Fellow)
Research and Practice Interests
Genetics, Developmental Biology, Mouse Models of Human Disease, Congenital Malformations, Neural Development, Craniofacial Development, Forward Genetics, Next Generation Sequencing, ENU Mutagenesis
Grant: #R01NS085023 Investigators:Stottmann 05-15-2014 -04-30-2019 NINDS Forward Genetic Analysis of Congenital Defects in Cortical Circuits and Structure Role:PI 402996 Active Type:Grant Level:National
Peer Reviewed Publications
Stottmann, R W; Donlin, M; Hafner, A; Bernard, A; Sinclair, D A; Beier, D R (2013. ) A mutation in Tubb2b, a human polymicrogyria gene, leads to lethality and abnormal cortical development in the mouse.Human molecular genetics, , 22 (20 ) ,4053-63 More Information
Ha, Seungshin; Stottmann, Rolf W; Furley, Andrew J; Beier, David R (2013. ) A Forward Genetic Screen in Mice Identifies Mutants with Abnormal Cortical Patterning.Cerebral cortex (New York, N.Y. : 1991), , More Information
Tran, Pamela V; Lachke, Salil A; Stottmann, Rolf W Toward a systems-level understanding of the Hedgehog signaling pathway: defining the complex, robust, and fragile.Wiley interdisciplinary reviews. Systems biology and medicine, , 5 (1 ) ,83-100 More Information
Leshchiner, Ignaty; Alexa, Kristen; Kelsey, Peter; Adzhubei, Ivan; Austin-Tse, Christina A; Cooney, Jeffrey D; Anderson, Heidi; King, Matthew J; Stottmann, Rolf W; Garnaas, Maija K; Ha, Seungshin; Drummond, Iain A; Paw, Barry H; North, Trista E; Beier, David R; Goessling, Wolfram; Sunyaev, Shamil R (2012. ) Mutation mapping and identification by whole-genome sequencing.Genome research, , 22 (8 ) ,1541-8 More Information
Stottmann, Rolf W; Turbe-Doan, Annick; Tran, Pamela; Kratz, Lisa E; Moran, Jennifer L; Kelley, Richard I; Beier, David R (2011. ) Cholesterol metabolism is required for intracellular hedgehog signal transduction in vivo.PLoS genetics, , 7 (9 ) ,e1002224 More Information
Stottmann, R W; Moran, J L; Turbe-Doan, A; Driver, E; Kelley, M; Beier, D R (2011. ) Focusing forward genetics: a tripartite ENU screen for neurodevelopmental mutations in the mouse.Genetics, , 188 (3 ) ,615-24 More Information
Stottmann, Rolf W; Klingensmith, John (2011. ) Bone morphogenetic protein signaling is required in the dorsal neural folds before neurulation for the induction of spinal neural crest cells and dorsal neurons.Developmental dynamics : an official publication of the American Association of Anatomists, , 240 (4 ) ,755-65 More Information
Stottmann, R W; Bjork, B C; Doyle, J B; Beier, D R (2010. ) Identification of a Van der Woude syndrome mutation in the cleft palate 1 mutant mouse.Genesis (New York, N.Y. : 2000), , 48 (5 ) ,303-8 More Information
Jaeger, Savina A; Chan, Esther T; Berger, Michael F; Stottmann, Rolf; Hughes, Timothy R; Bulyk, Martha L (2010. ) Conservation and regulatory associations of a wide affinity range of mouse transcription factor binding sites.Genomics, , 95 (4 ) ,185-95 More Information
Stottmann, Rolf W; Beier, David R (2010. ) Using ENU mutagenesis for phenotype-driven analysis of the mouse.Methods in enzymology, , 477 ,329-48 More Information
Stottmann, R W; Tran, P V; Turbe-Doan, A; Beier, D R (2009. ) Ttc21b is required to restrict sonic hedgehog activity in the developing mouse forebrain.Developmental biology, , 335 (1 ) ,166-78 More Information
Beckstead, Wesley A; Bjork, Bryan C; Stottmann, Rolf W; Sunyaev, Shamil; Beier, David R SNP2RFLP: a computational tool to facilitate genetic mapping using benchtop analysis of SNPs.Mammalian genome : official journal of the International Mammalian Genome Society, , 19 (10-12 ) ,687-90 More Information
Tran, Pamela V; Haycraft, Courtney J; Besschetnova, Tatiana Y; Turbe-Doan, Annick; Stottmann, Rolf W; Herron, Bruce J; Chesebro, Allyson L; Qiu, Haiyan; Scherz, Paul J; Shah, Jagesh V; Yoder, Bradley K; Beier, David R (2008. ) THM1 negatively modulates mouse sonic hedgehog signal transduction and affects retrograde intraflagellar transport in cilia.Nature genetics, , 40 (4 ) ,403-10 More Information
Choi, Murim; Stottmann, Rolf W; Yang, Yu-Ping; Meyers, Erik N; Klingensmith, John (2007. ) The bone morphogenetic protein antagonist noggin regulates mammalian cardiac morphogenesis.Circulation research, , 100 (2 ) ,220-8 More Information
Anderson, Ryan M; Stottmann, Rolf W; Choi, Murim; Klingensmith, John (2006. ) Endogenous bone morphogenetic protein antagonists regulate mammalian neural crest generation and survival.Developmental dynamics : an official publication of the American Association of Anatomists, , 235 (9 ) ,2507-20 More Information
Stottmann, Rolf W; Berrong, Mark; Matta, Karen; Choi, Murim; Klingensmith, John (2006. ) The BMP antagonist Noggin promotes cranial and spinal neurulation by distinct mechanisms.Developmental biology, , 295 (2 ) ,647-63 More Information
Stottmann, Rolf W; Choi, Murim; Mishina, Yuji; Meyers, Erik N; Klingensmith, John (2004. ) BMP receptor IA is required in mammalian neural crest cells for development of the cardiac outflow tract and ventricular myocardium.Development (Cambridge, England), , 131 (9 ) ,2205-18 More Information
Anderson, Ryan M; Lawrence, Alison R; Stottmann, Rolf W; Bachiller, Daniel; Klingensmith, John (2002. ) Chordin and noggin promote organizing centers of forebrain development in the mouse. Development (Cambridge, England), , 129 (21 ) ,4975-87
Bauer, Kim A; George, Timothy M; Enterline, David S; Stottmann, Rolf W; Melvin, Elizabeth C; Siegel, Deborah; Samal, Surekha; Hauser, Michael A; Klingensmith, John; Nye, Jeffery S; Speer, Marcy C A novel mutation in the gene encoding noggin is not causative in human neural tube defects. Journal of neurogenetics, , 16 (1 ) ,65-71
Stottmann, R W; Anderson, R M; Klingensmith, J (2001. ) The BMP antagonists Chordin and Noggin have essential but redundant roles in mouse mandibular outgrowth.Developmental biology, , 240 (2 ) ,457-73 More Information
Stottmann, R W; Rivas, R J (1998. ) Distribution of TAG-1 and synaptophysin in the developing cerebellar cortex: relationship to Purkinje cell dendritic development. The Journal of comparative neurology, , 395 (1 ) ,121-35
Abdelhamed, Zakia; Lukacs, Marshall; Cindric, Sandra; Omran, Heymut; Stottmann, Rolf W (2020. ) A novel hypomorphic allele of Spag17 causes primary ciliary dyskinesia phenotypes in mice.Disease models & mechanisms, , 13 (10 ) , More Information
Lukacs, Marshall; Blizzard, Lauren E; Stottmann, Rolf W (2020. ) CNS glycosylphosphatidylinositol deficiency results in delayed white matter development, ataxia and premature death in a novel mouse model.Human molecular genetics, , 29 (7 ) ,1205-1217 More Information
DiStasio, Andrew; Paulding, David; Chaturvedi, Praneet; Stottmann, Rolf W (2020. ) Nubp2 is required for cranial neural crest survival in the mouse.Developmental biology, , 458 (2 ) ,189-199 More Information
Snedeker, John; Gibbons, William J; Paulding, David F; Abdelhamed, Zakia; Prows, Daniel R; Stottmann, Rolf W (2019. ) Gpr63 is a modifier of microcephaly in Ttc21b mouse mutants.PLoS genetics, , 15 (11 ) ,e1008467 More Information
Magini, Pamela; Smits, Daphne J; Vandervore, Laura; Schot, Rachel; Columbaro, Marta; Kasteleijn, Esmee; van der Ent, Mees; Palombo, Flavia; Lequin, Maarten H; Dremmen, Marjolein; de Wit, Marie Claire Y; Severino, Mariasavina; Divizia, Maria Teresa; Striano, Pasquale; Ordonez-Herrera, Natalia; Alhashem, Amal; Al Fares, Ahmed; Al Ghamdi, Malak; Rolfs, Arndt; Bauer, Peter; Demmers, Jeroen; Verheijen, Frans W; Wilke, Martina; van Slegtenhorst, Marjon; van der Spek, Peter J; Seri, Marco; Jansen, Anna C; Stottmann, Rolf W; Hufnagel, Robert B; Hopkin, Robert J; Aljeaid, Deema; Wiszniewski, Wojciech; Gawlinski, Pawel; Laure-Kamionowska, Milena; Alkuraya, Fowzan S; Akleh, Hanah; Stanley, Valentina; Musaev, Damir; Gleeson, Joseph G; Zaki, Maha S; Brunetti-Pierri, Nicola; Cappuccio, Gerarda; Davidov, Bella; Basel-Salmon, Lina; Bazak, Lily; Shahar, Noa Ruhrman; Bertoli-Avella, Aida; Mirzaa, Ghayda M; Dobyns, William B; Pippucci, Tommaso; Fornerod, Maarten; Mancini, Grazia M S (2019. ) Loss of SMPD4 Causes a Developmental Disorder Characterized by Microcephaly and Congenital Arthrogryposis.American journal of human genetics, , 105 (4 ) ,689-705 More Information
Lukacs, Marshall; Gilley, Jonathan; Zhu, Yi; Orsomando, Giuseppe; Angeletti, Carlo; Liu, Jiaqi; Yang, Xiuna; Park, Joun; Hopkin, Robert J; Coleman, Michael P; Zhai, R Grace; Stottmann, Rolf W (2019. ) Severe biallelic loss-of-function mutations in nicotinamide mononucleotide adenylyltransferase 2 (NMNAT2) in two fetuses with fetal akinesia deformation sequence.Experimental neurology, , 320 ,112961 More Information
Bittermann, Elizabeth; Abdelhamed, Zakia; Liegel, Ryan P; Menke, Chelsea; Timms, Andrew; Beier, David R; Stottmann, Rolf W (2019. ) Differential requirements of tubulin genes in mammalian forebrain development.PLoS genetics, , 15 (8 ) ,e1008243 More Information
Lukacs, Marshall; Roberts, Tia; Chatuverdi, Praneet; Stottmann, Rolf W (2019. ) Glycosylphosphatidylinositol biosynthesis and remodeling are required for neural tube closure, heart development, and cranial neural crest cell survival.eLife, , 8 , More Information
Liegel, Ryan P; Finnerty, Erin; Blizzard, Lauren; DiStasio, Andrew; Hufnagel, Robert B; Saal, Howard M; Sund, Kristen L; Prows, Cynthia A; Stottmann, Rolf W (2019. ) Using human sequencing to guide craniofacial research.Genesis (New York, N.Y. : 2000), , 57 (1 ) ,e23259 More Information
Abdelhamed, Zakia; Vuong, Shawn M; Hill, Lauren; Shula, Crystal; Timms, Andrew; Beier, David; Campbell, Kenneth; Mangano, Francesco T; Stottmann, Rolf W; Goto, June (2018. ) A mutation in Ccdc39 causes neonatal hydrocephalus with abnormal motile cilia development in mice.Development (Cambridge, England), , 145 (1 ) , More Information
Driver, Ashley M; Shumrick, Christopher; Stottmann, Rolf W (2017. ) Ttc21b Is Required in Bergmann Glia for Proper Granule Cell Radial Migration.Journal of developmental biology, , 5 (4 ) , More Information
DiStasio, Andrew; Driver, Ashley; Sund, Kristen; Donlin, Milene; Muraleedharan, Ranjith M; Pooya, Shabnam; Kline-Fath, Beth; Kaufman, Kenneth M; Prows, Cynthia A; Schorry, Elizabeth; Dasgupta, Biplab; Stottmann, Rolf W (2017. ) Copb2 is essential for embryogenesis and hypomorphic mutations cause human microcephaly.Human molecular genetics, , 26 (24 ) ,4836-4848 More Information
Li, Zhuo; Peng, Yanyan; Hufnagel, Robert B; Hu, Yueh-Chiang; Zhao, Chuntao; Queme, Luis F; Khuchua, Zaza; Driver, Ashley M; Dong, Fei; Lu, Q Richard; Lindquist, Diana M; Jankowski, Michael P; Stottmann, Rolf W; Kao, Winston W Y; Huang, Taosheng (2017. ) Loss of SLC25A46 causes neurodegeneration by affecting mitochondrial dynamics and energy production in mice.Human molecular genetics, , 26 (19 ) ,3776-3791 More Information
Schock, Elizabeth N; Struve, Jaime N; Chang, Ching-Fang; Williams, Trevor J; Snedeker, John; Attia, Aria C; Stottmann, Rolf W; Brugmann, Samantha A (2017. ) A tissue-specific role for intraflagellar transport genes during craniofacial development.PloS one, , 12 (3 ) ,e0174206 More Information
Snedeker, John; Schock, Elizabeth N; Struve, Jamie N; Chang, Ching-Fang; Cionni, Megan; Tran, Pamela V; Brugmann, Samantha A; Stottmann, Rolf W (2017. ) Unique spatiotemporal requirements for intraflagellar transport genes during forebrain development.PloS one, , 12 (3 ) ,e0173258 More Information
Stottmann, Rolf W; Driver, Ashley; Gutierrez, Arnold; Skelton, Matthew R; Muntifering, Michael; Stepien, Christopher; Knudson, Luke; Kofron, Matthew; Vorhees, Charles V; Williams, Michael T (2017. ) A heterozygous mutation in tubulin, beta 2B ( Tubb2b ) causes cognitive deficits and hippocampal disorganization.Genes, brain, and behavior, , 16 (2 ) ,250-259 More Information
Gelineau-Morel, Rose; Lukacs, Marshall; Weaver, K Nicole; Hufnagel, Robert B; Gilbert, Donald L; Stottmann, Rolf W (2016. ) Congenital Cataracts and Gut Dysmotility in a DYNC1H1 Dyneinopathy Patient.Genes, , 7 (10 ) , More Information
Driver, Ashley M; Kratz, Lisa E; Kelley, Richard I; Stottmann, Rolf W (2016. ) Altered cholesterol biosynthesis causes precocious neurogenesis in the developing mouse forebrain.Neurobiology of disease, , 91 ,69-82 More Information
Cionni, Megan; Menke, Chelsea; Stottmann, Rolf W (2016. ) Novel genetic tools facilitate the study of cortical neuron migration.Mammalian genome : official journal of the International Mammalian Genome Society, , 27 (1-2 ) ,8-16 More Information
Go, D E; Stottmann, R W (2016. ) The Impact of CRISPR/Cas9-Based Genomic Engineering on Biomedical Research and Medicine.Current molecular medicine, , 16 (4 ) ,343-52 More Information
Jeruschke, Stefanie; Jeruschke, Kay; DiStasio, Andrew; Karaterzi, Sinem; Büscher, Anja K; Nalbant, Perihan; Klein-Hitpass, Ludger; Hoyer, Peter F; Weiss, Jürgen; Stottmann, Rolf W; Weber, Stefanie (2015. ) Everolimus Stabilizes Podocyte Microtubules via Enhancing TUBB2B and DCDC2 Expression.PloS one, , 10 (9 ) ,e0137043 More Information
Menke, Chelsea; Cionni, Megan; Siggers, Trevor; Bulyk, Martha L; Beier, David R; Stottmann, Rolf W (2015. ) Grhl2 is required in nonneural tissues for neural progenitor survival and forebrain development.Genesis (New York, N.Y. : 2000), , 53 (9 ) ,573-582 More Information
Saal, Howard M; Prows, Cynthia A; Guerreiro, Iris; Donlin, Milene; Knudson, Luke; Sund, Kristen L; Chang, Ching-Fang; Brugmann, Samantha A; Stottmann, Rolf W (2015. ) A mutation in FRIZZLED2 impairs Wnt signaling and causes autosomal dominant omodysplasia.Human molecular genetics, , 24 (12 ) ,3399-409 More Information
Chang, Ching-Fang; Schock, Elizabeth N; Attia, Aria C; Stottmann, Rolf W; Brugmann, Samantha A (2015. ) The ciliary baton: orchestrating neural crest cell development.Current topics in developmental biology, , 111 ,97-134 More Information
Cionni, Megan; Menke, Chelsea; Stottmann, Rolf W (2014. ) The mouse MC13 mutant is a novel ENU mutation in collagen type II, alpha 1.PloS one, , 9 (12 ) ,e116104 More Information
Stottmann, Rolf; Beier, David (2014. ) ENU Mutagenesis in the Mouse.Current protocols in human genetics, , 82 ,15.4.1-10 More Information
Stottmann, Rolf; Beier, David (2014. ) ENU mutagenesis in the mouse.Current protocols in mouse biology, , 4 (2 ) ,25-35 More Information
Academic - CCHMC R.1033
MLC 7016
Cincinnati  Ohio, 45229
Phone: 513-636-7136
Fax: 513-636-4373
rolf.stottmann@cchmc.org