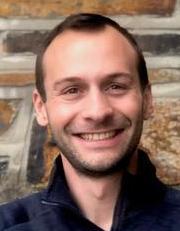 Pietro Strobbia
Asst Professor
Crosley Tower
201
A&S Chemistry - 0172
The research in the Optical Sensors Group is largely directed towards bridging the gap between current state-of-the-art sensing technologies and the actual requirements for their application in clinical settings or in the field. Our group works on multidisciplinary projects leveraging expertise in optical systems and sensing technologies development, as well as on plasmonics and surface-enhanced Raman scattering (SERS). We apply this expertise to current relevant issues in clinical diagnostics and environmental analysis, with a particular focus on the development deployable technologies. Our long-term goal is to benefit the developing and developed world through the dissemination of new cost-effective and practical analytical tools.

Please visit our website for more information.

Pietro Strobbia is an Assistant Professor in the Department of Chemistry since August 2020. Pietro received his bachelor's degree in chemistry from the Sapienza University of Rome (2011) and earned a Ph.D. in chemistry from the University of Maryland Baltimore County (2016). Prior to his appointmet at UC, Pietro was a postdoctoral associate in the Department of Biomedical Engineering at Duke University.
BS: Sapienza University of Rome, Rome, Italy, 2011 (Chemistry)
PhD: University of Maryland Baltimore County (UMBC), Baltimore, MD, 2016 (Chemistry)
Positions and Work Experience
2016 -2020 Postdoctoral Associate, Department of Biomedical Engineering, Duke University, Durham, NC
2020 -To Present Assistant Professor, Department of Chemistry, University of Cincinnati, Cincinnati, OH
Grant: #R25097 Investigators:Strobbia, Pietro 03-01-2021 -03-31-2023 UC URC-Faculty Scholars Res Awd-Strobbia Role:PI $25,000 Active
Investigators:Strobbia, Pietro 08-07-2022 -12-10-2022 Procter & Gamble Company Pietro P&G Exhibit A Role:PI 10,000 Active Type:Grant
Peer Reviewed Publications
P. Strobbia, V. Cupil-Garcia, B. M. Crawford, A. M. Fales, T. J. Pfefer, Y. Liu, M. Maiwald, B. Sumpf, T. Vo-Dinh (2021. ) Accurate in vivo tumor detection using plasmonic-enhanced shifted-excitation Raman difference spectroscopy (SERDS) .Theranostics, , 11 (9 ) ,4090
V. Cupil-Garcia, P. Strobbia, B. M. Crawford, H. N. Wang, H. Ngo, Y. Liu, T. Vo-Dinh (2021. ) Plasmonic Nanoplatforms: From SERS Sensing to Biomedical Applications .Journal of Raman Spectroscopy, , 52 (2 ) ,541
S. Quarin, P. Strobbia (2021. ) Recent Advances Towards Point-Of-Care Applications of Surface-Enhanced Raman Scattering Sensing .Frontiers in Chemistry, , 9 (1 ) ,714113
A. L. Keller, S. Quarin, P. Strobbia, A. E. Ross (2022. ) Platinum Nanoparticle Size and Density Impacts Purine Electrochemistry with Fast-Scan Cyclic Voltammetry .Journal of The Electrochemical Society, , 169 (4 ) ,046514
C. Conti, M. Catrambone, C. Colombo, E. Possenti, K. M. Rectenwald, M. Realini, P. Strobbia (2022. ) Scientific investigation to look into the conservation history of a Tang Dynasty terracotta Dancing Horse .Heritage Science, ,
Book Chapter
Pietro Strobbia, Andrew Fales (2021 ) SERS probes and tags for biomedical applications SERS for Point-of-care and Clinical Applications .Elsevier
Invited Presentations
Pietro Strobbia (02-19-2021. ) Translation of Biomedical and Bioanalytical Surface-Enhanced Raman Scattering (SERS) to Real-World Settings through the Combination with SERDS .Ferdinand-Braun-Institut, Leibniz-Institut für Höchstfrequenztechnik, Berlin (DE). Other Institution. . Level:International
Pietro Strobbia (03-18-2022. ) Surface-Enhanced Raman Scattering for Advanced Optical Sensing Applications .Illinois State University. Other Institution. . Level:University
P. Strobbia, C. Conti, R. Odion, T. Vo-Dinh, P. Matousek, M. Realini (10-04-2022. ) Design of SORS Systems for Biomedical and Art Conservation Applications .SciX. Conference. . Level:International
P. Strobbia (10-04-2022. ) Advancing SERS Biosensors for Diagnostic Applications .SciX. Conference. . Level:International
Sensors (Topic Editor ) Type:Editorial Service
American Chemical Society Member Type:Service to Professional Associations Level:National
The International Society for Optics and Photonics (SPIE) Member Type:Service to Professional Associations Level:National
(Graduate Admission Committee ) Committee Member Type:Departmental Service Level:Department
(Recruiting Committee ) Committee Member Type:Departmental Service Level:Department
(Admission Committee ) Committee Member Type:Departmental Service
NSF - SBIR/STTR Review Board/Panel Type:Grant Panel Level:National
PHYSICAL CHEMISTRY LABORATORY Level:Undergraduate
-CHEM-2030 SURVEY BIOCHEM I Level:Undergraduate
PHYSICAL CHEMISTRY LABORATORY Level:Undergraduate
301 Clifton Ct.
Cincinnati  Ohio, 45219
Phone: 5135565883
strobbpo@ucmail.uc.edu